NASCAR's Next Dylan Lupton Takes Top-10 Streak To Kern County
NASCAR's Next Dylan Lupton Takes Top-10 Streak To Kern County
Chris Knight
Knight Motorsports Management
May 23, 2014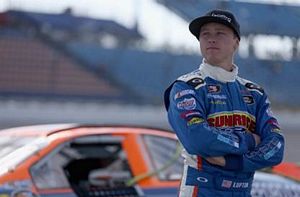 Dylan Lupton (@LuptonDylan), driver of the No. 9 Sunrise Ford / Lucas Oil / Eibach Ford Fusion in the NASCAR K&N Pro Series West (NKNPSW) division for Sunrise Ford Racing.
BAKERSFIELD, California (May 23, 2014)
- - Consistency has been the trademark of the 2014 NASCAR K&N Pro Series West (NKNPSW) season thus far for NASCAR Next driver Dylan Lupton (@LuptonDylan), but as the series treks to its fifth race of the season, he hopes to elevate that consistency with a win in Saturday night's Armed Forces 150.
Through the first four races of the year, the Wilton, California native has amassed two top-fives and four top-10 runs, including a solid fifth place run last Saturday night at Iowa Speedway, the first NASCAR K&N Pro Series combination race of 2014. While his second career victory has eluded him however, the proof is in the performance that it is only a matter of time before he takes the checkered flag again.
It's been 10 races since his first-career triumph and this weekend's race from Kern County (Calif.) Raceway Park offers that perfect opportunity to strike again. Last season at the 0.5-mile oval in the penultimate race of the season, Lupton drove to a seventh place finish after starting 11th. Fast forward nearly seven months later, the 20-year old is determined to do better in the second-annual contest.
"Coming from Iowa, where we struggled to find speed, I am even more motivated to bounce back and get a win for Sunrise Ford Racing this weekend," offered Lupton. "I have raced late models at this track before and then also race the K&N race last year, so I'm no stranger to this track and love how it races. We tested here two weeks ago and I was happy with how our car handled and the speed we showed, so I am excited to get on track this weekend."
To have that opportunity to earn that second win, Lupton knows what it will take to put himself in contention.
"I believe the key to success at Kern County is to carry momentum through the corner and being able to get to the throttle early to carry speed all the way down the straightaways. If we're able to get our No. 9 Sunrise Ford / Lucas Oil / Eibach Ford Fusion to do that, we should be in pretty good shape."
While winning is important for the California native, his responsibility to represent NASCAR has never been so important since being announced as a new member of the NASCAR Next initiative last month.
"I feel honored to be a part of the NASCAR Next program," sounded Lupton. "In Iowa we were able to do a meet-and-greet at a Casey Generals Store and then we went to an Iowa Cubs baseball game, so I'm having a lot of fun in this program, while getting a great amount of extra exposure. However, with that extra exposure there is a little bit of added pressure to go out and get my first win of the season being in this program. Hopefully that comes on Saturday night."
If Lupton and his Sunrise Ford Racing team cannot find themselves in contention for the win this Holiday weekend, the importance of a good finish becomes the priority. Currently securing third in the championship standings, just two points out of second and a slim margin to championship leader Greg Pursley, a fifth consecutive top-10 run will no doubt aid the teams' effort.
I feel like our season has had a little bit of up and downs so far, even though our finishes on paper have been extremely consistent," Lupton explained. "We are third in points and even though it is early in the season, I need to start gaining points back on (Greg) Pursley so that he doesn't get too big of a lead. I know we have the speed to get a win, so we just have to stay focused and put all the pieces of the puzzle together."
In addition to Sunrise Ford, Lucas Oil and Eibach Springs, Go Pro, Immersion Media, Capitl and Company will adorn their logos on his Ford Fusion this weekend at Iowa.
Entering Bakersfield, Lupton has 22 NASCAR K&N Pro Series West starts to his credit with one career victory at Evergreen Speedway (2013). During his NASCAR K&N tenure, Lupton has accumulated six top-fives and 16 top-10 finishes. A third place qualifying effort at Lebanon I-44 Speedway (June 2013) is his best time trials effort to date. He has controlled the K&N field once for six laps.
The Armed Forces 150 is set for Saturday May 24 from The Golden State. The 150-lap feature will commence shortly after 7:35 p.m. Pacific. The #ArmedForces150 is the fifth race of the NASCAR K&N Pro Series West season. It is the fifth of 12 oval track events and 14 races overall on the schedule. This is the series' second visit to the track that opened in May 2013.
For more on Dylan Lupton, please visit LuptonRacing.com or follow him on Twitter @LuptonDylan.
###
Connect with The Crittenden Automotive Library