Dylan Lupton Readies Iowa Challenge
Dylan Lupton Readies Iowa Challenge
Chris Knight
Knight Motorsports Management
May 15, 2014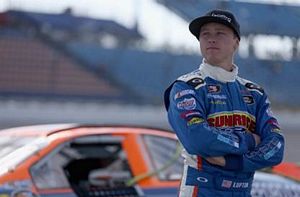 Dylan Lupton (@LuptonDylan), driver of the No. 9 Sunrise Ford / Lucas Oil / Eibach Ford Fusion in the NASCAR K&N Pro Series West (NKNPSW) division for Sunrise Ford Racing.
NEWTON, Iowa (May 15, 2014)
- - In his second NASCAR K&N Pro Series race as an exclusive member of the NASCAR Next program, Dylan Lupton (@LuptonDylan) enters Saturday night's Casey's General Stores 150 at Iowa Speedway vowing to prove why he's a member of the elite class.
Lupton, driver of the No. 9 Sunrise Ford / Lucas Oil / Eibach Ford Fusion will also look to keep his impressive streak of consecutive top-10 finishes alive in the first NASCAR K&N Pro Series combination race of the year. The Casey's General Stores 150 will feature teams and drivers that compete in both the East and West division of the popular NASCAR regional tours.
"I'm feeling good about this weekend," said Lupton, a native of Wilton, California. "We have struggled in the past few visits to Iowa Speedway with a bad set of tires and a broken transmission. However, we showed much improvement at Phoenix (International Raceway) this year compared to last, so I'm optimistic to believe that we will also have more speed this weekend at Iowa."
Despite the mishaps at the 0.875-mile paved oval, Lupton has racked up two top-10 finishes including a personal best of sixth last August. Qualifying also has not been a problem for the popular driver, as he holds a sixth place qualifying run in that same event that featured 40 starters in 2013.
Knowing that the competition is expected to once again be fierce this weekend, Lupton remains focused on the job at hand driving for Sunrise Ford Racing.
"I am expecting the East guys to come out really fast and strong like usual," Lupton explained. "But, I believe we will be right there with them. I am expecting us to show speed right off the hauler and be fighting for the win, but a good point's day and strong finish is really what we're looking for.
"In order to get that though, consistency is the key to success. Last year, Michael Self was able to go out and win the race because his car didn't lose much speed. Therefore, we are going to try and get the balance of the racecar to our liking so that we are consistent."
To prep his California-based team for this weekend's challenge, they participated in a private test at Pikes Peak (Co.) International Raceway on Tuesday, hoping to give them vital information, as well as input that they hope will become a necessity on race day.
Lupton said, "The test at Pikes Peak went great. All throughout the day I was really focusing on the balance of our No. 9 Sunrise Ford / Lucas Oil / Eibach Ford Fusion. I wasn't too focused on speed, just that car felt comfortable and balanced. However, the speed did come with that felling, so I'm anxious to get to Iowa and have some fun."
With three races behind them and idling fourth in the championship standings, just 11 points behind leader Greg Pursley, the 20-year old sensation is hoping his third trip to The Hawkeye State will prevail with a lift towards the overall points lead.
"This season has started out alright so far," offered Lupton. "I felt like Phoenix went really well since we struggled there in the past. Irwindale also went well, however, when saving tires, I believe that we went too late resulting in finish that did not represent how fast we really were. Finally, Stockton definitely didn't go as planned. We had a problem with a late race flat left rear that resulted in a mediocre finish. Though, at every track we have gone to, we have shown a lot of speed and potential, so I believe better finishes will come this season. We have been able to get decent results in the first three races, but I won't be satisfied until we are in Victory Lane. I believe we will be there in no time."
In addition to Sunrise Ford, Lucas Oil and Eibach Springs, Go Pro, Immersion Media, Capitl and Company will adorn their logos on his Ford Fusion this weekend at Iowa.
Entering Iowa, Lupton has 21 NASCAR K&N Pro Series West starts to his credit with one career victory at Evergreen Speedway (2013). During his NASCAR K&N tenure, Lupton has accumulated five top-fives and 15 top-10 finishes. A third place qualifying effort at Lebanon I-44 Speedway (June 2013) is his best time trials effort to date. He has controlled the K&N field once for six laps.
The Casey's General Stores 150 is set for Saturday, May 17 from "America's Place To Race." The 150-lap feature will commence shortly after 8:00 p.m. Central. The race will be tape-delayed on FOX Sports 1 with an air date of Saturday, May 24 at 8:30 a.m. Eastern.
For more on Dylan Lupton, please visit LuptonRacing.com or follow him on Twitter @LuptonDylan.
###
Connect with The Crittenden Automotive Library