Cold Weather Review: 2015 Hyundai Azera Limited
Opinions expressed by Bill Crittenden are not official policies or positions of The Crittenden Automotive Library. You can read more about the Library's goals, mission, policies, and operations on the About Us page.
Topics: Hyundai Azera
Cold Weather Review: 2015 Hyundai Azera Limited
Bill Crittenden
February 4, 2015

The Car I Wish America Could Make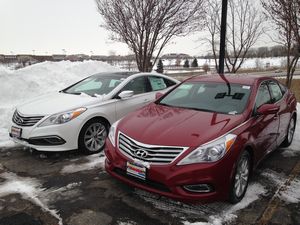 The $32,295 standard, at right, and $39,425 Limited, at left.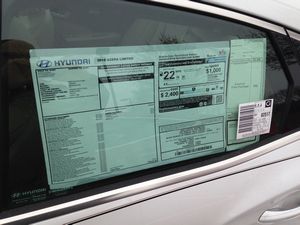 Window sticker of the car driven.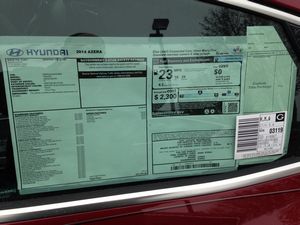 Window sticker of the standard Azera.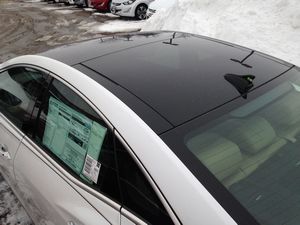 The panoramic glass roof.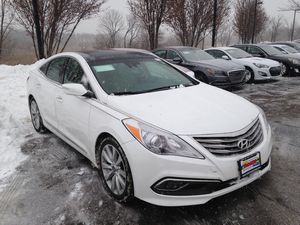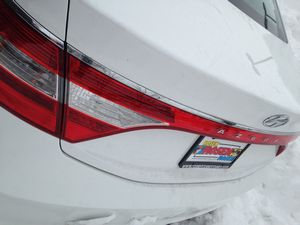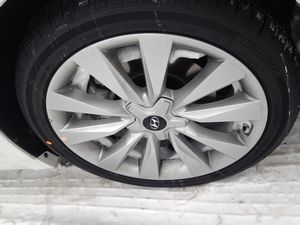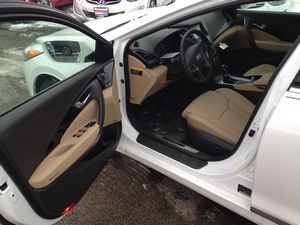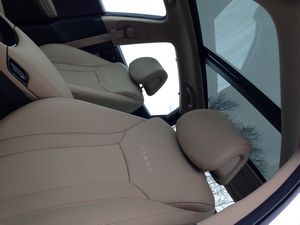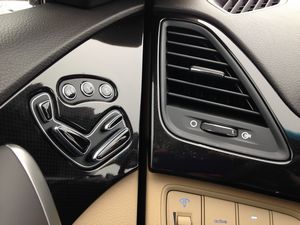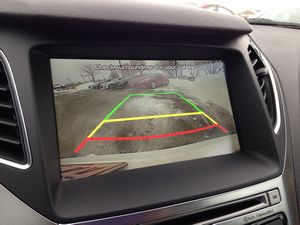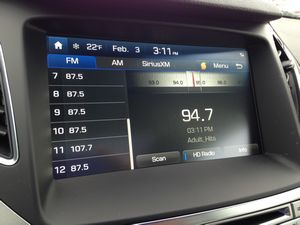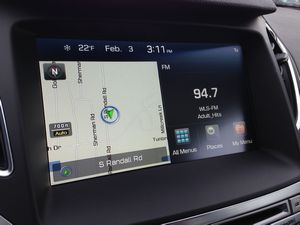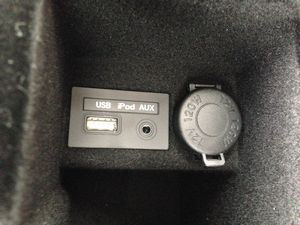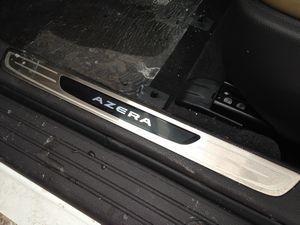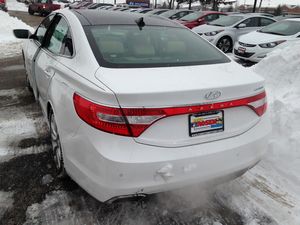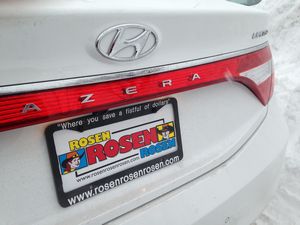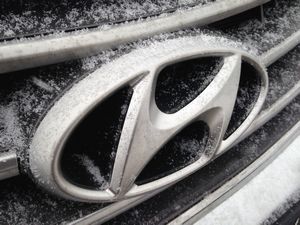 A few weeks ago I completed a 1:24 scale plastic model of a Hyundai Azera, the first such model of a Hyundai made. That made me very curious about the real Hyundai Azera, and Rosen Hyundai in Algonquin was very gracious in letting me take one of theirs on a test drive even though I wasn't in the market.
I have a split personality when it comes to cars. Some days it's blue jeans and work and practicality and I miss my pickup truck or my Chevy van. Others, like this past weekend when the Chicago area got hit with 19 inches of snow (5th most in Chicago history) I enjoy plowing through the slush in a little AWD wagon with extra lights in the grille.
A little over a decade ago I was dating and wore sweater vests and was going to school for real estate I really wanted a luxury sedan befitting a humble yet moderately successful businessman. It just so happened that it was the year that Hyundai decided to bring us their Grandeur and call it the XG300 on our shores. The next year it became the XG350 to reflect the larger engine displacement, and a dark grey XG350L exactly like the one I wanted became my mom's last car and the fifth Hyundai in my family.
When the Grandeur was redesigned again our version gained the name "Azera," separating it from the alphabet soup of European and European-inspired names that Hyundai had sought to emulate just a few years earlier. Personally, I prefer cars with names, especially as there's so much overlap now that nearly
everybody
is getting in on the letters-and-numbers game.
And it fits because the Azera is better at being an American car than the actual American cars in its class.
That's a good thing, by the way.
European cars are designed for European roads, which are usually much smoother than ours. The cars have sportier suspensions with good road feedback and that usually translates to posterior pain and bladder discomfort on our rougher, potholed Illinois roads.
A big American sedan with a soft suspension handles these roads much more comfortably, but at a trade off of losing interior build quality. If you're spending forty thousand dollars on a car and two hours of every day in the confined space of its interior, you'd want it to not feel like it was made of the same plastic as your son's Little Tikes car.
The Azera is just the kind of car I wish American companies made. A comfortable, isolated ride that handled not only the regular dips and cracks with ease but also all of the washboard-texture ice patches left over after a historic snowstorm while also being beautifully well made inside. The textures and materials and design that went into that interior were in an entirely different class from the
2014 Impala Limited
I tested this fall (a continuation of the previous generation Impala for rental fleets). Entirely different class? It's hard to believe they were even made in the same century let alone the same years.
The front seats have so many adjustments to them, as well as a tilt-and-telescopic steering wheel, so it was easy to find a comfortable setting without compromising for my oddly proportioned frame. They even had a seat bottom extender so that it could give more thigh support! I could also save two settings for one-button switching in a shared car. Speaking of multiple settings, the front seat heaters
and coolers
had three settings, a vast improvement over the sweaty-bottom-or-off choice of settings on my wife's Mazda. They really put a lot of effort into the driver's comfort, which is really where the attention should be on a car like this.
I really shouldn't have worn jeans and a long sleeve t-shirt for this drive. I went with the kind of comfort I would wear for indoor winter car shows but I felt underdressed for this occasion.
The touch screen was easy to use and includes Pandora radio, an aux jack and USB port. The navigation system was technically unnecessary if you have an iPhone but with a car this pretty who wants to suction cup their phone to the front window?
I wish I could have had the car long enough to punch a distant destination into that nav system and open it up on the interstate, a huge step up from the "get me out of here" feeling I got from the Impala. You could even do some sightseeing from the comfortable interior with the panoramic glass roof. Imagine being able to see the fall colors driving through a Michigan forest or the tall buildings of the Chicago Loop without having to stick your head outside of a window like a puppy!
The Azera is front drive so it gives up any sporting pretenses, but it backs up it its comfortable highway cruiser personality with 293 horsepower. I hardly used any of them on the slick roads I was driving on. I did, however, get to test the traction control a few times, and while the two wheel drive does struggle to climb a slush-covered incline the traction control keeps the car from sliding side-to-side. On a flat surface it works perfectly to keep the car moving and always in the direction in which I intended.
I should mention that if all wheel drive is a must for you because of where you live then Hyundai still has you covered with the Genesis Sedan.
My only major issue was rear seat headroom. It just isn't meant for six foot adults. But then I had NO trouble getting into and out of the front seats, and that's actually been a problem for me lately on some other cars. There are midsize sedans on the market today that I literally can not fit in to, so whether or not back seat headroom is an issue comes down to "how often are you going to use it?" Front seat headroom is far more critical, and plenty adequate in the Azera.
Another tiny, slight disappointment is that when in reverse the guide lines don't curve to show the turning of the car as the steering wheel is turned as it does on a Ford. But you know you've got a good thing going when you have to dig that deep to find faults.
Because of the same sloping roofline that robs the rear seats of headroom the trunk opening is also not very big for the size of the car. It is cavernously deep, though, and note to
Jerry Ascione
: the Azera has a space-saver spare tire.
So the Azera isn't and won't be all things to all people. It's not a sports car or a family wagon. It won't plow through a foot of snow and you can't fit a sheet of four-by-eight in it. But if you're at that point in life where I was 12 years ago, where you dress well and you've got some money to spend on a loaded luxury car with a lot of class in the styling, a car that shows your clients that you're successful yet sensible and will add to the experience of a lovely evening taking the fiancée to a nice restaurant far from home, you won't go wrong with the Azera.
And if you have to have rear wheel drive and European handling, or you do happen to want to show off
just a little
, Hyundai does have the Genesis and Equus sedans...
Connect with The Crittenden Automotive Library