FOR IMMEDIATE RELEASE:
Vortech, Paint by Krusty Re-Sign as PSCA Partners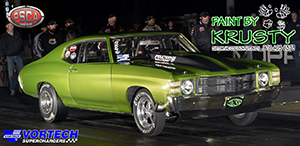 Contact:
Brandon W. Mudd
BWMudd@gmail.com
636-219-9676
LAS VEGAS –
With the kickoff of the Pacific Street Car Association's 2015 season less than two weeks away, it was announced that Vortech Superchargers has re-signed as the title sponsor for PSCA's 8.5 Outlaw class effective immediately. The class also sees the return of Paint By Krusty as the title sponsor in the MagnaFuel Rocky Mountain Summer Series. In addition, Vortech will have the naming rights for PSCA's Street Car Super Nationals 11 in Las Vegas.
"The business side of racing is all about the relationships you build," said PSCA President Mel Roth. "We've built some great ones and we count our friends at Vortech and Paint by Krusty among those. These are brands that get it and we're looking forward to a great season with them."
The season debut is the PSCA Nationals Feb. 27-March 1 at the Auto Club Dragway in Fontana, Calif., with the series returning to The Strip at Las Vegas Motor Speedway for the PSCA Vegas Nationals March 20-22. For more information on these and other races on the 2015 schedule, visit PSCARacing.com.
For fans attending the races or for those wanting to represent grassroots drag racing away from the track, the PSCA online store is hosting a special 10-day sale. Everything from shirts, hats, hoodies, DVDs, and more are priced to go. For all the bargains, click
HERE
.

For more on the PSCA, visit them on the web at PSCARacing.com or at their page on Facebook at Facebook.com/PSCARacing.
-HSM-
About the Pacific Street Car Association:
In its 16th season, the Pacific Street Car Association, based in Las Vegas, has been a staple of West Coast drag racing since its inception. With six heads-up classes, four bracket classes, and two index classes, the PSCA provides some of the best racing in the country for both fans and racers. The PSCA season is capped off by its Street Car Super Nationals at The Strip at Las Vegas Motor Speedway, now in its tenth year.
About HighSide Media:
Founded in 2007, HighSide Media has represented some of the top drivers, teams, facilities, sponsors, and sanctions in American motorsports. HighSide Media provides public and media relations for racers at every level with tailor-made programs for every budget. Pass YOUR Competition on the HighSide.