MEDIA ADVISORY: Pirelli World Challenge 2016 Rules/Marketing Presentation
MEDIA ADVISORY: Pirelli World Challenge 2016 Rules/Marketing Presentation
Tom Blattler
Pirelli World Challenge
9 December 2015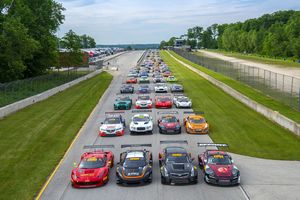 Road America
The Pirelli World Challenge, one of North America's top road racing sedan series, holds its annual "Rules and Marketing" presentation Thursday (Dec. 10) at 4 p.m. EST at the Performance Racing Industry (PRI) Show in the 3rd Floor Meeting Rooms at the Indianapolis JW Marriott (next to the Indiana Convention Center).
The 2015 Pirelli World Challenge series produced some of the most competitive racing in the world including the GT class with eight different manufacturers in the top eight driver point positions – Cadillac (Johnny O'Connell), Ferrari (Olivier Beretta), Porsche (Ryan Dalziel), Nissan (J.D. Davison), McLaren (Kevin Estre), Audi (Mike Skeen), Acura (Ryan Eversley) and Bentley (Chris Dyson).
PWC Officials will be available for interviews following the presentation.
Please plan to join us Thursday at 4 p.m. EST
PRI SHOW – JW MARRIOTT
( Next to the Indiana Convention Center 3rd Floor Meeting Rooms
Contact: Tom Blattler, Pirelli World Challenge, 317-525-5692, tomblattler@earthlink.net
Connect with The Crittenden Automotive Library