S. Sudan, Uganda to Step up Border, Road Patrols
S. Sudan, Uganda to Step up Border, Road Patrols
Charlton Doki, VOA News
19 June 2013 (10:35PM)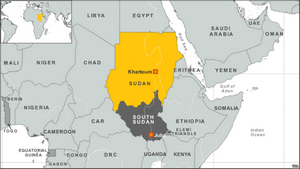 Sudan - South Sudan map
JUBA, SOUTH SUDAN — South Sudan and Uganda have agreed to step up security patrols on their common border and on the highway linking Juba to Kampala after a spate of attacks against motorists, officials said Wednesday.
"They agreed to proceed to enforce the deployment of more security forces to provide security on the border areas," South Sudan police spokesman James Monday Enocka said.
"They agreed also to enforce partnerships, especially in community policing, with citizens in the two border areas.... and to liaise on issues relating to citizens of the two countries," he said.
The border area between South Sudan and Uganda is currently patrolled by only a few hundred South Sudanese officers.
Enocka did not disclose how many more security officers will be deployed on the border, but said the teams will include traffic police and military intelligence.
Senior police officers from the two countries will meet in Yei, South Sudan in September to review their current Memorandum of Understanding on patrols along the common border as well as on the Juba- Kampala highway.
Under a security agreement that was signed last year between the two countries to combat border crime and promote bilateral economic cooperation, particularly cross-border trade, the neighbors agreed to deploy a force of around 100 specialized police officers at the Elegu-Nimule border crossing point.
Connect with The Crittenden Automotive Library