TOURING CAR RANKS PRODUCING BIGGER FIELDS, GREAT RACING; PIRELLI WORLD CHALLENGE BRINGS IN NEW TC MACHINERY IN 2017
TOURING CAR RANKS PRODUCING BIGGER FIELDS, GREAT RACING; PIRELLI WORLD CHALLENGE BRINGS IN NEW TC MACHINERY IN 2017
Tom Blattler
Pirelli World Challenge
10 January 2017

For Immediate Release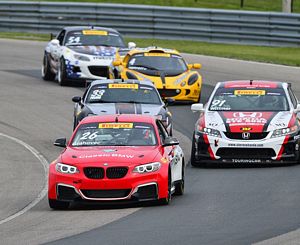 Toby leads the field at CTMP.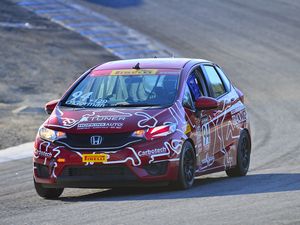 Tom O'Gorman 2016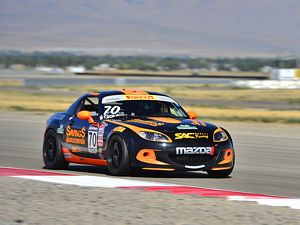 Goulart 2016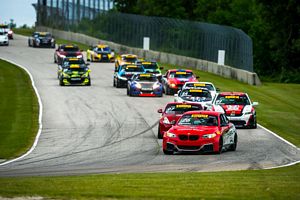 Toby leads at RA
New TCR Vehicles Coming to Touring Car Divisions This Year
AUSTIN, Tex. (Jan. 9, 2017)
– The popular Touring Car categories in the Pirelli World Challenge put on quite a show in 2016. It was some of the best sedan racing in North America.
Last corner passes for victories, four and five-wide battles into the first turns and bumper-to-bumper drafting for consecutive laps made up the 12-race TC, TCA and TCB competition.
And the 2017 season is expected to produce more cars and better action in the TC classes.
That wasn't the case a few years ago in the TC divisions before the PWC Competition and Technical departments revamped the rule books and presented a new TC look to the auto manufacturers and racing teams. Now the Touring Car paddock is booming.
Over 40 TC machines and drivers started the two season finale races last October at Mazda Raceway Laguna Seca and the racing continued in sensational style including series titles coming down to the last checkered flag. Variety was a key to TC racing in 2016 with a BMW (Toby Grahovec) taking the Touring Car crown, a Mazda (Elivan Goulart) winning in TCA and a Honda (Tom O'Gorman) scoring the championship in TCB.
"There is no doubt that the Touring Car classes were suffering four years ago," said Greg Gill, President/CEO of WC Vision, producers of the Pirelli World Challenge. "However, led by our series' Marcus Haselgrove (Vice President, Competition) and Dan Goodman (Touring Car Technical Director), the Touring Car paddock grew dramatically and we see more growth for 2017 and 2018. Additional auto makers have interest in the TC divisions as well."
In 2016, Gill recruited long-time racing executive Jim Jordan to join the Pirelli World Challenge staff as Manager of Business development including the expansion of the Touring Car ranks.
"PWC wanted to increase entries as well as bring in new auto manufacturers to the TC classes," said Jordan, who has served as manufacturer representative, team owner, team manager and driver during his racing career. "Greg and his staff made decisions to allow certain cars like the Mazda MX-5, a popular race car, into the TC classes. And I saw huge opportunities with TC too."
With cars like the BMW M235iR, Mazda MX-5, Nissan 370Z, Honda Accord and Porsche Cayman in the TC action, Jordan believes the Touring Car contingent can produce one of the premier classes in motorsports.
"I saw a huge potential with the Touring Car classes and we have made an analysis of what is working in TC and I put together a 30-month vision of the class," said Jordan. "I shared that with the competitors in August and we have a strong TC plan for 2017 and 2018. We want newer cars in the TC too, with the average age of three years or so."
The direction of the top class of Touring Car is changing too. Jordan sees an influx of new machinery into the TC divisions including the TCR vehicles like the Audi RS3 LMS and the Honda Civic Si in TCA.
"We plan to put the "touring car" back to the Touring Car class at the upper end," said Jordan. "In the TCA class, we're keeping it an entry level class and we're going to keep where the competitors could run popular cars in the marketplace. That also will include the ND Mazda MX-5 Cup Car.
In 2018, we are going to welcome TCR cars to Pirelli World Challenge. The top TC class is moving in that direction. That specification is used worldwide and it is, in spirit, similar to the worldwide adoption of the GT3 and GT4 rules. The manufacturer, or specific tuner for that manufacturer, builds a specification and they submit the car. Then the series does a Balance of Performance on the car and in essence every car has a relatively equal chance to win."
PWC explains that it wants cars to be commercially available in that body style in the U.S. for TC competition.
"Audi has already talked with Marcus and Dan about their RS3 LMS car running this year in PWC," he said. "The version we are recognizing for 2017 is a detuned TCR car and be competitive with cars like the BMW M235iR. And that thinking from manufacturers recognizes Pirelli World Challenge as being an important series within when you have companies like Audi building a specification just to match our class."
"Several manufacturers already build cars for the TCR category," explained Jordan, "including Ford, Volkswagen, Honda, Audi, Alfa Romeo, and Subaru, along with several brands that don't sell their cars in the U.S. We can't absorb those cars immediately in current Pirelli World Challenge regulations, but they will be in their own sub-category in PWC beginning in 2018.
"In 2018, we will welcome TCR cars into Pirelli World Challenge as a standalone class within Touring Car. There is enough interest from current manufacturers that I think we're going to have a good field of TCR cars."
Jordan also emphasized that manufacturers can bring many things to the TC divisions including ready-built race cars like the BMW M235iR this year that Grahovec drove to winning the TC title.
The new generation of Touring Car in the Pirelli World Challenge has gained strong interest from racing fans as well. With the extremely-competitive on-track product and the new TC models coming to PWC in 2017, the TC classes will continue to engage in some of the best wheel-to-wheel action in all of motorsports.
"We are very excited to see new cars and teams coming to Touring Car in 2017 and 2018," said Jordan. "And I believe the racing fans will have plenty to watch at the track and on the telecasts."
The opening doubleheader for the 2017 Pirelli World Challenge Touring Car divisions is set for April 28-30 at VIRginia International Raceway at Acton, Va. Those two rounds will be televised on CBS Sports Network on a taped-delayed basis.
# # #
Contact: Tom Blattler, 317-525-5692, tblattler@wcvision.com
Connect with The Crittenden Automotive Library