Reference Desk: 1984 Dodge Rampage Direct Connection
Topics: Dodge Rampage
Opinions expressed by Bill Crittenden are not official policies or positions of The Crittenden Automotive Library. You can read more about the Library's goals, mission, policies, and operations on the About Us page.
Reference Desk: 1984 Dodge Rampage Direct Connection
Bill Crittenden
2 February 2017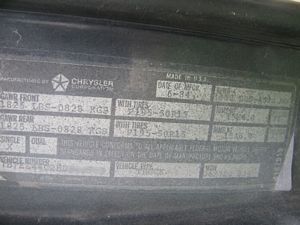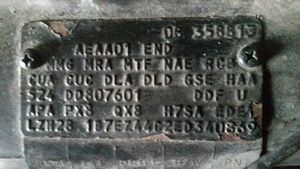 Hi Reference Librarian.

I am attempting to find a little information about my 1984 California Direct Connection Rampage Truck.  My truck has a sticker on the Driver's side door that indicates that it was made in June of 1984.  I understand that these Direct Connection Rampage trucks were made at the Belvedere Assembly Plant.  Attached are the door decal sticker and the tag that is in the engine compartment and on the yolk near the radiator.  I have two questions that I have been researching for years.

1)  On the metal tag on the lower left hand corner is the code"  LZH28  Does that mean L-Body, Z-H 28 Shelby Type truck,

And From what I understand there were 218 truck that were send to California Santa Fe Assembly Plant in California that had Shelby parts on these trucks.  Do you have the Vin List of those trucks that were sent to California. 

Basically, my whole purpose of getting this information is acquiring documentary evidence on these Special Edition trucks. 

IS there an internet site that will decipher or decode these engine compartment tags?
I had seen a few Rampages before but I had never heard of the very unusual Direct Connection Rampage. It was immediately
very
interesting to me. After familiarizing myself with the basics, I sent back the following...
Hello,

Sorry, but I don't have anything useful on the Rampage in my offline collection yet. I did a little looking around online because I'd never heard of this before and I was interested.

#1: It's an L body, but ZH28 refers to the base Rampage truck. It doesn't appear to have been officially licensed or recognized by Shelby. A more detailed story about Shelby's connection to the project is here: http://www.allpar.com/omni/rampage/

#2: VIN lists, unfortunately, are hard to come by. There are some online registries, but I've yet to find one that publishes their lists publicly. Shelby's registry is at http://registry.teamshelby.com/ but I'm not sure they'd include the DC Rampage, and you can see from the disclaimer at the bottom they seem pretty adamant about not sharing the data. You could always start one yourself, and if you send me the data I'd be happy to put it online minus any owners' personal information.

#3: Most of Chrysler's options & color codes are in this book: http://starparts.chrysler.com/starlibrary/reference_docs/salescode.pdf and it seems to apply to your chassis plate because QX8 is black clear coat, MTF is Sport Badge, NAE is California emissions. Not all of the codes are in the book, but some lines may be factory-specific instruction codes. There's something about what each section means at the bottom of http://www.dippy.org/info/dipvins.html but yours doesn't appear to have the lines in the same order, I'm just using that to reference the fact that some of the letters might be factory instructions that don't reference a vehicle part.
I highly recommmend reading the AllPar link for anyone who stumbled upon this and hasn't heard of the Direct Connection Rampage.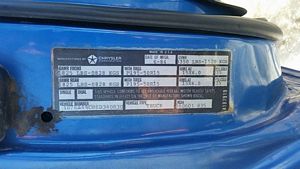 Dear Bill Crittenden:

I do thank you with the info that you provided.  It seems so far, that the only real way to identify the 83 Canada Direct Connection is by the Direct Connection tag in the engine compartment and for the 84 California Shelby Direct Connection by the info on the decal on the driver's side of the door.  Relative to the 84 decal method of identifying a US market Direct Connection Rampage (or Shelby Rampage, or California Rampage or any other word preceding Rampage) is the door label that shows the GVW (Gross Vehicle Weight) of the vehicle as being 3350 pounds and the inclusion of the 15" wheels.  These were the Pizza wheels found on the Shelby Chargers.  Standard Rampage pickups have a LOWER GVW than the 84 DC Rampages because of the use of the 15" wheels and tires, and other Shelby Charger parts that were included. Rampages were advertised as the first sports truck and the 83 and 84 Direct Connection Rampages were the sportiest. 

Here are some interesting links:
http://jalopnik.com/5944323/rare-shelby-prototype-pickup-truck-found-forsaken-in-socal-junkyard
(One of the DC prototypes)
https://www.youtube.com/watch?v=YxUbgWdBM98
(Cal Worthington commercial showing an 84 DC Rampage)

Yes, of course you can share or use any info that I have provided. Also, attached are the files that I received from  FCA Historical Planning records. Mainly,  these documents have to do with the 84 California Direct Connection truck and are very fascinating. As special editions, they were a concept, designed had sales production list, and were fabricated and sold. Unfortunately like most Rampages, there was just not a lot of promotion, and at the time, not a lot of interested in truck type cars, which was reflected in the declining sales of the Ranchero and El Camino. I have a Facebook Page called "Direct Connection Rampage Trucks" where I have been placing the info., and the page includes posts from those interested in these Special Edition Rampage trucks or own them.  I think there could be as many as 40 existing of these trucks left?  When these 84 DC trucks could no longer meet Calif. pollution emissions many were sold out of of state or taken to salvage years. Please do keep me in mind, if you run across any data or information on these 83 and 84 Direct Connection Rampages. Thank you very much!
Dodge Rampage Direct Connection Documents
If anyone has any information share it with the
Direct Connection Rampage page on Facebook
or e-mail it to
admin@carsandracingstuff.com
and I'll pass it along.
Connect with The Crittenden Automotive Library