Charlotte's Mike Skeen Takes Audi to the SprintX Pole Saturday in Pirelli World Challenge Nissan Grand Prix of VIR Qualifying
Charlotte's Mike Skeen Takes Audi to the SprintX Pole Saturday in Pirelli World Challenge Nissan Grand Prix of VIR Qualifying
Tom Blattler, Pirelli World Challenge
29 April 2017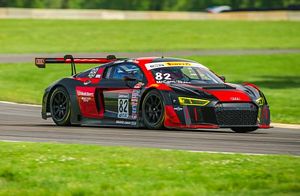 Mike Skeen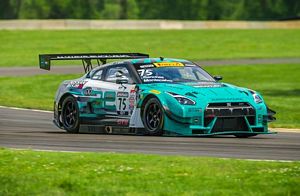 Frankie Montecalvo
For Immediate Release
Six different car makes in Top 8 Pro-Pro Class Qualifiers; Montecalvo Wins Pole in Pro-Am
ALTON, Va. – Mike Skeen of Charlotte, N.C., showed his local knowledge of VIRginia International Raceway Saturday by capturing the Pirelli World Challenge SprintX pole position in the No. 82 McCann Racing Audi R8 LMS over Mercedes driver Ryan Dalziel of Scotland.
Skeen, a multi-race winner in Pirelli World Challenge who'll team up with Andrew Davis in the SprintX race, clocked a late qualifying run of one minute, 42.989 seconds (114.3 miles per hour) to easily break the old PWC VIR track mark of 1:56.086 (101.41 mph) set back in 2010 by Andy Pilgrim in the last PWC event at VIR. In fact, Skeen was the only driver in qualifying to better the 1:43-second barrier on Saturday.
Dalziel, in the No. 2 CRP Racing/DeVilbiss Mercedes AMG GT3, looked to have the pole late in the 15-minute Pro-Pro qualifying session before Skeen stole it away in the last minute. Ryan's time of 1:43.098 (114.1 mph) places him on the first row of the season-opening SprintX event Saturday. Dalziel will drive with Canada's Daniel Morad in the 60-minute, two-driver, one pit stop contest Saturday set for 3:30 p.m. EDT.
Row two in the 33-car field will be the No. 31 TR3 Racing/The Collection Ferrari of Italy's Daniel Mancinelli and Andrea Montermini with a time of 1:43.296 (113.9 mph) and the No. 4 Magnus Racing Audi R8 LMS of Germany's Pierre Kaffer and Spencer Pumpelly of Atlanta, Ga., at 1:43.358 (113.8 mph).
Positions five and six on Saturday's starting grid will be the No. 61 R. Ferri Motorsport Ferrari 488 GT3 of Spain's Alex Riberas and Canada's Kyle Marcelli at 1:43.381 (113.8 mph) and the No. 58 Wright Motorsports Porsche of Patrick Long of Manhattan Beach, Calif., and Germany's Jörg Burgmeister at 1:43.507 (113.7 mph).
"The pole was fantastic," said Skeen. "We were a little bit disappointed Friday afternoon because we felt like we were going to be a little bit closer with the setup. It kind of threw us for a loop. We didn't feel like we were there so we threw a few things at it overnight with a few educated guesses. And they worked out. The track was just right for the car. It was beautifully balanced, obviously, the track was coming in steadily all the way through the session. We got pretty warm on the tires so I did a cooldown lap and one last flyer to get the edge out a little more. I'm ecstatic to be back at World Challenge and back on the pole."
2015 GTA series champion Frankie Montecalvo of Highlands, N.J., scored the pole in the Pro-Am division Saturday by piloting the No.75 Always Evolving/AIM Autosport Nissan GT-R Nismo GT3 sports car to a 1:44.670 (112.4 mph). Montecalvo will team up with Ricardo Sanchez of Toluca, Mexico this weekend in the Pro-Am division.
Rounding out the Pro-Am front row will be the team of Michael Schein of Glen Cove, N.Y., and Jan Heylen of Tampa, Fla., in the No. 16 Wright Motorsports Porsche 911 GT3 R after a best lap of 1:44.782 (112.3 mph). Pro-Am row 2 will be Tyler McQuarrie and Henrique Cisneros in the No. 30 MOMO/NGT Motorsports Ferrari 458 GT3 with a 1:44.813 (112.3 mph) and the top Am-Am class runners, Kris Wilson and Drew Regitz in the No. 007 TRG-AMR/Lasalle Solutions/Abode Road Winery Aston Martin GT3 at 1:45.430 (111.6 mph).
"I've been here before, a couple of years ago, so it definitely took a little bit to shake the rust off," said Montecalvo. "The biggest learning curve was the car, but the guys at AIM Autosports and Always Evolving and NISMO gave me a great platform to go out there. It was a good run. I had a couple of big moments out there where I had to catch the car. But that's our job and at the end of the day, we got pole and it's a good first showing for us but we're going to keep learning with this car."
Topping the GT Cup SprintX class in qualifying was the team of Cory Friedman and Joe Toussaint in the No. 90 Autometrics Motorsports Porsche 911 GT Cup car with a time of 1:50.586 (106.4 mph).
SprintX competitors return to the track for the first round battle at 3:30 p.m. EDT Saturday. Live timing and scoring will be available at http://lt-us.tsl-timing.com/171706 while the action will be live-streamed on MotorTrendOnDemand.com and World-Challenge.com/StreamVideo.
Connect with The Crittenden Automotive Library