Italian Team of Mancinelli and Montermini Take Ferrari To SprintX Win Saturday in Wild Pirelli World Challenge Nissan Grand Prix of VIR
Italian Team of Mancinelli and Montermini Take Ferrari To SprintX Win Saturday in Wild Pirelli World Challenge Nissan Grand Prix of VIR
Tom Blattler, Pirelli World Challenge
29 April 2017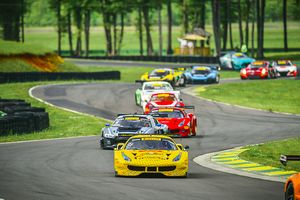 Daniel Mancinelli leads at VIR
For Immediate Release
Ferrari beats Audi to the Pro-Pro Class victory, GMG Wins Pro-Am for Porsche
ALTON, Va. (April 29, 2017) – The Italian driving combination of Daniel Mancinelli and Andrea Montermini captured Saturday's Pirelli World Challenge SprintX season opener in the No. 31 TR3 Racing Ferrari 488 GT3 in a wild 60-minute, two-driver sprint event that saw a variety of scenarios near of the event at VIRginia International Raceway.
No less than seven two-driver teams miscalculated the 60-second pit lane minimum during the driver change and were forced to serve "drive through" penalties in the second half of the one-hour contest include the No. 2 CRP Racing Mercedes AMG team of Ryan Dalziel and Daniel Morad, the No. 58 Wright Motorsports Porsche 911 GT3 R of Patrick Long and Jörg Burgmeister, the No. 61 RFerri Motorsport Ferrari 488 GT3 of Alex Riberas and Kyle Marcelli and the No. 3 Cadillac Racing Cadillac ATV-V.R. of Johnny O'Connell and Ricky Taylor.
At the checkered flag, the Ferrari of Mancinelli and Montermini held of the No. 82 McCann Racing Audi R8 LMS if Mike Skeen and Andrew Davis to win by just .239 seconds in the Pro-Pro class.
Montermini fought his way to the lead from sixth to win the crowd-pleasing SprintX opener at the 3.27-mile, 17-turn road circuit in southern Virginia. Earlier in the race, Mancinelli and Pierre Kaffer of Germany made contact before the driver change with both driver's machines spinning off the track. Mancinelli was able to make it to the pit area to switch with Montermini in the Ferrari's cockpit.
"Fortunately, the last lap before the pit stop, I was overtaking a GT4 car at the back of the track on corner 8-9," said Mancinelli. "Kaffer was running quicker but I was overtaking the GT4 car and we made contact and spun off the track. The car wasn't damaged too much and then I dropped the car off to Andrea (Montermini) and he did a good job. After the caution, and factoring in the penalties for the pit stops for the other cars, we ended up with a fantastic win."
"I was racing in the Blancpain Series in Europe," said Montermini, a veteran with IndyCar and U.S. Endurance racing experience. Luckily, I was called by the guys and I was so happy to be back here in the U.S. It's like a second home to me. I had some great days here in the past. I had a good feeling about the racing since I jumped on the track Thursday. Everybody is so nice and professional, and it's so competitive. To be honest, this is the kind of racing you can't find in Europe."
Skeen of nearby Charlotte, won the pole Saturday morning with a new PWC track record of 114.3 miles per hour average and held the early lead in the SprintX event Saturday before tangling with a back marker. Davis, a little addition to the team after team owner Mike McCann became ill, made a superb drive back up the field to take the runner-up spot in the Pro-Pro division.
"My race started off nice and smooth and we got the lead through turn one," said Skeen. "I was were able to manage a little bit of a gap to (Ryan) Dalziel. Just as the pit window opened we got run off by a lap car and lost a lot of time. Unfortunately, we lost 15-20 seconds before I handed it over to Andrew (Davis). Fortunately for us, some other guys messed up the pit stops so we were able to capitalize. We were able to get the pole earlier and then end up with a podium, but we're a little more hungry than that and want to get more tomorrow."
"I was here at VIR to coach my friend, Preston Calvert, when Mike McCann said he needed a driver for him," said Davis. "Pirelli World Challenge has always been crazy competitive. A last year I was amazing how fast everyone is and how competitive the team are throughout the series. The driving is very professional too. I think the SprintX format is great. Now you have 35 entries, great driver pairings, I was really impressed the way it worked."
Rounding out the podium for Saturday's SprintX event at VIR was the Pro-Am duo of James Sofronas of California and Laurens Vanthoor of Belgium, who finished third overall in the 33-car field and won the Pro-Am division in the No. 14 GMG Motorsports Porsche 911 GT3 R.
"I knew the guys I was racing with were all the Pro-Pro class in the 10th to 15th place," said Sofronas, the GTA class winner at Long Beach. "So I knew that if I made contact and knocked the car's alignment out that Laurens (Vanthoor) wouldn't have a chance. So, I gave up some positions to the pros and then stayed with them knowing that it if it went green the whole way, Laurens would get a good car. We had a good strategy on our pit stop and the allowed adjustments we were going to make. There are no easy passes in this series. I was fighting for fifteenth place with some pros - it's an amazing competition."
"I had quite a few close calls," said Vanthoor. "There were a few moments where I would try to make a pass and think to myself 'I hope this is going to work out.' But it did work out, I didn't touch any cars, managed to get through the field quickly and finished first (in class) so it was good."
Another Pro-Am contingent placed fourth overall with Micheal Schein of Glen Cove, N.Y., and Jan Heylen of Tampa, Fla., in the No. 16 Wright Motorsports Porsche 911 GT3 R with fifth going to the Cadillac Racing Pro-Pro duo of Michael Cooper of Syosset, N.Y., and Jordan Taylor of Orlando, Fla., in the No. 8 Cadillac ATS-V.R.
Also claiming class wins in the SprintX contest Saturday were Kris Wilson and Drew Regitz in the No. 007 Lasalle Solutions/Abode Road Winery/TRG-AMR Aston Martin GT3 in the GT Am-Am class; Yuki Harata and Allesandro Bressen in the No. 55 Dream Racing Motorsports Lamborghini Huracan in the GT Cup Pro-Am; Joe Toussaint and Cory Friedman in the No. 90 Autometrics Porsche 911 GT Cup in the GT Cup Am-Am; Adam Merzon and Trent Hindman in the No. 017 Case-It Porsche Cayman GT4 Clubsport MR in the GTS Pro-Am; and Cameron Cassels and Phillip Bloom in the No. 018 Case-It Porsche Cayman GT4 Clubsport MR in the GTS Am-Am.
Sunday's SprintX Round 2 feature will take place at 1:15 p.m. EDT.
ALTON, Va. – Results from Saturday's SprintX Round 1 Pirelli World Challenge Nissan Grand Prix of VIR at VIRginia International Raceway.
Pos,PIC,Class,Name, Team ,Car,Laps,Status,Race Time,Gap
1,1, Pro/Pro, Mancinelli/Montermini, TR3 Racing,,Ferrari 488 GT3,32,Running,1:00:32.367,
2,2, Pro/Pro, Skeen/Davis, McCann Racing,,Audi RS 8 LMS,32,Running,1:00:32.607,0.239
3,1, Pro/Am, Sofronas/Vanthoor, GMG Racing,,Porsche 911 GT3 R,32,Running,1:00:37.982,5.614
4,2, Pro/Am, Schein/Heylen, Wright Motorsports,,Porsche 911 GT3 R,32,Running,1:00:38.523,6.155
5,3, Pro/Pro, Cooper/J. Taylor,Cadillac Racing,,Cadillac ATS-V.R,32,Running,1:00:41.672,9.304
6,4, Pro/Pro, Dalziel/Morad, CRP Racing,,Mercedes AMG GT3,32,Running,1:00:41.968,9.600
7,5, Pro/Pro, Long/Burgmeister, Wright Motorsports,,Porsche 911 GT R,32,Running,1:00:50.553,18.186
8,6, Pro/Pro, O'Connell/R. Taylor, Cadillac Racing,,Cadillac ATS-V.R,32,Running,1:00:52.391,20.023
9,3, Pro/Am, Luo/Imperatori, Absolute Racing,,Bentley Continental GT3,32,Running,1:00:52.923,20.555
10,7, Pro/Pro, Riberas/Marcelli, RFerri Motorsport,,Ferrari 488 GT3,32,Running,1:01:04.508,32.140
11,8, Pro/Pro, Abril/Fong, Absolute Racing,,Bentley Continental GT3,32,Running,1:01:34.251,1:01.884
12,1, Am/Am, Wilson/Regitz, TRG-AMR,,Aston Martin GT3,32,Running,1:01:47.167,1:14.800
13,9, Pro/Pro, Davison/Summerton, Dime Racing,,Lamborghini Huracan GT3,31,Not Running,59:06.317,1 LAP
14,4, Pro/Am, Calvert/Udell, Calvert Dynamics,,Porsche 911 GT3 R,31,Running,1:00:33.079,1 LAP
15,2, Am/Am, McQuarrie/Cisneros, MOMO/NGT Motorsports,,Ferrari 458 GT3,31,Running,1:00:43.861,1 LAP
16,5, Pro/Am, Hedlund/Lewis, K-PAX Racing,,McLaren 650S GT3,31,Running,1:00:49.192,1 LAP
17,6, Pro/Am, Negrao Sr./Negrao, MCC Motorsports,,Mercedes AMG GT3,31,Running,1:00:52.190,1 LAP
18,10, Pro/Pro, Sellers/Kane, K-PAX Racing,,McLaren 650S GT3,31,Running,1:01:15.199,1 LAP
19,11, Pro/Pro, Eversley/Dyer, RealTime Racing,,Acura NSX GT3,31,Running,1:01:24.614,1 LAP
20,1, Pro/Am, Harata/Bressan, Dream Racing Motorsport,,Lamborghini Huracan Super Trofeo,31,Running,1:01:31.313,
21,1, Am/Am, Friedman/Toussaint, Autometrics Motorsports,,Porsche 911 GT Cup,31,Running,1:01:59.780,1 LAP
22,7, Pro/Am, Pappas/Bleekemolen, Black Swan Racing,,Mercedes AMG GT3,30,Running,1:01:55.657,2 LAPS
23,1, Am/Am, Balogh/Liefooghe, Stephen Cameron Racing,,Aston Martin GT4,30,Running,1:02:09.266,2 LAPS
24,1, Pro/Am, Merzon/Hindman, Case-it Racing,,Porsche Cayman GT4 Clubsport MR,30,Running,1:02:10.159,2 LAPS
25,2, Am/Am, Bloom/Cassels, Case-it Racing,,Porsche Cayman GT4 Clubsport MR,29,Running,1:00:49.666,3 LAPS
26,2, Pro/Am, Kaufman/Tilley, TRG-AMR,,Aston Martin Vantage GT4,28,Running,1:00:45.963,4 LAPS
27,3, Am/Am, Dayson/Pegram, M1GT Racing,,Audi R8 LMS Ultra,28,Running,1:02:22.662,4 LAPS
28,12, Pro/Pro, Kaffer/Pumpelly, Magnus Racing,,Audi RS 8 LMS,27,Running,1:01:12.246,5 LAPS
29,13, Pro/Pro, Parente/Barnicoat, K-PAX Racing,,McLaren 650S GT3,25,Running,1:01:13.986,7 LAPS
30, 3, Am/Am, Johansson/Fuentes, Scuderia Corsa Ferrari 488 GT3, Running, 10 LAPS
31,8, Pro/Am, Potter/Seefried, Magnus Racing,,Audi RS 8 LMS,17,Running,,15 LAPS
32,9, Pro/Am, Montecalvo/Sanchez, Always Evolving/AIM Autosport Nissan GT-R Nismo GT3, 19 LAPS
33,14, Pro/Pro, Kox.Wilkins, RealTime Racing,,Acura NSX GT3,11,Not Running, 21 LAPS
Connect with The Crittenden Automotive Library