Incredible week of Daniel Morad makes him a PWC SprintX Winner and a favorite coming to his home track, CTMP, on May 19-21
Incredible week of Daniel Morad makes him a PWC SprintX Winner and a favorite coming to his home track, CTMP, on May 19-21
Tom Blattler, Pirelli World Challenge
9 May 2017

For Immediate Release

Canadian enters VIR race late but leaves with an impressive performance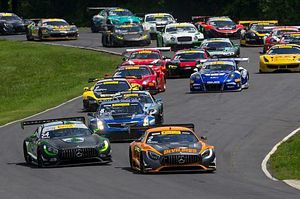 Morad Leads at VIR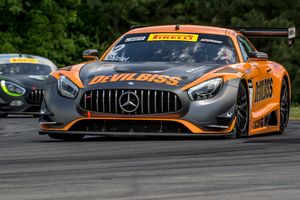 CRP at VIR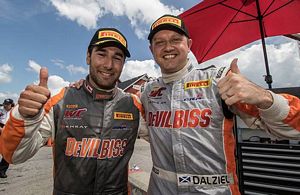 VIR Winners: SprintX Race 2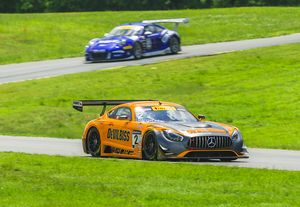 Dalziel/Morad Win VIR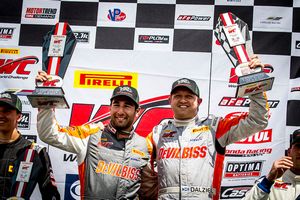 Morad/Dalziel VIR Win
BOWMANSVILLE, Ont., Canada. (May 9, 2017)
– Canadian racer Daniel Morad's life took an interesting turn two weeks ago when he received a phone call from Nick Short of CRP Racing, a Pirelli World Challenge racing team based in Charlotte, N.C.
The former open-wheel star had been seeking to raise his racing career to the next level when everything came to screeching halt. After competing in the European GP3 in 2011, Morad was left without ride. The personable sports car racer was wandering racing paddock areas in North America looking for a ride while being a racing coach and assisting with corporate driving activities.
"I'll admit that time off left me thinking a lot about my racing career," said Morad, who'll return to his hometown track of Canadian Tire Motorsport Park on May 19-21 for the next SprintX weekend of the Pirelli World Challenge. "Luckily I was offered a ride and things started looking up. I was getting calls."
After a difficult time getting to his current sports car status, the 27-year-old driver from Markham, Ont., Canada, then won the 2016 Porsche Cup in North America and Canada and subsequently captured his class in the prestigious Rolex 24 at Daytona in January of this year.
Morad's wild ride on his path to the VIRginia International Raceway for the season-opening PWC SprintX weekend gave him confidence and he put in a brilliant performance against some of the world's best factory sports car drivers.
"Nick called me on the Friday before the VIR race week and offered me the ride with Ryan Dalziel in the No. 2 CRP Racing Mercedes-AMG GT3," Daniel explained. "I was excited for the call. But things got crazy that next week. Nick asked me to come to Charlotte to look at the Mercedes and get fitted for the seat on Monday, which was my 27th birthday. So, I signed the contract and then Nick said they needed me to do a live TV show in Charlotte Tuesday with the race car too. It was funny. That was three minutes of live television and I didn't really know much about the car. But the exposure was great in Charlotte and for the VIR race."
Later in the week, Morad was ready to join Dalziel and the CRP team's crew in the season-opening PWC SprintX race (60-minute sprint with two drivers and a pit stop) at VIR.
"The SprintX field at VIR was incredible with just a great field of top sports car drivers," he said. "And I hadn't driven the Mercedes yet. But I was thrilled to drive with Ryan (Dalziel), one of the top sports car racers in the world. I was super pumped coming there. I grew up watching Ryan so to be driving with him is great. Having him as my partner is a huge help with the learning curve in sports cars."
While Dalziel is the primary driver for CRP Racing, Morad's stunning drive against such sports car stars as Jeroen Bleekemolen, Jordan and Ricky Taylor, Spencer Pumpelly, Ben Barnicoat, Laurens Vanthoor, Andrew Davis, Kyle Marcelli and Jörg Bergmeister was extremely spectacular for his debut in the Pirelli World Challenge and the CRP Racing Mercedes-AMG GT3.
"I was pushing but trying to conserve tires at the same time," Morad said. "It was a little bit of a challenging race, even though it didn't look like it. I was just trying to mind the gap and the tires and just hanging on until I got the call to hand off to Ryan."
Morad's restart before the SprintX Round 2 pit stop opened up a gap for his teammate and helped Dalziel gain an advantage over the likes of 2016 PWC GT champion Alvaro Parente, Michael Cooper, Daniel Mancinelli, Pierre Kaffer, Alex Riberas, Mike Skeen and Johnny O'Connell.
Dalziel saw something in Morad at VIR that he really liked, too.
"We knew coming here the Mercedes would be strong," said Ryan. "The only variable was how Daniel would adjust to having the engine in the front. He has been driving Porsches lately. It was a big weekend for us with it being a home race for CRP Racing and our sponsor, DeVilbiss. Daniel was a superstar at VIR in his first PWC race. Actually we had a flat tire late in the race and glad the race ended under the yellow flag. Right now, I love the SprintX format, but we need to take a good look at if it helps the package that we have or not. There was a lot of cars here. The VIR weekend was very impressive for SprintX."
And it was very impressive for Morad in his quick introduction to the Mercedes and the SprintX format.
"Ryan said to stay out and keep up the pace as I had a world-class driver Bleekemolen right behind me," said Morad. "I thought I would have to pit as soon as the pit window opened. Then there was a yellow flag. And I knew I had one or two green laps before I could pit and turn the car over to Ryan. I got a good restart and then Ryan just opened the advantage to 12 seconds late in the race before the final yellow flag and the checkered flag."
Now, Morad and Dalziel team up again for SprintX Round 3 and 4 at the historic Canadian Tire Motorsport Park, formerly Mosport, for the annual Victoria Day racing weekend over the 2.458-mile, 10-turn road circuit northeast of Toronto.
Another outstanding field of SprintX GT3 cars and drivers is set for the three-day racing extravaganza with machines from Acura, Audi, Aston Martin, Bentley, Cadillac, Ferrari, Lamborghini, McLaren, Nissan and Porsche.
Close to 100 machines are entered for the CTMP event and the three-day racing weekend will have doubleheader races in seven divisions (SprintX -- GT, GTA, GT Cup; GT4/GTS and Touring Car, TCA and TCB). PWC race lengths for the SprintX GT/GTA/GT Cup will be 60 minutes (two drivers) and GT4/GTS class will be 50 minutes. The Touring Car/TCA/TCB classes will be 40 minutes.
All races will stream live on www.motortrendondemand.com and www.world-challenge.com.
# # #
Contact: Tom Blattler, Pirelli World Challenge, tblattler@wcvision.com, (317) 525-5692
Connect with The Crittenden Automotive Library