Milwaukee school friends continue their high school dream By racing professionally in the Pirelli World Challenge
Milwaukee school friends continue their high school dream By racing professionally in the Pirelli World Challenge
Tom Blattler
Pirelli World Challenge
13 June 2017

For Immediate Release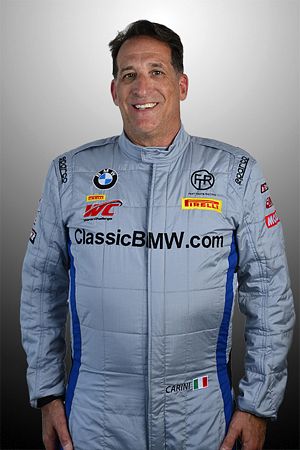 Gino Carini 2017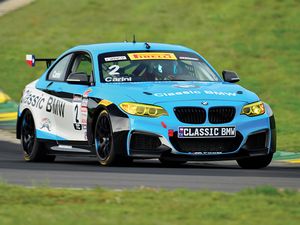 Gino Carini 2017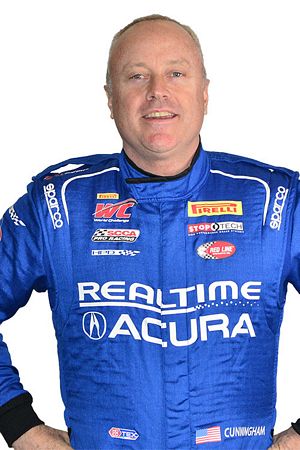 Peter Cunningham 2017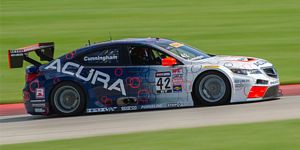 Peter Cunningham 2016 Road America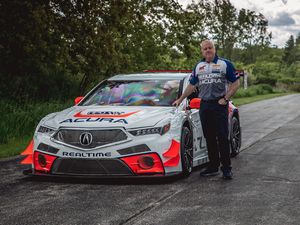 Peter Cunningham 2017
ELKHART LAKE, Wis. (June 13, 2017)
-- Peter Cunningham and Gino Carini have been friends since the eighth grade in the White Fish Bay area of Milwaukee. Both teenagers had a love for cars.
Cunningham, the winningest driver in Pirelli World Challenge racing history, was the car fanatic of the two friends with three cars in his driveway by age 18. Carini was a fan too through his father's business of selling cars.
"Peter was a car nut," said Carini, a successful construction business owner in Milwaukee. "I was definitely into cars but I went to college in Arizona and then lived in San Diego for 15 years. I was racing bicycles on the West Coast then. But we still kept in touch."
The two Milwaukee area residents followed different paths to get back to a close friendship now. And both friends will be competing next weekend (June 22-25) in the Kohler Grand Prix at Road America, just some 40 miles from their childhood homes.
"I started in the autocross competition and then moved in road racing," said Cunningham, a 43-race winner in the Pirelli World Challenge. "I had a passion for competition and expanded my racing business over the years."
Cunningham now runs a two-car sports cars team (RealTime Racing) for Acura in his Saukville, Wis.-based headquarters and serves on several racing organization's board of directors including Pirelli World Challenge and Road America. Peter will be driving his RealTime Racing Acura TLX sports car following the Road America weekend in the prestigious Pike's Peak Hill Climb in Colorado. Cunningham drove the car to second in the GT feature last year at Road America.
"When I came back to Milwaukee for business reasons, Peter had a spectacular racing setup with professional teams and drivers," said Carini. "I wanted to race too. But on a much smaller basis. So, I started racing the Sports Car Club of America's amateur series. It was fun on the weekends."
But Cunningham's influence guided Carini into the Touring Car pro ranks of the Pirelli World Challenge. Gino now drives with 2016 TC series champion Toby Grahovec in the Classic BMW Motorsports team.
"It's funny after nearly 40 years, Peter and I are hanging out in Milwaukee during the weekdays and at race tracks across North America on the weekends," said a smiling Carini. "You know, we could actually get sick of each other."
At Road America, Carini will be racing his No. 2 Classic BMW BMW M235iR with Cunningham taking some time off from driving in 2017 Pirelli World Challenge road racing series to concentrate on operating his RealTime Racing two-car Acura NSX program.
Driving the RealTime Racing Acuras in 2017 are defending Road America PWC race winner Ryan Eversley of Atlanta, Ga., in the No. 43 Acura NSX and veteran endurance sports car driver Peter Kox of The Netherlands.
"I'm taking a break from driving right now to head up the new Acura NSX program in Pirelli World Challenge," said Cunningham. "With the new race car, we need to develop the car and the overall program. I'm just as busy outside of the car as I was inside. It's a busy time."
Both Carini and Cunningham will be hanging out again at Road America, just like they did at White Fish Bay High School. And cars continue to be the center of their interests.
Testing and practice rounds for the PWC Grand Prix of Road America presented by VP Racing Fuels begin on Thursday (June 22) with qualifying and racing set for Friday, Saturday and Sunday (June 23-25) as part of the Kohler Grand Prix with the Verizon IndyCar Series on the historic four-mile, 14-turn road circuit.
# # #
Contact; Tom Blattler, Pirelli World Challenge, tblattler@wcvision.com, 317.525.5692
Connect with The Crittenden Automotive Library