2017 Kia Soul Base Model: The Best Basic Transportation (Not a Lot of) Money Can Buy
Topics: Kia Soul
Opinions expressed by Bill Crittenden are not official policies or positions of The Crittenden Automotive Library. You can read more about the Library's goals, mission, policies, and operations on the About Us page.
2017 Kia Soul Base Model: The Best Basic Transportation (Not a Lot of) Money Can Buy
Bill Crittenden
16 October 2017

Backstory

Whether someone is a "car guy" or not, they can't help but have noticed the Kia Soul. They hit the market in 2010 with a distinctive ad campaign featuring rapping hamsters, which would later be updated to dance along with songs from LMFAO and Maroon 5 in 2011 & 2014. People might not know the make & model of the car, but Kia Souls (in colors other than black) blend in to traffic about as well as rapping hamsters blend in to the evening news.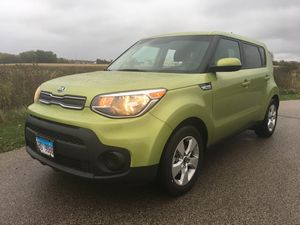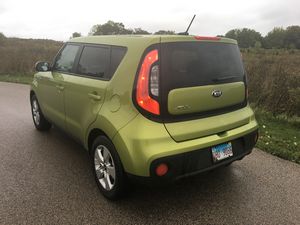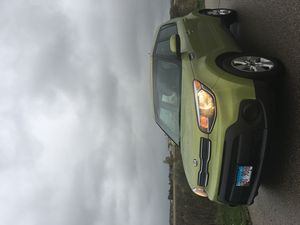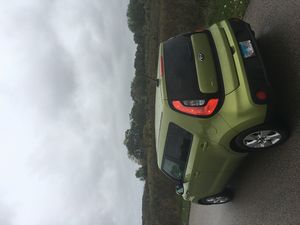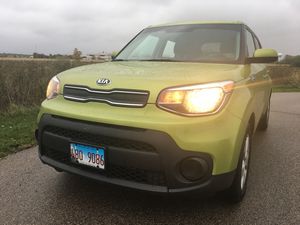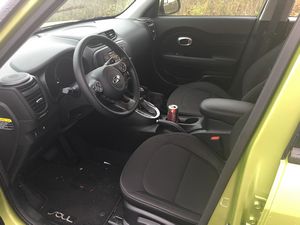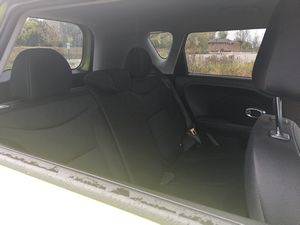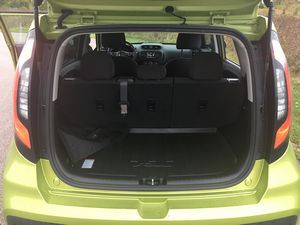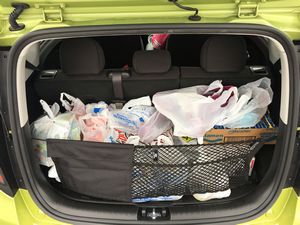 Under the bags are six 12-packs of soda, 7 will fit easily across the floor of the cargo compartment, 8 if you squeeze the last one in on top of the rubber cargo mat's edge.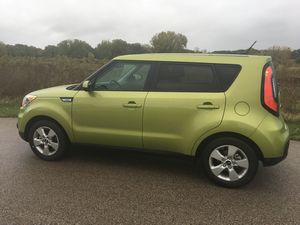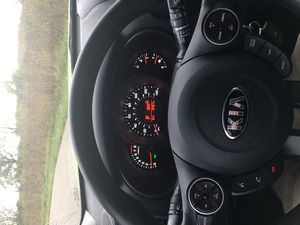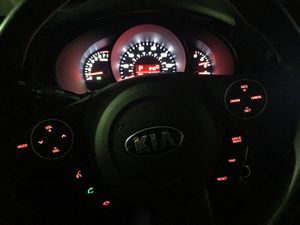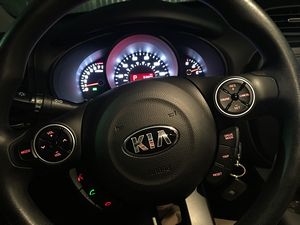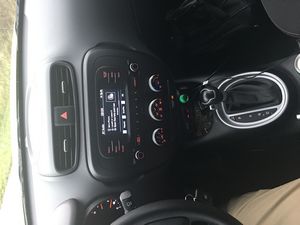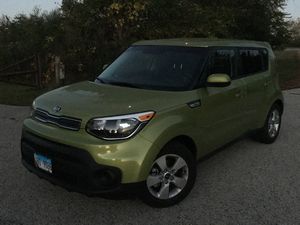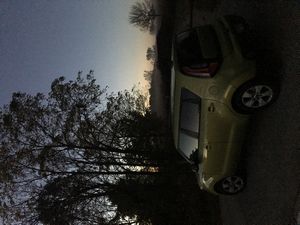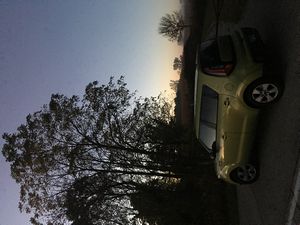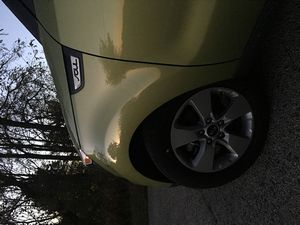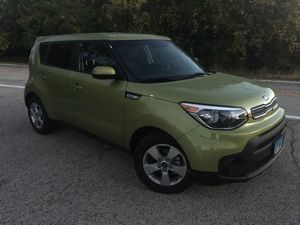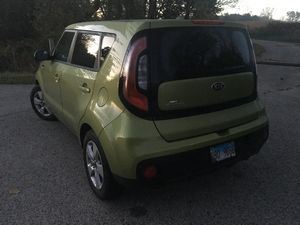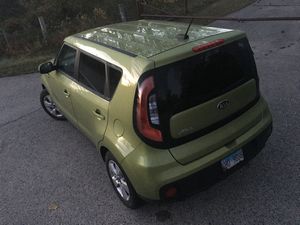 We definitely noticed when they first came out and went to test drive one in 2012. Being a bit short on money at the time we couldn't afford a brand new vehicle, and being a newer model used Souls were few and far between and we ended up with something else.
For 2014 the Soul was completely redesigned. It got a smidge bigger, a more defined front top grille but an oddly off-putting bottom front grille, and a distinctive black trim on the rear. But it also kept the same overall front end silhouette and the distinctive shape of the roof & windows was almost the same from one to the other. Only on the back door & rear bumper were the first and second generation markedly different, partly from the shape of the back door being more blended with the body lines in the second generation, but mostly because of the addition of that black trim around the rear window and blending the tail lights into that trim.
For the 2017 model year refresh the Soul got a minor facelift, most noticeably a vast improvement to that big plastic front grille. What was once an unbroken field of raised rounded rectangles was replaced by a honeycomb pattern broken up by a plastic bumper bar across the grille. New wheels were also part of the refresh, offering fairly conventional designs instead of the previous version that had such wide "spokes" that it looked more like a flat, solid wheel with five small openings than a five spoke wheel.
While these little touches tone down some of the more polarizing design elements, they're not enough to make the Soul blend in to traffic. It's still a unique vehicle, almost alone in its class now, in a class that has seen only a few competitors come and go over the years.
Earlier this year our Pontiac Vibe finally broke in a way I couldn't fix myself in our garage, and we gave the new Soul a test drive. This time we had the money to take a brand new one home with us. That wasn't hard to do, Kia Souls are actually a tiny bit cheaper than the Kia Fortes. How are they almost the same price? Because the base Soul has a 130hp 1.6L engine and the Forte has a 147hp 2.0L. The tradeoff for taking the smaller engined Soul is the high roof, but that's what I preferred. You can step up to the Kia Soul + and get both the high roof and the 2.0L engine.
In a Class (Almost) By Itself
Another improvement over the original Soul was that the light olive-y green Alien color was replaced with an intense celery green Alien II, and that was the color we got. The black one is great if you're not fond of the styling but you want the practicality as it "absorbs" a lot of the styling elements some folks don't like, especially the black plastic surrounding the rear window. The red one is also great, in the opposite way, because the tail lights match the red paint and that really brings that rear styling together even better. If you get the red + or ! models with the painted front grille it matches that black plastic on the back and looks
fabulous
. Other available colors include the standard silver, white, and dark gray on the base model. There's also a medium blue and some two-tone options with painted roofs on higher level models.
But the base model is the one we got, and that's what I'll be focusing on here. While it's missing a lot of little conveniences and the party trick glowing speakers from the commercials, it's perfect for what we needed at the time: basic transportation for six-foot-plus tall people.
The Kia Soul isn't just about standout style, and that's unfortunate because I know that the style can be off-putting to some. Certainly not to us, with the "hey, look at me!" green we got, but some really hate it. This is actually a good selling point, because creating a love/hate kind of car at least means that a lot of people love it enough to sign a check. Creating bland cars that nobody hates usually means that nobody loves them, either. The Soul is a good enough vehicle for practicality that it could sell well in almost any style, so I wonder if Hyundai could sell a more conventionally styled version. In other markets the Soul's chassis is used as the basis of the Hyundai Creta, which looks like an even smaller Hyundai Tucson, and I wonder how much that would have cost on the American market.
The boxy, high-roof Soul is in a shrinking market niche previously shared with the Nissan Cube, Honda Element, and Scion xB in styling even if they didn't match on price & practicality. They were boxes on wheels, which maximizes the interior volume available within the given length & width, much like the new European-type vans (Ford Transit & Dodge Sprinter for example) on the American market don't have the interior-space-wasting curves of the vans they're replacing.
What makes the Kia Soul such an amazing vehicle is that for $16,100 with manual transmission or $17,700 with an automatic, you get a vehicle with almost as much headroom inside as a small pickup truck. In fact, with the upright seating position, the less-raked windshield, the more than ample headroom, and being able to see almost to the front of the hood it
almost
feels like you're sitting in a small pickup truck. As for the numbers, Kia has 39.6" of headroom, you get 40" in a Tacoma or Frontier, or 41.4" in a midsize Colorado/Canyon.
Side note: if you've ever read one of my "reviews" before you'll know I'm a bit headroom-obsessed. I'm 6'2", but disproportionate in a way that my torso is longer and my legs shorter than the average 6'2" person. So usually I've got to lean the seats back for headroom but then I can't reach the steering wheel. My son is expected to be six-foot-five or seven according to his growth chart. So it's very high on our list of things to look for when car shopping.
Anyway, it only feels like a pickup truck until you drive it. It's not sporty but it's not underpowered (when unloaded) at 130 horsepower. The handling is really impressive. Not at speed, though. The tall, light vehicle gets blown around in the wind a bit and the cheap Nexen tires (a brand I've never heard of before) haven't given me the confidence to push it anywhere near its limits. No, where the handling is impressive is in the average suburban street. The electric power steering is light but accurate, you can whip the wheel around with your fingertips and the short Soul goes exactly where you want it to with a turning radius that would make a cabbie jealous. Winding your way around parking lots is effortless, it's easy to hop in and out of which is great for running errands, and parallel parking should't be an issue.
Oh, and I've seen Souls used as cabs before, because the almost flat roof carries along most of that headroom to the back seats. Provided that you don't need all wheel drive, a base Soul would make a excellent business vehicle. Extremely easy to get into and out of, cheap to buy & maintain, decent fuel mileage for a boxy vehicle, and excellent low speed handling makes it perfect for security work or a courier service. I've also seen one used by a cargo service at O'Hare Airport (I don't think it was used for actual cargo but for the employees driving around the terminals). The attention-grabbing style is also good for a small business looking to turn the car into a rolling billboard. Google
Kia Soul wrap
and you can see a variety of companies driving Souls.
I'm Trying to be a Little Negative, Honest!
Now, the bad news. It's not perfect by any means. $18K isn't going to get you everything. There's no backup camera, and we had to buy stick-on blind spot mirrors (thanks to Ford I've become accustomed to those). The dashboard is all black plastic, the kind I've complained about in $25,000 cars but you'd expect $8K more to get you something better, at the Soul's price it's what's to be expected.
You have to spring for the + model to get Apple CarPlay, the base model just has a non-touchscreen monochromatic display but it does include BlueTooth, USB connections, and dual power ports. That might actually be a plus for some uses as I've heard new reports on how distracting some of the new automotive tech can be and I anticipate handing off this car to a teenager in a few years.
Oh, that reminds me of another reason we love the Soul. The base model can be the perfect car for a new driver. Five-star safety ratings, enough power to get going but not enough to do anything stupid, and a lack of dashboard gizmos to distract a rookie driver. That was actually our plan: I'll drive it until our son needs a car to get to work, at which time we'll get something nicer and he'll finish paying off the Soul. Hope he still likes the Alien green in a few years!
Anyway, back to the negatives: the transmission downshifts too early when taking your foot off of the gas pedal, so instead of smoothly coasting you get a little jerkiness and it slows down. Putting the car in ECO mode lessens this, putting it in Sport mode ensures it's already in a lower gear as you're driving it. Speaking of the gas pedal, the floor-hinged pedal is a bit awkward if you've grown up driving a suspended pedal.
The rear storage isn't huge, and if you have four grown adults trying to go on a trip you'll all have to pack lightly: no more than a duffel bag & a day pack for each person. Hopefully at least a couple of the passengers are skinny because the engine power is perfectly adequate for a single commuter but when it's loaded up the Soul gets a bit sluggish. Not badly, but noticeably.
Rear passengers on any sort of trip will probably not appreciate the lack of regular cupholders in the back. There are some spaces in the door pockets for bottles, but you can't just drop a medium McDonald's wax paper cup of Coke in there without risking spilling when trying to get it back out.
It's adequate for the average short-distance shopping trip, though, and it can hold a lot with the seats down. Under the rear cargo compartment floor there are some small bins for the random things you should carry with you wherever you go (first aid kit, emergency tools), and under that there's even more space because the spare tire has been replaced by a smaller inflator kit. The Soul has the impression in the floor pan for a donut spare, but to save cost & weight it's been relegated to an option. If you're okay with the inflator kit, it's bonus storage space and I've used mine for extra clothes & a few nonperishable, non-freezable food items in case I get stuck at work.
Okay, it's hard to stay negative about the Soul. It's the cheap compact car I've been wishing for since I had a tiny Hyundai Accent with the seats laid nearly flat just so that I could fit in the damn thing. Perfect? Of course not. But are the few minor negatives really going to be deal breakers on a $18K new car that my son and I can sit comfortably in? Hell no!
Competition? Pfft! What Competition?
Well, it does have a
little
competition. If you don't need a tall vehicle, the Honda HR-V, Mazda CX-3, Nissan Juke, and Toyota C-HR are available to you (I physically couldn't fold myself in such a way that I could actually drive the Juke) but even though you may fit in one comfortably they're up above $19K, $19K, $20K, and $22K respectively for base MSRP only. Even if our family were all under 5'10" we'd probably still have gone with the Soul.
If you need a tall small crossover, the Ford EcoSport isn't on the market yet and the Chevrolet Trax is $21K for a vehicle with uncomfortable seats and a horizontally cramped interior. The Jeep Renegade is really the only other vehicle to consider. The basic FWD Sport is $19,325 with an automatic transmission, it's more costly and more powerful than the Soul and it sacrifices some fuel mileage for that extra power. It's also a styling standout for a completely different reason, and maybe power & American badassness appeals to you more than the Soul's quirky metallic green funk.
I can't blame you for that, my heart pulled me in that direction when the Renegade first came out but there's another potential cost to buying one: repairs. The U.S. News & World Report 2016 scores rates the Jeep 2.5/5, the Kia 4.5/5. Anecdotally, it shows. I subscribe to the Jeep Renegade page on Reddit for regular reminders that I made the right choice in the Soul as Renegade owners publicly struggle with their problems. Should anything actually break on either one, the Kia's warranty is longer than the Jeep's by 2 years/24,000 miles basic, 5 years/40,000 miles powertrain.
If you absolutely, positively have to have AWD, the Renegade is the only option, the Kia Soul doesn't offer it. You can get a Renegade with a 1.4L engine (turbocharged, so you'll pay more for gas), manual transmission, and AWD for $19,995 or the non-turbo 2.4L & automatic for $21,325, well below the cost of traditional small crossovers with AWD (Equinox, Escape, Tucson, Sportage, etc.).
But if you don't need AWD, the Kia Soul is almost in a class all by itself with just a little token competition from Jeep. It's substantially bigger than the other cars at its price point, it's substantially cheaper than anything else that has as much vertical passenger space, it's simply engineered and rock-solid reliable with the Hyundai-Kia warranty to back it up, it's short and unbelievably maneuverable for crowded city & suburban spaces, and it can either stand out or blend in depending on the color you pick. It's just the best basic transportation on the market for anyone over six feet tall, and by far the most affordable and sensible FWD small crossover on the market.
Connect with The Crittenden Automotive Library