Cybersecurity Technology Giant CrowdStrike® Named Official Series Sponsor for 2018 Pirelli World Challenge Championships
Cybersecurity Technology Giant CrowdStrike® Named Official Series Sponsor for 2018 Pirelli World Challenge Championships
Tom Blattler
Pirelli World Challenge
21 February 2018

For Immediate Release

George Kurtz Takes CrowdStrike to 2017 PWC GTSA Class Title, Ready for 2018 Series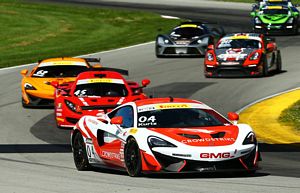 George Kurtz wins GTSA MO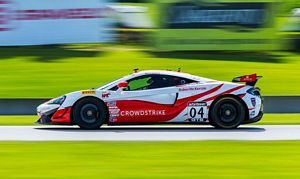 George Kurtz wins Road America 2017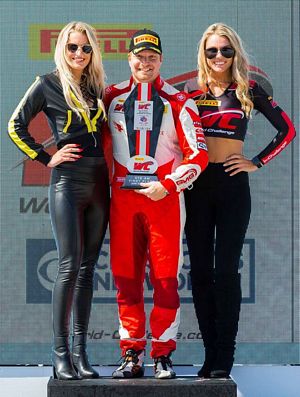 George Kurtz wins Road America 2017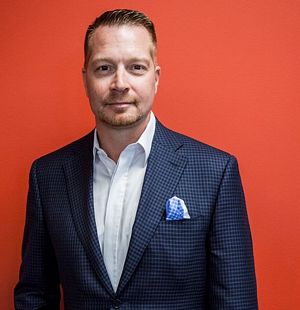 George Kurtz
AUSTIN, Texas (Feb. 21, 2018)
– WC Vision, producers of the Pirelli World Challenge, today announced a season-long partnership with CrowdStrike, Inc., the leader in cloud-delivered endpoint cybersecurity protection.
CrowdStrike, Inc., headquartered in Sunnyvale, Calif., will be an official series sponsor and Cybersecurity Provider for the 10-weekend Pirelli World Challenge Championships, North America's top GT production-based road racing series.
CrowdStrike will be featured on the side of every Pirelli World Challenge racing machine in 2018 as part of this new agreement.
CrowdStrike provides endpoint security, threat intelligence, and incident response services to customers in more than 176 countries. More than 10 percent of Fortune 1000 companies worldwide leverage CrowdStrike's technology and services, including 3 of the ten largest companies by revenue and 5 of the ten largest financial institutions. Notable customers included Telstra, ADP and Hilton Hotels and Resorts.
George Kurtz, co-founder and CEO of CrowdStrike, Inc., is also a talented racing driver and captured the Pirelli World Challenge GTSA point championship with nine race wins last year in the No. 04 CrowdStrike/GMG sports car. Kurtz is scheduled to compete in the 2018 PWC GTS division beginning with the Firestone Grand Prix of St. Petersburg March 9-11.
Kurtz and his company have been featured in ABC World News, CNN, Fox News, Bloomberg, CNBC, New York Times, USA Today, Wall Street Journal, Associated Press, Forbes, Fortune Magazine and Washington Post to due to CrowdStrike's sensational success.
"Partnering with Pirelli World Challenge as a series sponsor gives CrowdStrike a much larger platform for our rapidly-expanding business," said Kurtz. "This will be the third consecutive year we've hosted guests in the PWC paddock, which provides both a valuable networking event and an exciting race weekend experience. I'm really looking forward to kicking off the race season with our first CXO Summit in St. Petersburg."
The Pirelli World Challenge series enters its 29th annual campaign with a variety of exotic sports cars racing wheel-to-wheel at many of North America's most famous race circuits including the Long Beach Grand Prix, Circuit of the Americas (COTA), Road America and Watkins Glen International in the ten-weekend schedule.
"We are pleased to have CrowdStrike join us as an official Series Sponsor and as our official Cyber Security provider," said Greg Gill, president and CEO of WC Vision. "Their proven track record brings us peace of mind for our cloud security needs, and we're proud they've chosen PWC as a platform to host their executive summit events this season."
The 2018 Pirelli World Challenge road racing schedule will begin in the streets of St. Petersburg, Fla., March 9-11 followed by COTA March 23-25, the streets of Long Beach, Calif., April 13-15, VIRginia International Raceway April 27-29, Canadian Tire Motorsport Park May 18-20, Lime Rock Park May 25-28, Road America June 22-24, Portland International Raceway July 13-15, Utah Motosports Campus August 10-12 and Watkins Glen International Aug. 31-Sept. 2.
# # #
About CrowdStrike®
CrowdStrike, a cybersecurity technology company, is the leader in cloud-delivered endpoint protection. Leveraging artificial intelligence (AI), the CrowdStrike Falcon® platform offers instant visibility and protection across the enterprise and prevents attacks on endpoints on or off the network. CrowdStrike Falcon deploys in minutes to deliver actionable intelligence and real-time protection from Day One. It seamlessly unifies next-generation AV with best-in-class endpoint detection and response, backed by 24/7 managed hunting. Its cloud infrastructure and single-agent architecture take away complexity and add scalability, manageability, and speed.
There's much more to the story of how Falcon has redefined endpoint protection but there's only one thing to remember about CrowdStrike: We stop breaches.
Learn more:
https://www.crowdstrike.com
Follow us:
Blog
|
Twitter
© 2018 CrowdStrike, Inc. All rights reserved. CrowdStrike®, CrowdStrike Falcon®, are among the trademarks of CrowdStrike, Inc. Other brands may be third-party trademarks.
About Pirelli World Challenge
Pirelli World Challenge (www.world-challenge.com) is North America's premier GT Production-based sports car sprint series and now enters its 29th consecutive season. The exciting series featured 26 different auto makes with 44 separate models in 2017. Pirelli World Challenge exhibits one of the most competitive racing series in the world with incredible wheel-to-wheel action between exotic cars such as Chevrolet Corvette, Ferrari, Porsche, McLaren, Nissan, Audi, Bentley, Acura, Lamborghini, Mercedes-Benz and Aston Martin. Over 100 cars will be action with seven different categories in 2018 including GT, GTA, GT Cup, GTS, TCR, TC and TCA. In 2018, PWC will host 10 weekends in North America including the season opener in the streets of St. Petersburg, Fla., March 9-11. In addition to the on-track competition, racing fans and car enthusiasts can gain a close-up view of the most exotic racing sedans in the world in the "world class" paddock area. There is something for every racing fan.
Contact: Tom Blattler, Pirelli World Challenge, tblattler@wcvision.com; 317.525.5692
Danielle Crespo, CrowdStrike Racing Press, danielle@suitepass.com; 512.820.3567
Connect with The Crittenden Automotive Library