AL HOLBERT, Racing Legend Remembered 30 Years Later
AL HOLBERT, Racing Legend Remembered 30 Years Later
Tom Blattler
27 September 2018

For Immediate Release

Family Man, Racer, Engineer, Businessman, Friend Brought So Much to Racing

WARRINGTON, Pa. (Sept. 27, 2018) – The motorsports community tragically lost a racing legend 30 years ago this weekend.

The talented Al Holbert left this earth on Sept. 30, 1988 in a plane crash in Columbus, Ohio, but he has left so much of himself in spirit with the people he associated with in racing, business, church, friends and family. And that spirit continues some 30 years later.

Holbert was 41 when he passed, and he left a tremendous legacy in his sport, whether it was on or off the track. The Warrington, Pa., racer was a stunningly fast driver, a superb engineer, a successful team owner and a terrific businessman with Porsche North America or the Holbert car dealerships.

Very few people had as much on their plate at one time as Holbert, a five-time IMSA series champion with 49 career race wins. In his career, he drove GT and GTP sports cars (as a winner), Can-Am cars (as a winner), IndyCars (just one year in 1984) and stock cars (19 Winston Cup starts with four top-tens) while still being an important "behind the scenes" component in the motorsports industry.

Off the track, the Lehigh University engineering graduate was a devoted family man (with wife Joy and children Todd and Laura) and born-again Christian who helped so many of his friends, family and employees with their needs which no one ever knew about publicity.

Just ask any former business associate, team member or racing rival and Holbert was the consummate professional. And Al's mind was always thinking how to make things better.

He spearheaded the Porsche IndyCar program, worked with Porsche racing customers, drove the Lowenbrau Porsche 962 to the 1985 and 1986 Camel GT championships as well as overseeing the Holbert dealerships in Warrington. Plus, he won the world's biggest sports car races multiple times (3 wins at Le Mans, 2 wins at Daytona and 2 wins at Sebring).

Holbert captured back-to-back IMSA crowns (1976-77) as a young professional racer with six race wins in 1976 and four victories in 1977 in the No. 14 Holbert Racing Chevrolet Monza.

And there were sensational drives in the Can-Am series (1979-1982) against the likes of Alan Jones, Keke Rosberg, Jacky Ickx, Patrick Tambay, Bobby Rahal, Danny Sullivan, Geoff Brabham,Teo Fabi and Al Unser Jr. Holbert scored ten Can-Am victories in those years including numerous wins with his popular CAC-1 and CAC-2 chassis developed with Lee Dykstra.

After his Can-Am performances (2nd twice and 3rd once in points in four years), Holbert returned to IMSA in 1983 to win a third Camel GT title with eight wins, mostly teaming up with the late Jim Trueman in a March chassis with Chevrolet (part of the year) and Porsche (part of the year) powerplants. Al also co-drove with Hurley Haywood and Vern Schuppan to win a dramatic 24 Hours of Le Mans victory that year. It was Holbert's first of three Le Mans triumphs.

Al's only season in the CART PPG Indy Car World Series was in 1984 when he drove the Alex Morales-owned car (with CRC and Red Roof Inns sponsorship) March-Cosworth to fourth at the Indy 500, fifth at the Meadowlands and seventh at Cleveland (all tracks he had never raced before).

Then, Holbert Racing landed the Lowenbrau beer sponsorship from Miller Brewing and established an incredible legacy in one of sports car racing's most famous machines, No. 14 Lowenbrau Porsche 962. With a big-time sponsor and the all-new Porsche 962 GTP machine, Holbert and his co-driver Derek Bell were a juggernaut in the 1985 and 1986 Camel GT road racing series in IMSA.

With Bell and Unser Jr. as co-drivers in several events, Holbert collected nine race wins and his fourth IMSA Camel GT championship in 1985. While Al and his teammates were dominating the 1985 sports car season, he was quietly developing the new Porsche IndyCar program for the highly-competitive CART PPG Indy Car World Series.

Holbert returned in 1986 to the Camel GT series with Bell as his co-driver to win six events and a fifth IMSA crown. But it was obvious that Al had more on his mind with the business aspects of his career. In 1987, Holbert hired young Chip Robinson as the primary driver of the famed Lowenbrau Porsche with Bell and Unser Jr. as teammates.

While Holbert was running the Holbert Racing team from the pits in 1987 24 Hours of Daytona, the extreme outside temperatures and an exhaust leak in the race car wore out the Robinson, Bell and Unser Jr. trio and Al had to jump in the Porsche late in the event to help record another 24 Hours of Daytona victory.

With Holbert deep in "behind the scenes" activities with the IndyCar project and other Porsche programs, Robinson also scored wins at Portland (solo) and San Antonio (with Bell) and took his first Camel GT championship in 1987 with the Lowenbrau Porsche. Holbert also decided to dabble in the cockpit in 1987 and scored a spectacular come-from-behind win at Lime Rock Park in the No. 1 Lowenbrau Porsche 962.

In addition, Holbert went back to Le Mans in 1987 and teamed with his 1986 race-winning combo of Bell and Hans Stuck. The trio took another checkered flag at the world's biggest sports car race. It was Al's third Le Mans victory.

The 1987 Camel GT event at the inaugural Grand Prix of San Antonio also saw a Holbert Racing first with Robinson and Bell winning and Holbert and Texas legend A.J. Foyt second, the team's first 1-2 finish in the GTP class. But there was a twist too.

Holbert, figuring his driving career was coming to an end, jumped into the No. 14 Porsche at the end and took the checked flag for the final time in IMSA, securing his 49th race win. Those 49 wins were the IMSA career leader at the time of his death. Later that year, Holbert attempted to qualify the all-new Quaker State Porsche IndyCar at the Tamiami Park event, the 1987 CART season finale. However, the new car failed to qualify for the race.

In 1988, Holbert Racing fielded the No. 14 Miller High Life Porsche 962 with the brand sponsorship change from Lowenbrau. Robinson and Bell returned to the cockpit for the series and Holbert also drove in the 24 Hours of Daytona with the duo. While battling for the lead late in the event, a mechanical problem kept the Holbert Racing effort from a third consecutive 24 Hours of Daytona overall victory.

In 1988, Teo Fabi drove the No. 8 Quaker State Porsche IndyCar in the CART PPG Indy Car World Series with Fabi finishing tenth in the final point standings. Fabi's best finish was a fourth at Nazareth. Fabi returned in 1989 to win Porsche's first IndyCar race at Mid-Ohio.

After Al's death on Sept. 30, 1988, the Holbert Racing team was shut down and many of the team members went on to very successful racing careers. The Porsche IndyCar program, heading up by Derrick Walker, continued through the 1990 with Fabi and John Andretti as the team drivers. Porsche withdrew from the CART PPG Indy Car World Series after the 1990 season.

While Al Holbert has been gone for 30 years, his racing legacy is well-documented, and his spirit has continued through his family, friends and the racing community. Al's son, Todd, continues to work in the motorsports industry, currently in NASCAR competition. Todd is a Senior Design Manager for Toyota Racing Development (TRD) USA.

Many of Al Holbert's racing associates (co-drivers, racing rivals, racing businesses and Holbert Racing team members) have spoken of Al's compact on their lives. Please read their comments below.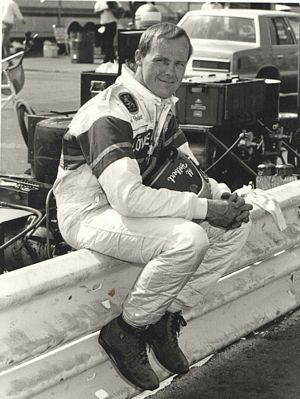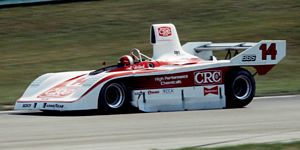 CRC Can Am at Road America, 1981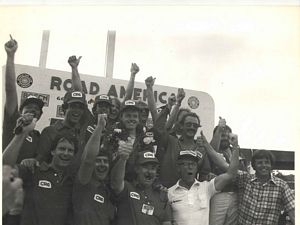 Can-Am win at Road America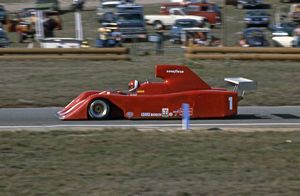 VDS 1982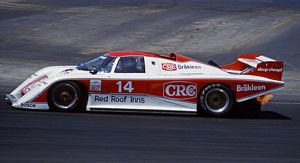 March 1983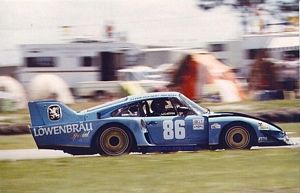 Löwenbräu #86 in 1983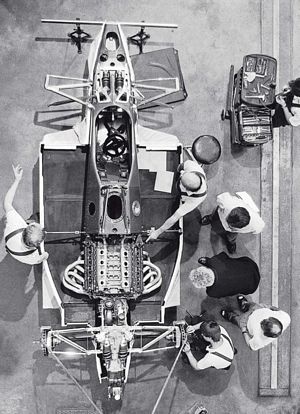 Porsche Turbo IndyCar Project - Randy Leffingwell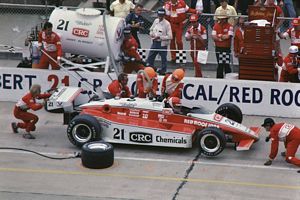 1984 Indy 500 Pit Stop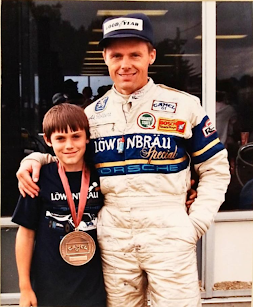 Todd and Al in 1985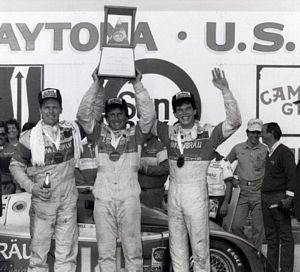 1986 Daytona Podium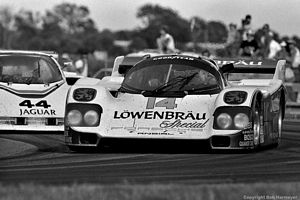 Löwenbräu at Daytona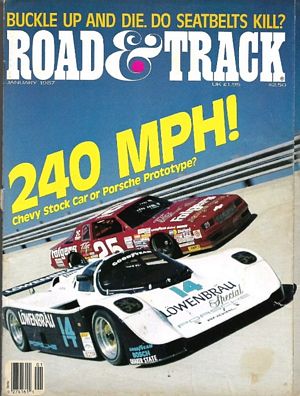 Road & Track cover, January 1987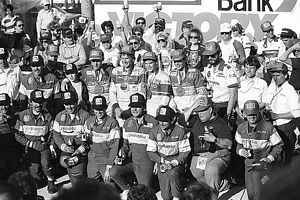 1987 Daytona Holbert Racing Winners Circle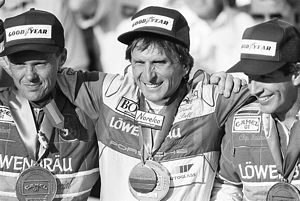 1987 Daytona Winners Circle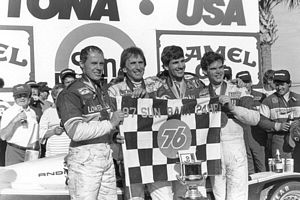 1987 Daytona 24h Podium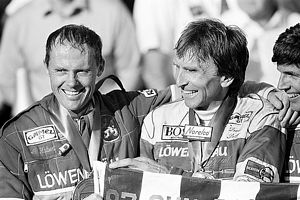 Al Derek Chip 1987 Daytona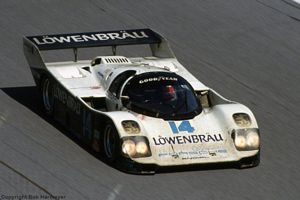 Al Holbert in Löwenbräu Porsche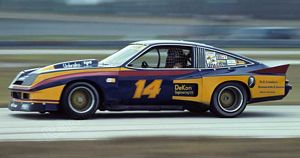 Al Holbert in Monza in IMSA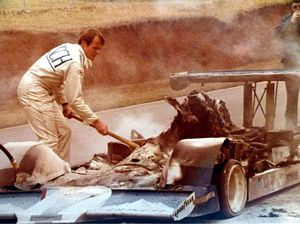 Al put out fire in Busch Can-Am car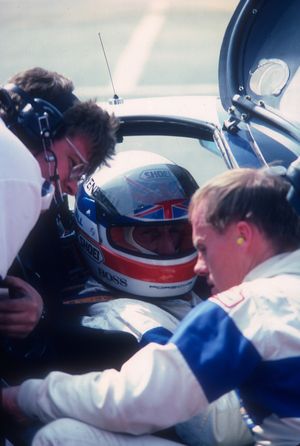 Derek, Al & Kevin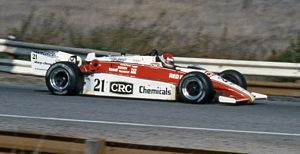 Indycar 1984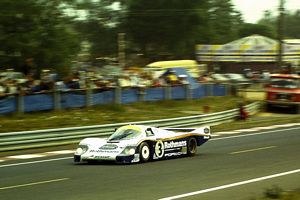 LeMans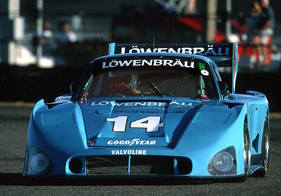 Löwenbräu #14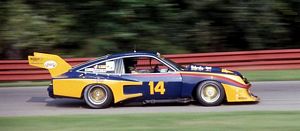 Mid-Ohio
AL HOLBERT TRIBUTE QUOTES
DEREK BELL, Co-driver in the Holbert Racing Porsche, co-driver in 24 Hours of Le Mans wins:
"In the overall picture to me, Al was the greatest all around driver I could have ever wish to drive with in my career. It's astonishing. He was so versatile. He was so quick as well. Often, he put me in the car and try to get the quickest lap in practice. I could never tell who was quickest. But he was so analytical that he told me exactly where I was quicker than him on the track. We were kind of opposite ends because you had the 'seat of the pants' talent in me, and he was 'Mr. Engineering.' It was the most astonishing relationship that he was so good, and he was so good all around. It is amazing when you consider what he did, as he was the head of competition for Porsche North America. He ran that Porsche IndyCar team around our sports car team and they had the family Porsche business., which no doubt had somebody help him with. But he still had the ultimate control over it. He was always so calm. It used to drive me insane. He was doing so many things. I was just driving.
And his Porsche position of looking after all the private owners was immense when you think about it. The tragedy of it all is that morning of his death when he showed me that that new sports car he had planned. We went in this back there at the Columbus garage and there was a big box in the corner. He showed me that inside was 1/8 size model and that was the future car. He said, 'You and I are going to drive it next year.' He talked to Porsche and he said we need a new car to go against the Nissan, Jag and later the Toyota. Porsche said it's gonna cost $16 million to do it and we can't afford that right now. He said, 'I'll do it for a 10th of the price' and that's what he was doing. He actually had the car designed. Then he went off and had several meetings that Friday. He was very close to me and he said 'Cheers.' And that was it for me. I never saw him again.
We won Daytona and Le Mans together in 86 and 1987. It was a great time. He was an astonishing person in so many ways and he didn't bother me with his born-again Christian stuff. When I think about it, we enjoyed a stunning relationship. We won a ton of races. He was so good. I didn't go to the church service on Sunday mornings. Al said he was a maniac until he met Joy. He said he was crazy partying and everything. But he turned into a born-again Christian. And that was okay with me. It's kind of a sad thing when you think about it, but that's what we're trying to renew all the thoughts that people had of Al. And it's been 30 years and what he did for the sport. That's amazing. It's kind of difficult talking about it. Al was an amazing person and a great driver. I will always remember that about him."
CHIP ROBINSON, Drove the No. 14 Holbert Racing/Lowenbrau Porsche to the 1987 IMSA title:
"AI, obviously, had tremendous respect from his crew guys and everybody who's been there. He did a lot for them, and he was really focused on building a good organization. I was lucky enough to come in towards the end and I got the opportunity to drive the Lowenbrau car because AI was going to retire.
I was pretty fortunate just to come along like that in the heyday of the Porsche 962 and how competitive it was with all of the various teams. It wasn't necessarily an easy year in 1987 as we had some car issues. But we did still manage to win the championship and AI was always very supportive.
The whole time he was really good that way. We were obviously the stalking horse behind the eight ball with the Nissan coming on which nobody really anticipated. And, of course, Jag was coming with Walkinshaw from Europe and they were strong. In 1988, I think we got caught a little bit off guard and AI was working hard towards making things better for the future. Then, of course, the tragedy occurred, and it was a tough year for everybody.
When we won the Daytona race in 1987, that was a tough year and a tough race with the heat and it was just unbelievable. I know I drove nine and a half hours of that race and I was so dehydrated. My legs were cramping horribly when I was trying to drive, and I just couldn't get fluids back into me fast enough. If you're cramping and you're trying to push on the 200 miles an hour, that's not good. One thing that Al did was put together a great group of guys. I drove for three different teams with different programs. And the whole Holbert team was much more engineering based. And Group 44 with the Jaguar was, you know, really marketing focused to a large degree. Then you had the factory Nissan team with 215 employees. That was great, but it was crazy with that type of budget for a sports car effort."
AL UNSER JR., Two-time Indy 500 winner, two-time 24 Hours of Daytona winner with Holbert:
"Al was a very special friend of mine. We actually became friends during the Can-Am season in 1982. We were racing for the championship that year. We were neck and neck for the season title then. He got into the IndyCars for just the one year in 1984 and he got fourth at Indy. A great showing. He called me in the winter and asked me if I would be one of his drivers at Daytona in the Lowenbrau Porsche. Wow, that was huge honor to have him ask me to drive that car. I said, 'Heck, I'm there!' That really connected us and elevated our friendship. I drove for Al in the Lowenbrau car for three years. I drove five or six races with him in 1985. It was great to get to know him. He was an all-around great guy. Very much a Christian. He showed me real love in a friendship.
From a race car point of view, other than my father, no one showed me that closeness. He just took me under his wing and I got to know him as a man. He definitely helped my career. It wasn't just winning Daytona twice and other races. He taught me so much when I was driving for him. And I was very young, 24 or 25 years old. Things that he taught me are still with me today. And he taught me as a person too.
Honestly, when I heard he had died, it was crushing. He was more than just a friend. We could have won Daytona three years in a row, 1985, 1986 and 1987. We lost the '85 race with just 45 minutes to go. We had an electrical problem. We had three years there than were dominating. We dominated Sebring too but never won there. In 1987, the heat was brutal, and we had exhaust coming into the cockpit too. We all got sick and Al had to jump in the car at the end. He wasn't planning on driving in the race.
In fact, I was slated to drive the Porsche IndyCar when it came together. Al knew I wanted to drive that car. He said let me get the first year under our belt (1987) and then I want you. I want to get the bugs out of it. My father drove it the first year.
Al was the closest Penske-like car owner I ever worked with. His equipment, his preparation and his desire to win. It was in all facets of the sport. He took care of everything – the team, car, sponsor, etc.
In fact, the year that he won Le Mans, he called me up and he wanted me to go be his third driver the next year at Le Mans. I said, 'Al, I can't. I have Portland (IndyCar race) on the same weekend. And he said, 'I know, but this is once in a lifetime and we are going to win.' I said I had a contract and he said you can skip that one race. But I just couldn't get out of my IndyCar commitment then."
BOBBY RAHAL, Holbert driving rival in Can-Am, Sports Car and IndyCars:
"The first time I raced against Al was in 1979 in Can-Am. AI was in all GT stuff all through the 1970s while I was in open wheel stuff. So, we never really ran into each other. Then he was in the Hogan car. He started his own Can-Am car with CRC on it. I went to IndyCars in 1982 and Al drove for VDS in Can-Am that year and then with Jim Trueman in IMSA in 1983. I think they won the championship.
But what people might not know is that it was very close for Al being my teammate at Truesports in 1984. I mean he and Jim (Trueman) had pretty much done a deal because they ran together in 1983. But, at the last second, Steve Horne said he didn't like the idea. And deal fell apart. If you look at Al's IndyCar, it had red Roof Inn sponsorship on it. So, who knows?
In the mid-80s, Al, with the Lowenbrau Porsche 962, was the guy to beat and that was the team to beat.
We were able to beat the Lowenbrau car several times with the Budweiser car. I think that was 1987. AI was always a very fair, very strong driver and real straight shooter.
I'm probably think one of my biggest disappointments was in 1988. I had a number of meetings about driving the March Porsche IndyCar in 1989. I think he wanted me to drive that car, but I think March convinced Porsche to have Teo (Fabi) driving. The Porsche people and I had dinner together prior to the Cleveland race and that was a pretty much to discuss going forward. So that was a bit of a disappointment. The 1989 car wasn't that good. The Porsche was a good engine, but the chassis was not that good. Driving a Porsche IndyCar was important to me. I still have several Porsches. I have one like my dad drove in 1969. I did my second ever race in Canada in and one of those."
HURLEY HAYWOOD, Former Holbert teammate and driving rival:
"I first raced against Al in the 1970s. He was a fierce competitor. In fact, he was kind of a wild man. Pretty rowdy. Then he met Joy and became a born-again Christian. Al was always a gentleman on the race track. You loved driving against and with him. His engineering knowledge was phenomenal. He was so smart in and out of the race car. It was fun driving together too. He patterned himself after another great driver, Mark Donohue.
In 1983, we won at Le Mans, but it was very exciting and interesting. I drove with Al and Vern Schuppan.
The door blew off at the Mulsanne Straight in the middle of the night and Al drove the car. That damaged the intercooler. The 956 was overheating and Al took care of the car and the engine actually blew up on the last lap. Al was able to keep in the clutch in and restart the engine and took the checkered flag. With big smoke trailing the car, Al was smart and limped home the car. God was on his shoulder then. We won by about 20 seconds over Derek (Bell) and Jacky Ickx. Later in 1983, I broke my leg at Mosport and I was out of action for the season. Al asked me to join him in his new Lowenbrau Porsche, but I couldn't push down on the clutch in the car without incredible pain. So, Bob Tullius called me about testing the Jaguar GTP car and I stuck with his team.
I know Al and Derek had a lot of success in the No. 14 car. They were a great team. We just lost Al way too early. He was a great driver and engineer and I will always remember racing with him and winning Le Mans with him."
JIM BUSBY, Former Holbert teammate and racing rival:
"I raced with Al. We drove first in a 934 turbo at Watkins Glen, and it's a crazy story. Al was a great racer as good as they ever had. And he could drive anything and drive it well, and he was very technically oriented. And I was very technically oriented. So, we spoke the same language. And, when he called me and he said, 'Porsche wants me to run this,' I was excited. They sent one over and they said, 'We'd like you guys to run this thing at the Glen.' I think it was a six-hour or maybe an extended Trans-Am and part of a six-hour. So, Al says, 'do you want to do it?' And I said, 'Sure, that'd be fun.' And it was really the first turbo I'd ever driven.
We both were about the same speed, so we come in for a full stop, and he says, 'it's good. Go.' I take off and I'm so impressed with how the turbo works. And it's fun. And I love the Glen anyway, and all sudden they start smelling fuel. Pretty soon the seat of my pants is burning. So, I'm going in a turbocharged car with spitting flames backfiring, and I get out of the car. They take the seat out of the car mop up all the fuel and I think okay, we're done. And Al says we need to finish the race. And I said, "We need to finish the race?' They need an understanding of the car. But we're three laps down right now. He said, 'we just need to finish the race.' I said, Okay, do you want to hop in and he says, 'No, I'm going home.'
And he was going home for a football game or a baseball game. I said, 'You're serious, aren't you?' And he said, 'Yeah, I told Porsche, we're going to finish the race.' This is nuts. And he said, 'Please, I have to go home.' So, I get back in that car. And I thought to myself, 'What am I going to do about this?'
And so, I decided that I would run that car as hard as it could possibly be run. And I would try to do qualifying laps for the entire rest of the race alone. Wow. And I did it in the car finished the race. I was completely destroyed at the end when I got out of the car. Now, a couple of times since then, I've been asked, 'what was the best race you ever drove in your life,' and I say it was I finished last at the Glen in a 934 Porsche. I drove it harder than I've ever driven a car in my life. I didn't miss a mark during the entire race and it was one of the greatest disciplines in my career.
In 1976 at Laguna Seca in the Camel GT, I get into winner's circle and Al comes running into the winner's circle and hugs me. He says, 'Thank you man, thank you.' I said for what? He said you're knocked Peter (Gregg) out of the championship and I'm the champion.' But I thought I was the champion and it was that close. Wow. Al was a great racer. We really miss him."
ALWIN SPRINGER, Famed Porsche engine builder
"We started back in 1982 and we had a tube-framed 935 and I asked him if he would drive the car at Riverside. Al drove with Harold Gross there. We had a little problem, or we would have won the race far away. Then we worked together in the Porsche 924 program and he was a consultant for Porsche North America. He had a 924 and McLaren was doing his engines in Detroit. But he called me and asked if I would be interested in building his engine for the 924. And I said 'Sure, we'll do it' and that is how we started working together. But that program didn't continue and worked with Moretti with a March and Porsche engine in 1983. As you know, you didn't become fast friends with Al at the beginning. He was a very reserved person. Then the 962s came in and we had already established a trustful relationship. From the engine rebuild side, we made an agreement and Al gave me control on the engine. So, we had a free hand on the engine and electronics. The Germans had a European car with a 2.8-liter for fuel economy and we didn't have that in IMSA. We needed torque and moved up the engine to 3.2 liters.
And that combination, in conjunction with Al's ability to run the team and engineer the team as well as being the driver, it was a deadly combination. Mark Donohue was the only driver with engineering skill like Al. But Al also had business sense and Mark didn't have that. It was Roger (Penske) on that side.
We had a very close relationship and a very successful business relationship. After the 962 success, we saw the Nissan and Jaguar coming to IMSA. So, we knew we needed to look at something new. And we knew that the Porsche IndyCar engine was good, and we looked at moving those engines to a new sports car. We needed to convert the engine from alcohol to gasoline. It was doable. And Al had already found the financing guys for the project. And either March or Lola could build the car. I saw the sketches of the car and it was an open-cockpit car. We had a Porsche transmission and a Porsche engine. And that was to be the car for 1989.
I saw the mockup and the sketches of the car. And the evening of that terrible day (Sept. 30), he had already met with the financiers. He always would fly back home after a day at the track and have dinner with the family, then have breakfast with the family and fly back to the race track. We did that many, many times. That night he said he had a business meeting and he was flying straight back, so I didn't travel with him. And that is fate!
And, of course, not only did we lose a very good friend, we lost an important ambassador for Porsche in the United States. It was a big, big blow.
Al was not outgoing, but I compared him to a basil nut. He was very hard to get through his shell, but it like butter then. For a lot of people, Al was the center point of their life, with the racing team, the dealership and other things. It was difficult for many to adjust after Al's passing.
For me, the loss of Al was more on a personal side. The business side continued but my relationship with Al was gone. And that was devastating on me."
GARY GROSSENBACHER, Former Holbert Racing Engineer:
"I joined Holbert Racing in the first of 1985 and I was going to work on the GTP car, the Lowenbrau Porsche. I worked on the GTP car through 1987 but in the middle of the year he asked me if I wanted move to the Porsche IndyCar program. It was coming on and I said I wanted to move to the IndyCar side. He said okay and then he started showing me things on the new car. Before we hit the track with the new car, I started going to England to do wind tunnel work at March and because I was designing some things. The Germans said, 'you have to win.' But it became very apparent that they were not going to be competitive at the start of the season. Al actually hired Phil Krueger to look at the two different racing chassis for him. Phil had the understanding of a fee to purchase a chassis and we went testing. We had a year-old car we started testing for them. I think it showed the hours commitment. It was a really deep commitment to the program to be a winner.
I think I'll go on record and say that I feel like a number of us that we all felt like that would probably still would be working for Al today. If he was still around, he gave us that sense of we were a family effort. Even his dealership service guys were kind of a family. That was always good to have that, that understanding from the from the hardcore racing side. I remember the first time he called me in the office, and I am a young engineer and he says, 'Hey, what do you know about your data acquisition systems?' And I said, 'Well, a little bit and we have been dabbling in those kind of issues.' But we just getting some data was really simplistic. Very few sensors then. We looked at purchasing one and I got all the information. I looked, and it was $25,000. Wow. I mean to today's world, just archaic. Sure, but that 30 years ago now. Yeah, and it was $25,000. I think he heard from a Penske manager who had mentioned something to him. The reason why I didn't bring it up was it was going to be $30,000 with everything. Al said 'Gary, you have to understand, I pissed away more money trying to learn and understand race cars. Then Al says, 'I think this thing would be invaluable to understand and collect data on what really happens, you know? And he said, 'Don't ever think that I can't afford it. If we need it as a company, I'm going to find a way to get the money.'
On the final day, Al ask me to fly to Columbus with him and Alex Herring. And that way I'm coming back every night because I think he said something to do. And he was doing something with Todd. He was like playing basketball or something. I think it might have been a football game, I'm not sure. So, you can just fly back with me and I said, 'okay.' He did inform me we were going to stop in Reading and he signed Derrick Walker. He signed the papers, first contract, at the Reading airport. We got back in the plane. And Alex had intended to stay and work with the gearboxes the whole weekend. I was going to fly back with Al and, and about six o'clock, he came up to me and said, 'Hey, I gotta go interview somebody about possibly coming to our workforce. So, I looked at him and I said, 'Do we have an extra room?' I said I'm just beat. I'm just tired. He said sure. I called my wife and told her that I'm not gonna come back until tomorrow. Wow, I think about that every day. I was scheduled to be on that flight with Al."
KEVIN DORAN, Former Holbert Racing Crew Chief:
"I started working on my dad's late models. Then I went to work for Alex Morales IndyCar team. I started out as a truck driver helper and then number two mechanic with Joe Flynn and Chris Harrison. And Al basically hired me to come to work on the Porsche IndyCar team which was coming in a year or two. I went to work in January 1, 1985 on the sports car program and he had me work under Tom (Seabolt) and had signed the Lowenbrau deal.
Then I moved up to the crew chief role in 1986 on the Lowenbrau car. I was coming in to eventually work on the IndyCar project, knowing that I was going to be running sports cars in the meantime. I started kind of put the program together for the IndyCar. But then I rode to Lime Rock with Al and we were supposed to talk about that team and he said, 'I'd like you to stay with the sports car program. Because you've got that running really well and it's successful. And an asset, I think I can keep that together forever.' He was all nervous about bringing that up to me. But I said, 'Hey, I'm good with that.'
On the Columbus weekend, Al came back that Friday morning. And then he went home for the football game with Todd, I think. I know we are back to the hotel and I think Dan Hare called me and said, 'Hey, look at this on the news.' I got through to somebody on the phone, but we couldn't get to see the crash site. They wouldn't even let us there. What I learned from Al and what I learned in years after. Al had just been looking at buying an old building which was not far from the Holbert Racing shop.
Al was set to build a new sports car for the future. The number that I've got to my mind was Porsche said it was going to take $21 million and we can't afford it. We're not going to do it. Al was like, 'I could do it for less. And they're like, "if you can do for seven million, let's do it.' And AI told me that it was going to be a really cool car because when we were going to go out testing with it. 'This is going to be a white car with a marine stripe down the side pod and a marine number 14 on it. And it's going to say Porsche and that was it.'
So, he was pretty pumped up about that because there was no politics and corporate. Miller was still going to stay on as the sponsor, because they ended up they stayed on another year or two. Probably to the Mid 90s. Our new car would have come out in 1989-1990. Gary (Grossenbacher) would have been heavily in involved in it. I would have been heavily involved with it. And it may have gotten redirected early enough along to succeed. I had a sketch of that car of how they were going to start out in essence. I wish I still had that sketch now."
TOM SEABOLT, Former Holbert Racing crew chief
"When I started with Al, I was doing the Winston Cup stock car. He then went to the Can-Am car and he already had a group doing that series. So, he asked me to move over to do Doc Mundy's Porsche 924 D production car. Then we took the Porsche to the Trans-Am series. Al was always one to jump into the work if needed. If it was crunch time, you would get to work in the morning and find out that Al had been there all night.
Then, somehow, the March GTP car came into play and Porsche was interested. And then, like in 1986, Al now had Porsche Motorsport gig going for a year or so. He was needing people over there and I expressed an interest to move away from the team (Holbert Racing) stuff. The Sebring race in 1986 was my last stint with the team which I basically moved across the parking lot to Porsche Motorsport. I was there until Al was killed and everything pretty much shut down.
Al's position was so much more Porsche stuff rather than the team. He was still overseeing the team and he was racing in Europe. He was racing, but then his focus had to move towards Porsche North America because he was kind of running the whole thing back then. And in the midst of that, he walked away from the from the racing side like in 1987 that was kind of what he wanted, and I knew Al very well from a work perspective. He was talking about moving away from driving and focusing more on the business side.
Now go to Columbus weekend, it seems to me he suited up and was going to test the car because they were having trouble. I don't remember all the details after that. It's kind of blurry, to be honest. I only went to Columbus because the 944 were supposed to be there.
After Al's death, some guys came from Germany and they told us they were going to shut this thing down. Then, of course, the IndyCar team was starting to go and there really wasn't a fit for me there. So, I moved onto other racing projects. It is hard to tell what would have happened with Al still alive, but he was an incredible guy to work with and for during those years. He is missed greatly."
ALEX HERRING, Former Holbert Racing crew member
"It was definitely a family affair at Holbert Racing. We all looked after each other. And Al looked after all of rest of us. It was so enjoyable. We did things away from the track too. Al was so much to so many different people too. I was from Canada and he helped me with my paper work to the U.S. as well as signing off from apartment. During Easter, he invited to come to his house for the holiday and other holidays.
As a race car driver, his mind was always turning on how to make things be better and go faster in the car. And he was always to the point. He wanted to know how we were going fix any problem. He thought with us and worked closely with us. Later after the Lowenbrau car, he wanted me to move over to the Porsche IndyCar program. He moved several of us there. He wanted feedback from us.
Then, on the fatal day, he wanted us to come off the IndyCar and help with the Miller High Life Porsche 962 in Columbus. That was an interesting plane ride from Warrington (Pa.) to Columbus with Gary Grossenbacher, Al and I. We talked about a lot of things for the future. He really opened up with us.
If he would have stayed alive, things would have gone so much differently for me in racing than where I am now. I really feel he would have taken me under his wing. He just signed Derek Walker in Reading to be the team manager on the IndyCar program. We then flew on to Columbus. He had some big plans in several areas. Al told us that the IndyCar engine had been fitted to a new sports car in Germany and there were plans to work with that program. He was pushing forward on something different in IMSA.
For Al, he put up a stiff persona outside, but I never had anyone look after me so well and talk to me like he did. It felt easy to talk to him. And that was tough at first. Once you got past that wall, he was as good as gold."
DAN HARE, Former Holbert Racing crew member
"I started from scratch working for Al and never worked for a race team until I was 20 years old. This is my 39th race season I've gone over the wall at least once a year. That's a long time when you were really like when you start doing it at 20. I was brought onto learn because I had some basic machine shop capabilities from high school. So, I was basically hired to a drive the truck and then do whatever needs to be done. And it was a lot of it was building the Can-Am car and I did a lot of basic machining for it.
Al drove in the Can-Am in 1979. Then they had CAC chassis in the old shop behind Post Office and then they built this new shop behind the Porsche Audi dealership. And then we did CRC car in 1981. Al got the VDS ride in 1982. We were going to build the Porsche 924 turbo and I got shuffled off to that project.
In 1983, we got the Porsche, and first we got a Chevy engine with the March chassis for IMSA. For 1984, Al drove the Alex Morales IndyCar and that was a year my dad died. I remember now. And he was at a race. And he called me because I had quit the team. And he got out of the car. And he called me. Wow, I could hear the Indy cars in background. And he called me and told me to stay. Wow. That's the kind of guy he was.
I mean there's so many great stories because everybody's got their own little quirky thing or whatever it might be. But I mean Al did a lot of things for a lot of different people. He was so incredible. And everybody's got some good stories. But you know there are things that he did for me that I will never tell anyone. They were just personal things under no favors and stuff that I will always remember him for sure.
He was an amazing guy. I did not go to the IndyCar team. Al wanted me to stay with Lowenbrau Porsche that became the Miller High Life car in 1988. And in 1989 was scheduled to be a new Porsche sports car that was designed by Ross Brawn, from F1 fame. I saw those renderings. I guess it was supposed to end up with the IndyCar engine to be one of the motors for it. I remember that. That was the reason Al wanted us to build this car and Porsche didn't want to build anything because they were concentrating on the IndyCar program. That's how the HR chassis got built. Because we could do it and then they gave us the okay to build it. I was supposed to stay on the sports car program.
Al interviewed some guys for IndyCar team manager since he was too busy in other areas. And then he suddenly realized that he really needed at that somebody to handle it. That's when he hired Derrick Walker. And that was the day he died. Because I didn't even know about it until after he died. But I know from talking to Derrick, I think his deal was done so Al could have more time with his family. He wanted to hire somebody who was very high caliber who could actually run the IndyCar thing.
I went to the Meadowlands IndyCar race with Al and his 928 and I stayed with him. It was on the way home and I just met my wife and he was the first person I told him. I still have the pictures I sat in the stands. That was in 1984. That was the only year he drove there. But I do know how close he came to winning the Indy 500. He finished fourth. The only reason he lost that race was because they broke the lower motor mount. And handling went away in the last few laps. He drove a great race that year. It was his only Indy 500 drive."
RANDY BROWN, Former Holbert Racing crew member and childhood friend of Al:
"Those days were special with Holbert Racing. Just like in that 'Hidden Heroes film they did on the team. You look at all the guys and you remember there's a lot of times they would do crazy stuff or wherever we were going to the races. But you think about that. That was why the whole thing was special. We weren't angels, you know. We all respected Al and it went pretty well. Especially when you had a beer sponsor. Lowenbrau beer. You know how that gets.
I was with the Lowenbrau car at Mid-Ohio and we decided to put one of the guy's room out in the parking lot. Then the guy came around the corner and smashed into it. Al was over in France racing and he came back, and he got a bill. Al said, 'I want everybody to get together in the shop,' and I actually worked at the dealership then. He said, 'I worked hard for good sponsor and you guys are not going ruin my sponsorship deal.' We all felt bad but, on the way back to the dealership I'm walking with him, and he was trying so hard to keep a straight face. Most of the time on the business wise, he was pretty serious. And his Dad was button down and everything. But away from there. He could loosen up.
Al and I met when we were about four years old. We grew up three houses away from each other. We went to school together. We went together pretty much everywhere, and I was the oldest. I got my license first and I'd drive to pick him up and go to high school.
I worked for my dad and Al went to college (in Lehigh) and then he started in the Holbert dealership. Then my dad sold his station. So, I worked in the dealership and then, when Al started racing, I would help there too.
We had the Can-Am and then the Porsche 962. It was some long hours. I told him I said I'm tired of racing and I just don't want to do it anymore. Then he said, "No, we can fly out on Sunday mornings and so that you can work one day.' I didn't know how good I really had it with Al. He treated me so well. He was a great friend. Mr. Holbert closed the race team up right after Al's death. And he merged the Porsche and Audi dealership not too long after that. I'm a pretty sensitive person anyway, but I really took a step or three back really hard. I think a lot of us did.
I bounced around and went to work for another local dealership. But it wasn't the same and it was hard. But I still think of those racing years with Al and all of the fun and victories we had. That was special."
BOB RUSSO, Former Holbert Racing crew member:
"He was the coolest. I loved Al. He was so easy to work with. That was the main thing and he understood everything. That was one thing about Al. He was so smart compared to overall stuff, not just a race car driver.
He was an engineer, race car driver, businessman, everything! At Holbert Racing, it was more family than it was a real job. You're all like family like brothers and sisters.
I hope the kids (Todd and Laura) can understand all what went on with their dad. I don't think Todd was really into racing at that age when Al passed. Todd knows all of the history on his dad now. Al was truly a legend in motorsports and sports car racing, for sure. It's hard to believe he has been gone 30 years now. Just an awesome guy."
JOHN MILLER, Former Holbert Racing crew member
In 1987, I was working for working for Primus Racing. I went to Holbert's right after that on the Porsche IndyCar program. And actually, the way that worked was I usually stayed at the shop until Saturday morning, and I'd fly to the races with Al. It was incredible then. That's why it was some crazy days. Al was quiet at times and other times he was fun to be around. You just never knew, but you knew he was such a great guy. He was really a competent engineer and you could talk to him and he knew what you were talking about. He was not confused, and he would talk to you as an equal.
Another thing, I've never work for team owner whoever paid you extra for working harder. If you would have some crazy hours that week, he would tell you that there was extra in the paycheck. That's amazing. That's never done if you're on a salary. That's all you need to know about Al.
If Al was still alive, it would have been completely different. I'll tell you what, he would have been a Roger Penske. There's no doubt about it in my mind. He was not only going to do a GTP car, but he was gonna do an IndyCar right.
We made a thick aluminum skin all the way around the bottom of the car that was the first all-carbon car. And yes, Carl Haas heard about it and got it thrown out. It would have been great.
There was nobody ever talking bad about Al. He was an awesome guy was great to work with. I mean Al was one of the greatest guys I ever worked with. Many guys were committed to the Porsche IndyCar program and Al Jr. was going to drive that car had it all come together properly.
One last Al story. We were flying to Portland and, about Minnesota, the private plane literally went upside down. Well, he was a pilot. I asked him if he knew what was going on? Oh, yeah. He knew what it was. Even before the pilot came back and told us what it was. Wow. I mean, talk about cool as a cucumber. Absolutely cool as a cucumber. People don't even know what's going on in the air when that stuff happens. If you get in the wake of some big plane, that can happen. That's crazy. I will never forget it. And Al knew it all along. He was amazing."
# # #
Written and coordinated by Tom Blattler, TB Communications, tomblattler@earthlink.net, 317.525.5692
Connect with The Crittenden Automotive Library