Patrick Sheltra Lends Personal Vehicle To Lead Field At PBIR
Patrick Sheltra Lends Personal Vehicle To Lead Field At PBIR
Chris Knight
Sheltra Motorsports
February 26, 2010
JUPITER, Florida (February 26, 2010) - - ARCA Racing Series veteran driver Patrick Sheltra has been using the word "excited" leaning into Saturday's race at Palm Beach (Fla.) International Raceway (PBIR) but the Indiantown, Florida native will turn-in and trade that word for "honored" tomorrow as Sheltra's personal vehicle will be the official pace car for Saturday afternoon's Tire Kingdom 150 presented by ModSpace.
Sheltra has donated his 2009 Ford Mustang 500S Sherrod to ARCA for the second event of the season tomorrow and while it will be hard for Sheltra to see someone else driving his "baby", the 23-year old Floridian and hometown favorite is honored for the opportunity.
"I received a call this week and asked if I was interested in loaning my car out to be the pace car for Saturday's race," sounded Sheltra. "Really, there was little hesitation on my part – It was a real honor to be asked and it's a real honor for my car to be leading the ARCA field."
Sheltra received his pride and joy from his parents (car owners Richard and Grace Sheltra) following a splendid performance at Daytona (Fla.) International Speedway in December 2008 when his Sheltra Motorsports posted the fastest time in the three-day ARCA pre-season testing at the 2.5-mile superspeedway.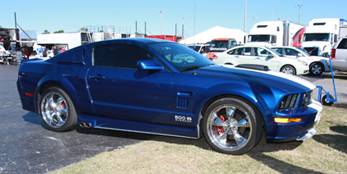 "The car really doesn't have about 1,200 miles on it," continued Sheltra. "It gets me in trouble every time I climb behind it, that's why I don't drive it as much (smiles). It's a slick piece but again I'm honored and humbled about the opportunity."
Sheltra jokingly pointed out, "this is not a weekend where I want to or try to hit the pace car!"
Sheltra's blue and white Ford Mustang will be driven by long-time ARCA Racing Series pace-car driver and official Jack Gritter.
All About Flowers, American Concrete, Buffalo Wings & Rings, CAM 2 Blue Blood Racing Oil, Ferguson Pipe Enterprises, Indiantown Marina, Recycling Services and Sheltra & Son Construction, Inc. join the team as marketing partners in Saturday's contest.
Entering Palm Beach, Sheltra has 68 ARCA Racing Series presented by RE/MAX and Menards starts to his credit with one career victory at Salem Speedway (April 2009). During his ARCA tenure, Sheltra has accumulated 11 top-fives and posted 23 top-10 finishes. A third place qualifying effort at Rockingham Speedway (April 2009) is Sheltra's best time trials efforts to date. He has controlled the ARCA field five times for 109 laps.
The Tire Kingdom 150 presented by ModSpace (75 laps / 150 miles) is the second of 20 events on the 2010 ARCA Racing Series presented by RE/MAX and Menards schedule. The first ARCA race held at Palm Beach is a two day show. Practice begins Friday, February 26 with a three hour practice session planned from 11:30a.m.- 2:30 p.m. Menards pole qualifying presented by Ansell is set for later in the day Friday, February 26 slated to begin at 4:00 p.m. The event will take the green flag on Saturday, February 27 shortly after 1:00 p.m. The race will not be televised but race coverage including live timing and scoring and radio broadcast will be available through the ARCA Racing Network (ARN) online at arcaracing.com. All times are local.
For the latest on Patrick Sheltra, Sheltra Motorsports and marketing partnership opportunities please visit PatrickSheltra.com.
Join the official Patrick Sheltra fan page on Facebook by clicking here.
About Sheltra Motorsports:
Sheltra Motorsports (sheltramotorsports.com) is a three-tier Motorsports operation consisting of dirt and asphalt competition. Patrick Sheltra, a 23-year old native of Indiantown, Florida competes in the UMP and WoO (Dirt) Series; while also running a full schedule in the ARCA Racing Series presented by RE/MAX and Menards (No. 60) and a limited schedule in the NASCAR Nationwide Series. Sheltra Motorsports ownership is combined of Richard, Grace and Patrick Sheltra. The team is headquartered in Indiantown, Florida with additional operations in Richmond, Indiana and Mooresville, North Carolina.
TEAM COMMUNICATIONS CONTACT:
NAME: Chris Knight, Sheltra Motorsports
PHONE: 239.834.9797 or 239.214.1083
EMAIL: chris@patricksheltra.com
Connect with The Crittenden Automotive Library