Team BCR Racing Set For 2011 ARCA Debut With Charles Evans Jr.
Team BCR Racing Set For 2011 ARCA Debut With Charles Evans Jr.
Chris Knight
Knight Motorsports Management/Team BCR Racing
July 6, 2011

MARNE, Michigan (July 6, 2011) - - The 10th ARCA Racing Series presented by Menards contest of the 2011 season will kick off Saturday night at Berlin (Mich.) Raceway and a familiar team will return to the lineup with a new rising star at the wheel for the Hantz Group 200.

Team BCR Racing led by Howard Bixman will make its 2011 debut at the .4-mile paved oval with Late Model sensation Charles Evans Jr. behind the wheel of the No. 99 Elevator Transportation Services Ford Fusion.

Evans Jr. 21, a native of Friendswood, Texas is making a huge leap in his racing career this weekend at the Marne, Michigan short track. However, the leadership of Bixman and his team has made the transition smoother than expected.

"I'm looking forward to this weekend," said Evans Jr., a former INEX Legend Car Series pilot. "It's with the support of Elevator Transportation Services and Team BCR Racing that I have an opportunity of a lifetime placed in front of me. I definitely want to make the best of it. ETS has been with me for 11 years now and this is a big jump for them and I'm extremely appreciative of their confidence in me as a role model for their company."

To enhance Evans Jr. learning curve to the heavier 3400-pound stock cars, Team BCR Racing recently tested at Caraway (N.C.) Speedway with Evans Jr. showing extreme potential.

"Going into the test at Caraway I wasn't sure what to expect with this being my first time in an ARCA car," Evans Jr. said. "We started out very conservative until I got a feel for the race car and the Team BCR crew made improvements throughout the day to make it faster. The Team BCR crew gave me tremendous feedback, encouragement and support and we were able to get some very consistent times out of the racecar. The guys at Team BCR, along with RoushYates Engines were awesome and we wouldn't have had the successful day of testing if it wasn't for them."

With the momentum of the test, Evans Jr. has set realistic goals for himself on Saturday night. "I think a good goal would be to complete the full 200 lap race for ETS and get the best finish possible," Evans Jr. offered.

Bixman who will play the role of car owner and crew chief this weekend has been impressed from what he's seen from the Texan thus far and is optimistic about his rookie's ARCA debut.

"CJ (Charles Evans Jr.) has very strong potential," offered Bixman. "I was very impressed with him, this a big learning curve for any driver. He has a good head on his shoulders, very talented and very much focused. CJ is not expecting to go out there and set the world on fire Saturday night, but he is determined to bring the car home in one piece and give the ETS, RoushYates Performance Parts Ford Fusion solid finish. We can't ask for much more than that."

The Hantz Group 200 (200 laps / 100 miles) is the 10th of 19 events on the 2011 ARCA Racing Series presented by Menards schedule. The 24th ARCA race at Berlin (Mich.) Raceway is a one-day show. Practice begins Saturday, July 9 with a one hour and half practice session planned from 2:30 p.m. - 4:00 p.m. Menards Pole by Ansell qualifying is slated to begin later in the day at 5:00 p.m. The field will take the green flag later that night shortly after 8:00 p.m. The race will not be televised but event coverage including live timing and scoring throughout the 1,322nd race for the ARCA Racing Series presented by Menards since it was formed in 1953 will be available through the ARCA Racing Network (ARN) online at arcaracing.com presented by ARCANation.com. All times are local.

For more on Team BCR Racing and marketing partnership opportunities for the 2011 racing season, please visit teambcr.com

For additional input on Charles Evans Jr., please connect to evans-racing.com.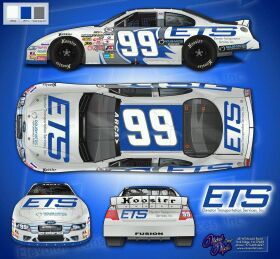 Are you FORD tough? Connect with Roush Yates Performance Products and Roush Yates Engines through their official web site at roushyatesparts.com.

PHOTO ATTACHMENT: Rendering of the No. 99 Elevator Transportation Services Ford Fusion for Charles Evans Jr. in the ARCA Racing Series presented by Menards.

###

TEAM COMMUNICATIONS CONTACT:
NAME: Chris Knight, Knight Motorsports Management
PHONE: 239.834.9797
EMAIL: chris@chrisknightpr.com
Connect with The Crittenden Automotive Library