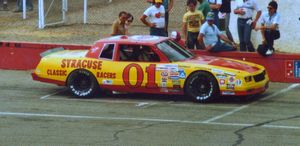 1984
Nascar modified driver Doug Heveron made 31 starts in 3 seasons. Later in the mid 90's ran quite a few races in the then Busch Series with a 2nd place finish at Nazareth.
Photo by Mike Traverse
View photo of Doug Heveron at Pocono in 1984 - 519KB


This work is licensed under a Creative Commons Attribution-ShareAlike 2.0 Generic License (CC BY-SA 2.0).