Volume 1, Issue 2

Words with the Family

Well, this is disappointing.

The articles are simple enough to process, but indexing them so that they are accessible from multiple locations throughout the Library, as well as figuring out a little bit about who people are when they are added to the Library, and creating all the pages for them, is taking a lot more time than I thought it would for the current press conference transcript project. I'm not even halfway through it!

However, the time spent has been worthwhile, there are some really interesing and historically important (to American racing, at least) events in the Library now. The total count of all articles in the Library is now over 12,400, and will be close to 15,000 when this is all done.

Open an encyclopedia, either in book form or more recently as a web page in your browser window, and you'll see merely a summary of life. The most important events in the most important peoples' lives. Importance is a relative thing, however. That is why The Crittenden Automotive Library strives to save and share ALL of the information we possibly can. Despite being VERY time consuming, saving all of this information not only is a great source of raw data for those looking for deeper understanding of a topic they can find in encyclopedic form (Jimmie Johnson, the Indianapolis 500, etc.), but it is also a great source of information on what most people would see as obscure, unimportant topics.

As I mentioned, importance is relative. You've probably never heard of Breony Crittenden. She is an automotive designer. As far as I've read, her name has never been held in the same regard as Raymond Loewy or Harley Earl, but she did design part of the interior of the Chevrolet WTCC Ultra concept car. To me, that's pretty damn cool, to look at a really interesting concept car and be able to think, "someone I might be related to somehow had a hand in that."

There are a lot of names waiting to be indexed in the current project that aren't "household names." Witherill, Nacewicz, Chrnelich, Festa, Takagi, Pedigo, Tadevic. Most people won't recognize those names or who got them into the Library, but I bet if your last name is the same as any of those, you DO care. Just as I care enough to find out more about David and Trevor and Casey and Breony and Gene and Kenneth and any other Crittendens (and Crittendons - close enough) I can find in the automotive industry or motor sports.

Everybody on earth is someone's son or daughter. Many are also brothers or sisters, cousins or nephews or nieces. Many become fathers and mothers. Our families help define who we are, and many of us have shown a deep interest in our own families, whether that take the form of researching the family name, tracing back a family tree through a service like Ancestry.com, or scrapbooking old family pictures.

I've met quite a few relatives of racing drivers through e-mail, and they often express how very surprised they are to find something connected to their uncle or grandfather's usually very local racing career. To them, they weren't interested in yet another picture of Earnhardt winning at Daytona, or yet another criticism of the IRL-CART split, or yet another list of how many championships John Force has won, or in the case of this latest project yet another race winners' post-race press conference with Jimmie Johnson. They were looking for something very special to them, something that wouldn't be in an encyclopedia, something that might not be important to the average racing fan but means the world to one particular person. Often it is something they didn't even know existed, but means the world to them once they find it.

2,400 articles and hundreds of obscure references may be a lot to go through, but you just might be surprised at what you find. You can start looking in the People Index at http://www.carsandracingstuff.com/library/indices/indexpeople.php and keep an eye on that page in the coming weeks as hundreds more names will be added!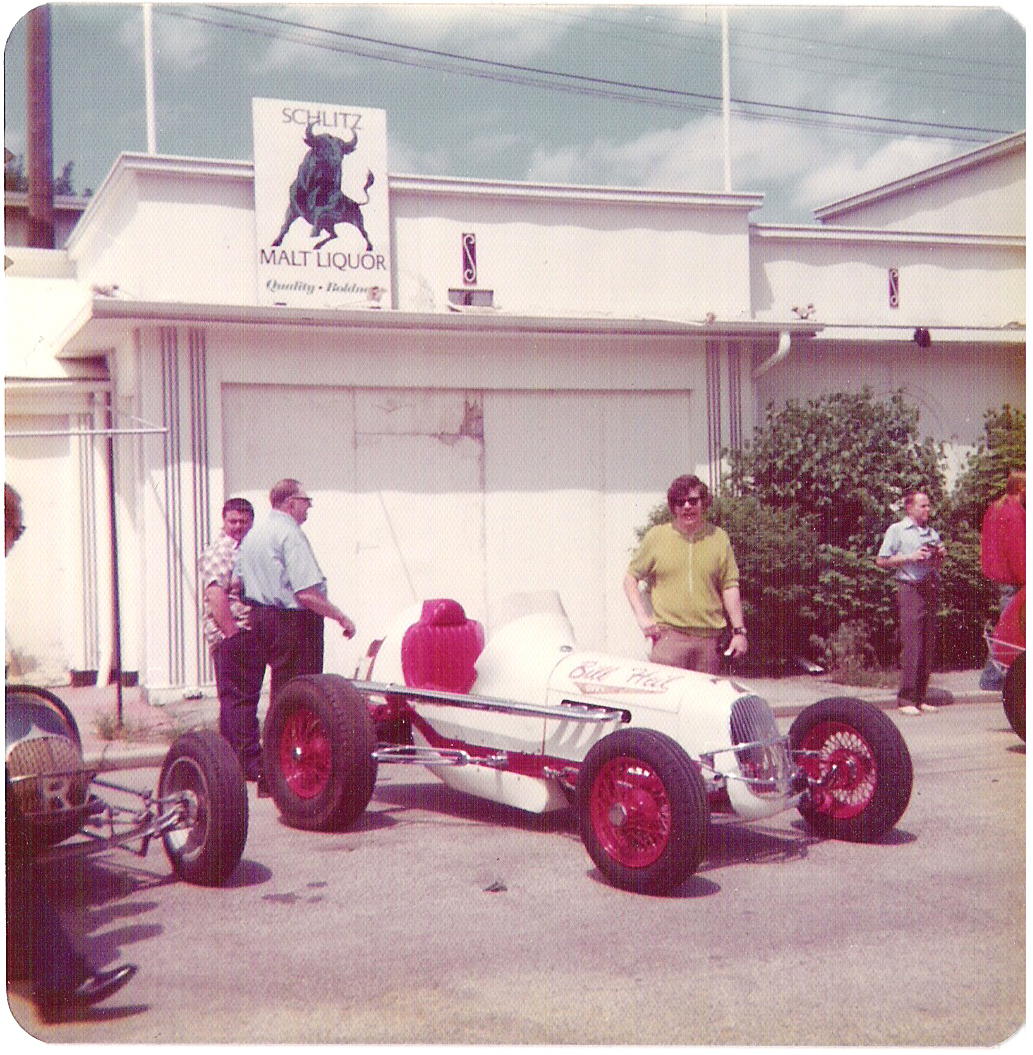 Above, my father, Dave Crittenden, at The Milwaukee Mile in the early 70's, next to an even older race car.

Opening Up

Part of adding The Flying Lap a few weeks ago and the huge transcript project has been the first real substantive body of information on Open Wheel Racing in the Library. The designation Open Wheel Racing is not an all-encompassing, "if it doesn't have fenders..." definition. It does not include NASCAR modifieds, dirt track cars, Sprint cars, rail dragsters, and various forms of bodyless offroad vehicles. It is basically a compromise between the terms "Formula" used in Europe and "Champ Car" and "Indy Car" used in America. Also, the OWR section in the Library really only covers 1946 ownward. Because of the various forms of racing available in the United States before World War II that involved cars without fenders (because of the general designs of all cars back then), all forms of racing before WWII are combined in the Pre-War Racing section, relegating the early articles on Grand Prix and Indianapolis 500 racing to a different section. Open Wheel Racing was fairly empty until late 2012. Not any more.

The following is the description of Open Wheel Racing from the Subject Page at http://www.carsandracingstuff.com/library/subjects/openwheelracing.php

"Open Wheel Racing," in terms of its classification here at The Crittenden Automotive Library, is a collective referece to types of cars that are known around the world, depending on location and series, as "Formula" race cars, "Indy Cars," and "Champ Cars." The simplest definition is they are purpose-built race cars with open wheels and designed to race on paved surfaces.

This type of racing traces its roots back to the earliest days of the automobile. Back then, the basic design of most automobiles was with the wheels outside of the chassis and body, with small fenders over the tires. While the evolution of the street vehicle was in the direction of wider bodies with the fenders integrated into them, the original style of race cars continued on their original path of narrow bodies and open wheels. Riding mechanics were removed and wings for aerodynamic control were added and engines moved to the rear at various points in history, depending on the particular series a car raced in, but the basic layout of the car remains the same since Grand Prix racing started in Europe and the Indianapolis Motor Speedway was built in America.

Open wheel racing as we see it today began in 1950 with the introduction of a standard series of rules, Formula 1, for what had previously been a loosely organized series of Grand Prix races. Formula 1 would unify the European system of open wheel racing while in the United States the Indianapolis 500 would experience a golden age under the sanction of USAC.

Today, Formula 1 is by far the most popular form of motorsport around the world, and now sanctioning its own events "Indy Car" racing is the oldest, with the Indianapolis 500 having recently celebrated its 100th Anniversary in 2011.