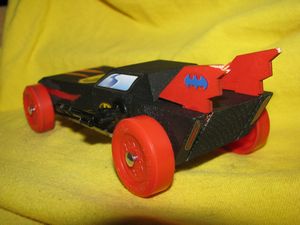 Rolling With the Changes
Volume 2, Issue 3
Facebook is changing again. Normally I don't complain (and I'm not really complaining here, anyway), because it's a free service and if you don't like it, don't use it. Their recent change was supposedly to put Facebook posts from pages on 10% of their subscriber's walls, unless money was paid to "Promote" the post. About the time that these rumors started going around I noticed a severe drop in the number of people seeing my posts despite an increasing number of "Likes." Then Facebook started asking for money to promote my posts. As we operate without a real budget and very little money, the Facebook page is pretty much useless, and we're not going to be using that as much any more. So pass this on, tell your friends to sign up, and I'll keep everybody updated on what's going on more through here than there.
This leaves us with a few changes. First of all, without the pressure of coming up with cool stuff to post on Facebook on a frequent basis, I'm free to pursue bigger, more time-consuming projects. The bigger the project, it seems, the more time is saved in the long run as the more I'm able to do assembly-line style the less time I spend moving files around and the more I can get online.
The current project, it has been decided, is to finish the Stock Car Racing results pages I started oh, almost eight years ago. The difference between the Library and other racing results sites, when the current project is done, will be the variety of resources all in one place, including smaller series, pictures, video, articles and more all in one place. Also, when I get around to doing this for other forms of racing, you can see a driver's career as they jump around from one form of racing to another like Juan Pablo Montoya or Marcos Ambrose or participate in races outside of what they are known for, such as Jimmie Johnson in Grand-Am.
I know I've been saying that for a while, but this time I'm not stopping until it's done. So far 2012 is half processed and I'm working my way up from the Hooters Pro Cup to the Winston Cup. Hopefully I'll have a lot on the site by the next update in a week.
There will be a few interruptions in this project, however. Sunday is the annual model car show in Rockford, Illinois. I'll be there, taking pictures as always, which should be up some time Monday.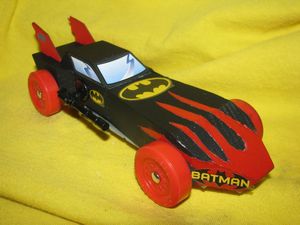 There wasn't an issue of Tail Lights last weekend as my son participated in Pack 367's Pinewood Derby. We built a Revell Batmobile kit, and I convinced him to build it other than a plain (boring) black car, so it had red wheels and flames on it. Based on the comments from the other kids, it was a popular car. On a three-car track he won his first race, finished third in his second and second in his third.
My father, who was my Webelos Den Leader so many years ago, came by to visit and watch the races. He remembers the races from back then, all I remember is a crudely built car that was supposed to resemble a Camaro, which was actually really easy to cut considering the flat front the cars had at the time. It was basically a brick with a trapezoid passenger compartment and a notch cut out of the front and notch left in the rear for a spoiler. Oddly I had forgotten about the car until recently, but it would have resembled the Firebird I built last year. Funny how things turn out like that.