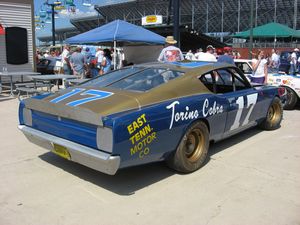 A vintage racing stock car with a David Pearson paint scheme.
12 Lonely Cars
Volume 2, Issue 5
February 17, 2013
I don't mean to take anything away from Richard Petty or David Pearson's careers by this, but rather to make a point about the differences between the major eras of NASCAR in trying to make an apples-to-apples comparison between now and then.
I've been going through the 1964 NASCAR Grand National racing results this weekend. It is here that I find my best cases that quantity does not equal quality. Back in 1964, almost all of the races fell short of the full 43 car field we come to expect in a modern NASCAR Cup or Nationwide event. Many of them fell short of the 36 that fill a Truck Series field. Oh, sure, modern racing has the start-and-park teams at the back of the field, but even if you take them out of consideration the fields fall far short of modern expectations. For an example, let me take you back to August 7, 1964, at Rambi Raceway in Myrtle Beach, South Carolina. It sounds like a classic setup for a duel amongst the sport's greats, with David Pearson on pole, Richard Petty on the outside front row, and LeeRoy Yarbrough and Jimmy Pardue behind them. Row three had Ned Jarrett, who won 15 races in 1964 with Doug Yates alongside. Rounding out the field were "no names" Doug Cooper, Neil Castles, Doug Moore, Roy Tyner, Jack Anderson, followed up by the famous (but only 1-race winning) Wendell Scott. And that was
it
. Count 'em up, just 12 cars, with only about half of them really contenders for a win. David Pearson would win this round, leading the first 78 laps from pole, and taking the lead back from Ned Jarrett with 38 laps to go, just 2 lead changes total. The margin of victory was a
full lap
, third place was 5 laps back, 4th was 8 back, 5th was 13 back.
Far short of the hard competition among a larger number of drivers we see in modern NASCAR. Just 17 drivers would win a race in the 62-race 1964 season, compared to 15 drivers in just 36 races last year.
Now, David Pearson and all the other drivers of the era didn't pick their time to be born, didn't pick the fields they ran against, and didn't create the environment in which they raced. They just did the best they could against the competition that was available at the time. And they excelled at it.
However, I do believe this strengthens my case that, considering the tougher level of competition in today's NASCAR top-tier national touring series (Sprint Cup, Nationwide Series, and Camping World Truck Series), modern-era drivers who have a large number of wins spread out amongst the top three divisions can total up their win counts when comparing their careers to the careers of Grand National-era NASCAR drivers. Not officially in the record books, but there other areas of comparison where statistical accuracy is not required, such as Hall of Fame nominations, "Greatest Driver" lists, and while enjoying some beers in the backstretch grandstands waiting for a race to start. In those instances, I think it's more than fair to tally up the total top-3 level wins, and if anyone thinks otherwise just tell them to take a browse through the old records. Tell them about the 12 cars that showed up at Rambi Raceway in 1964, just one of thirteen races with fewer than 20 starters that year, and one of 3 events with 12 starters in the '64 season.
Piracy on the High...Roads?
A new addition to the books of The Crittenden Automotive Library is The Motor Pirate, a 1904 novel that appears to try and translate the action of pirate stories at sea to the roadways of early motoring. You can download it at
http://www.carsandracingstuff.com/library/m/motorpirate.php