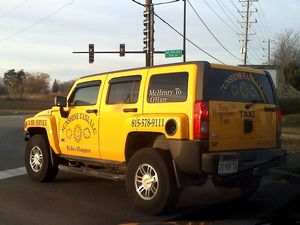 A Sunshine Taxi Hummer H2. Not the best taxi vehicle for mileage, but it's going to get passengers to their destinations through even the snowiest northern Illinois winters.
Premacy
Volume 2, Issue 7
March 11, 2013
Sorry it's been a few weeks, it's been busy both at home and away for me. As far as away goes, I started a new job, and it's taking some getting used to.
At home, The Crittenden Automotive Library has gotten an upgrade. I now have another HP computer to replace the refurbished Lenovo I had been using for the last year or so. This one has 6GB of RAM, another terabyte of space, and most monumentally, Windows 8.
Windows 8 took some getting used to. In addition to installing all of the various programs I use for the Library's material, I had to do so while figuring out where everything is located in the new version of Windows. Once you get the hang of it, though, it's not bad at all. I seem to have completely skipped over the screwiness of Vista and 7 by jumping all the way from XP to 8. I did the same thing back in the 90's-2000's, going from 3.11 to XP and skipping 95, 98, and ME (I had a Mac for a few years).
I usually name computer components after cars. Being an old but sturdy refurb, I named my last computer Pontiac Le Mans. My 8GB flash drive is Scion xB (a small box of storage). My 2TB hard drive is the Chevrolet Impala because it came with something called an SS cable. This time, when shopping for the computer I saw a $900 machine that I liked, but have no use for (yet...), and my wife thought it was a little pointless. I explained it in terms of cars. Taken in its basic form of transportation, a hundred-grand Mercedes can't do anything a compact car can't do, but it's a heck of a lot quicker and more fun if you've got the money. My wife responded by saying that she wasn't going to make me get the Festiva of computers, but that I could at least have a Mazda. We bought a CX-7 for her last year, and if I were to get a Mazda, I would drive the 5, which is called the Premacy in Japan, and so my new mid-level HP computer is the Mazda Premacy.
So, back to business. Of course, not much has gotten done of the over 4,000 races left to process in that big stock car project, but without my own computer I've been Googling things on my phone and looking for new material for when I got back. Soon there will be more news and commentary from Voice of America, including the now-retired Ted Landphair. There's also a batch coming from the FBI, including stories of a lot of crooked car dealers, career carjackers, and hey, did you know that insurance won't cover the federal prison time from an
Involuntary Manslaughter conviction
if someone dies in your DUI accident? There's also United States Patents going all the way back to Selden, and pictures from the National Weather Service including disaster damage and their research chase vehicles. Yeah, kinda like in Twister, but real.
As always, crash videos are being uploaded to YouTube and The Internet Archive in the meantime, and while I'm sleeping, and while I'm at work. Someday those will get indexed into the Library, too!