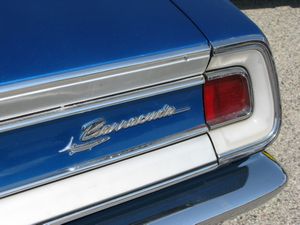 A 1968 Plymouth Barracuda tail light and emblem. The weather's getting warmer!
Alfa Male
Volume 2, Issue 8
March 23, 2013
Unfortunately, the new job involves a lot of quiet time to contemplate the meaning of life, and come up with new ways to bury myself behind more work on the Library. I came up with several more good ideas for content in the Library, and unfortunately I had a little Index Overload Crisis one night thinking of all the different types of categories of information. Sooooo...I condensed a lot of them. The Event Photography, Video, and Audio has been combined into the new Multimedia Index (which is easier to work with because I've been getting both pictures and video from a lot of events). Books, Reports, Legal Documents, Correspondence (officially published), and soon Patents are being combined together into the Publications Index. The Homepage got a little clean-up, and this should make things a lot easier to work with in the long run.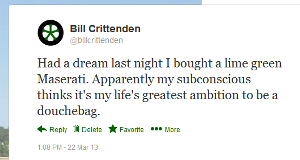 Of course, I've been having a bit too much fun with Twitter, retweeting a lot of interesting automotive stuff I've come across, posting updates on the new indexing, and occasionally posting some non-automotive bit of religious or political mockery. Oh, and the above little bit about my lime-green Maserati dream. Unless it's at a track day, I've always seen cars like that as more about showing off your income level than being an enthusiast of performance Italian cars. And what was I doing in my dream? Showing it off. Two doors, looking a little more like a hard-edged modern Lamborghini than a Maserati should, the exact opposite of elegance and style. I would really love to have a Maserati, but I would much rather have a used Quattroporte (I like the original front bumper more than the new ones) in a subtle, non-flashy color, like the teal-gray "Blu Malago Metallic" or, of course, the oddly British "Verde Goodwood Metallic," their version of British Racing Green. Despite the cars not really being my thing, I really appreciate the Ferrari owners who pick the very uncharacteristic dark blue and don't opt for the "hey, look, a Ferrari!" yellow badges on the fenders. Being a traditional color, though, bright red can be a great color for someone who truly loves the heritage of the car or wants the experience of going full Italian once in their driving lives. Realistically, as much as I like the Quattroporte, I couldn't afford the insurance if one were given to me, but once in my life I'd love to own a bright red Alfa Romeo. Preferably a MiTo, because it's a useful little hatchback but still beautiful and unmistakeably Alfa Romeo.