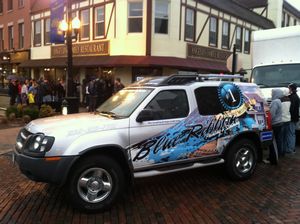 It's not a tail light picture, but this Nissan Xterra builder's truck stands in front of Angelo's Restaurant on the Woodstock Square. Woodstock, Illinois is the hometown of The Crittenden Automotive Library, and Angelo's will be on an episode of Chef Robert Irvine's Restaurant Impossible scheduled to air in a few weeks. In the background, folks are lined up for the first dinner service while the reveal goes on inside.
Spring Cleaning
Volume 2, Issue 9
May 3, 2013
It's been over a month since the last issue! I had hoped this would be a weekly thing but the past few weeks have been so busy. Where do I start?
I guess spring is the time for me to go through major upheavals in the Library. It started back in the winter when I finally upgraded to a decent modern computer, a new HP. That led to finally getting the entire Library on one hard drive and condensing several "To-Do" folders that have been accumulating stuff since 2007 into one spot. I've been making headway through these the past few weeks. I'm up to article number 13,500.
Before getting too deep into that, I decided to redo the Audio, Video, and Event Photography indices into one Multimedia Index and combine several types of Publications into one index. This took quite some time, but will speed up the addition of new material from now on. It also gives me a better total of the number of pages in all the Library's publications, which now stands at over 482,000.
In the real life side of the Library, I took apart the interior of the 2003 Pontiac Vibe I drive to clean up 170,000 miles of hard driving and neglect. Yes, I've spent so much time at my computer my real car became an afterthought. She's gotten me through the hardest times I've known as an adult and so now that things are stable again I'm not trading in that car for anything. I'd like to thank GenVibe.com for the valuable information in helping me take it all apart. That website appears on the car's rocker panel, obviously in much smaller lettering than CarsAndRacingStuff.com will be in when I get it lettered.
In addition to the books I've been buying, there are books I've been putting together. I have several boxes of old non-automotive magazines and in the process of dumping them I'm picking through them for automotive advertisements. It's fascinating to see what kind of advertisements there are outside of automotive publications, and how ad campaigns are tailored to the target audience of each particular magazine. They're going into page protectors and getting organized into binders. Once that's all done I'll have another resource for the Library's Topic Pages and Reference Desk.
A new Half Price Books opened up less than an hour from my home. That's been great for the Reference Desk, adding an Oldsmobile and 2 Pontiac and shop manuals, a few DVDs, and Richard Hammond's autobiography to the shelves. If this keeps up I'll have to divert some of my book-buying money into a trip to Ikea! A plate of Swedish meatballs and a new bookshelf, that's a great way to spend a Friday.
The first car show of the season was last weekend, so that's another hundred or so pictures to add to the "To-Do" pile! It was a smallish show over at the Woodstock High School, but it was close to home and I'd been itching to get out of the house and take more pictures.
Adding to the many things I'd love to have more of in the Library, I've started adding patent documents to the Publications Index. There is a HUGE volume of information available, and some of it quite fascinating if you're into the history of how automobiles were engineered from rudimentary horseless carriages to the technological wonders of today.
Now that things have settled a bit, I'll update more frequently and share some of the fascinating stories I've been finding.