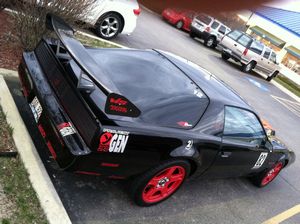 A heavily modified third generation Pontiac Trans Am from Woodstock, hometown of The Crittenden Automotive Library.
Beyond Search
Volume 2, Issue 10
June 17, 2013
Did you know that Mercedes-Benz once made a truck model designated "911?" If you do a Google search for it, a lot of pages that come up in the results have to do with comparing various Mercedes-Benz models to the far more popular
Porsche 911
.
Or did you know that before there was
Kyle Busch
the NASCAR driver there was Kyle Busch the automotive writer? Or how about Ron Fellows the U.S. government employee?
Search has been an awesome tool for digging through the vast volumes of information introduced to the Internet in the past two decades. However, now that it's here, it's become apparent that you can't find everything with it.
Poorly scanned documents creating machine reader mistakes, untagged photographs, duplicate names, and the sheer volume of all things from all topics can overload a user trying to use a search engine.
I believe the next step in the Internet information revolution is for human beings to come in and sift through the mountains of stuff, organizing it by topic or by subject, or by some other way. That's what I've been doing here at The Crittenden Automotive Library.
You can support my efforts here by sharing a link to my site or this newsletter with someone who may also be interested in automotive history. If I can get enough readers to attract a sponsor, I can dedicate my time to building the Library full-time.