Tail Lights: January 15, 2014
Opinions expressed by Bill Crittenden are not official policies or positions of The Crittenden Automotive Library. You can read more about the Library's goals, mission, policies, and operations on the About Us page.

Volume 3, Issue 2
A Solo Cup and an Ocean
Bill Crittenden
January 15, 2014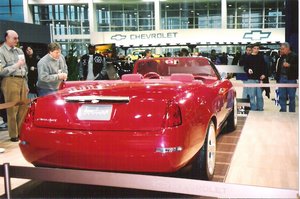 The 2002 Chevrolet Bel Air Concept Car. More pictures of this and classic Bel Airs are at Chevrolet Bel Air.
First off, I have to say "Happy Birthday" to my dad. He helped set me on the course that made this Library possible, and without him it would not exist. Aside from that, he's also a really great dad in general.
It's time for another round of auto shows in America, starting with the 2014 North American International Auto Show. It is also an unfortunate reminder of just how much automotive information is created annually and how comparatively little I can process for The Crittenden Automotive Library annually. I've likened it before as trying to catch the ocean in a Solo cup.
That's why I'm always looking not only for new data but for help. It would be great to find a sponsor that could help me dedicate more time to the preservation and dissemination of automotive history, perhaps with enough backing even hire a few people to build it even more quickly.
In the meantime, I am finding it important to focus on not what I'm missing but what I have, focus not on what I wish I had time to add but on the enormous pile of information I have made available.
Yeah, there's a lot out there that isn't in the Library, and will probably be lost before someone comes along to preserve it. But with the volume we have, hoping to double in 2014, we've managed to save a lot anyways.
If anyone wants to help, either by contributing some material or starting your own Automotive Library (even the great U. S. Library of Congress doesn't have everything!), please email me at admin@CarsAndRacingStuff.com and we'll see what we can do together.
Dead Trees & DVDs
I picked up another coupon to Half Price Books and happened to be in a town that had one, so I stopped by to use it. I didn't find anything that was Reference Desk-worthy, but I added a bunch of stuff to my personal collection. I find it worth mentioning because the variety is what makes it, and the Library I've built online, so interesting.
The bag included two more issues of Antique Automobile, three issues of American Iron (motorcycles), a coffee table book on convertibles, a copy of Portraits of NASCAR, and a 4-DVD set called "Import Car Revolution."
There are some subjects in the online Library and my personal collection that are more filled in than others, based on my own personal interests (Pontiac, Oldsmobile, NASCAR), but really, if it's got wheels and an engine, it's fair game.
Dead Trees, Part 2
I did spend some time this week building one of my binders of information. The binders, which you will see more of as they become more complete, started as a convenient way to keep postcards from the Chicago Auto Show organized and wrinkle-free outside of my filing cabinet of brochures. They quickly expanded to include clippings of automotive articles, advertisements, and anything else about a car I could stuff into a 8.5x11 sheet protector.
This has resulted in a set of interesting reference books containing clippings from the 1970's contributed by John Walczak, Chicago Auto Show postcards & material from 2001-2006, racing video game reviews from 1999-2002 thanks to my brother's cast-off magazines, and a bundle of material from financial magazines that would otherwise have been tossed out from the lobby of the Kemper Insurance headquarters from 2004-2006.
Then they're organized by subject. General Motors has six binders all to itself (one just all Cadillac), Chrysler has three, Ford two, and other topics or subjects each have their own. So not only does it keep the material safe, it also makes it useful by organizing it. Now, the first question I usually get is, "are you going to cut up all those car magazines you've collected?" No! as easy as it would make things from an organizational standpoint, I have no intention of ever cutting up car magazines. Besides, what would I do when one page has a Ford ad on one side and a Chevrolet review on the other?
History Beyond the Fenders
This week's History Beyond the Fenders entry is the binder I built last night from magazine clippings. The Crittenden Automotive Library includes video games produced about cars. This can range from classic road racers like the Gran Turismo series, the wide variety of NASCAR games produced over the years, "combat" games centered around cars like Crazy Taxi and Spy Hunter, and even Mario Kart, just because I wanted to.
Aside from this new addition, I did pick up a copy of IHRA Drag Racing 2 for the PlayStation 2 a week ago, and that's all added to the pile that already included the collection of several games I've played over the years and three game guides I picked up from the Half Price Books clearance racks over the past couple of years.
Why? Becuase it's all a part of "car culture."
News Articles & Progress in 2014
I've gotten caught up on several news sources in preparation for beginning another major project for the winter. So far, the article count stands at 18,281.
About The Crittenden Automotive Library
The Crittenden Automotive Library @ CarsAndRacingStuff.com, based in Woodstock, Illinois, is an online collection of information relating to not only cars, trucks, and motorcycles, but also the roads they drive on, the races they compete in, cultural works based on them, government regulation of them, and the people who design, build, and drive them. We are dedicated to the preservation and free distribution of information relating to all types of cars and road-going vehicles for those seeking the greater understanding of these very important elements of modern society, how automobiles have affected how people live around the world, or for the general study of automotive history and anthropology. In addition to the historical knowledge, we preserve current events for future generations.
The Library currently consists of over 498,000 pages of books, periodicals, and documents, over 18,200 individual articles, more than a week of video and two weeks of audio, more than 22,000 photographs & other images, and a Reference Desk with over 85 book volumes and thousands of advertising brochures & documents kept available for the information they contain but can't be copied into the online Library for sharing due to copyright.
Connect with The Crittenden Automotive Library