Tail Lights: June 1, 2014
Opinions expressed by Bill Crittenden are not official policies or positions of The Crittenden Automotive Library. You can read more about the Library's goals, mission, policies, and operations on the About Us page.

Volume 3, Issue 6
Government Motors
Bill Crittenden
June 1, 2014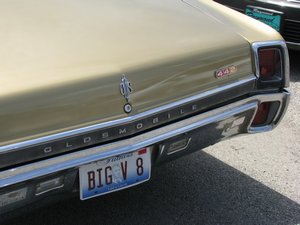 1967 Oldsmobile Cutlass Supreme 442.
It was inevitable that one of the largest industries in the United States would become a political issue. The automobile, highway construction, and trucking industries have employed millions of Americans over the years, and as such auto workers, truckers, and people who benefit from the national highways form a large electoral constituency on the national level.
Over two hundred items from presidencies ranging from Herbert Hoover to Barack Obama have been added to the Library. These include Presidential Proclamations, Executive Orders, public statements, transcripts of speeches & interviews, letters to Congress and campaign press releases.
Coming soon, thanks to the Open Parliament Licence, will be transcripts and resolutions from the government of the United Kingdom. This is exciting because it opens up new topics I'm fond of that are left uncovered by the United States government's similar documents: GM's Vauxhall, the British automotive industry, and BTCC competition.
Together with the new DriveWrite archives and Matt Hubbard's Speedmonkey articles on the "to-do" list people will have even more reasons to believe that The Crittenden Automotive Library is a British operation!
Patents
The 1895 batch is complete, and the design patent for the 1948 Tucker "Torpedo" has been added to the Library. Hundreds more have been downloaded and just need to be added to the Library's indices as time allows.
Dead Trees
This has been a great couple of months for adding books to the reference section of The Crittenden Automotive Library. A trip to the Friends of the Crystal Lake Library book sale, a trip to Schaumburg's Half Price Books just in time to pull a half dozen manuals from the clearance section, and a stop at the Half Price Books outlet store in Rockford on my way through town have all made this one of the best months ever for new reference material.
My favorite find of the bunch is the 1973-1975 Austin Marina's Haynes book. Somehow, I doubt that the book contains instructions on how to repair falling piano damage, but as it represents a grossly disrespected car I'm happy to have at least a piece of this car's history on hand. I shall keep it safe from the likes of Andy Wilman and his crew.
History Beyond the Fenders
This month, on Mother's Day weekend, I wrote about my experiences being taught to drive by my mom in a 1988 Hyundai Excel. Cars are nothing without the people who build, design, drive, and love them. If you have a story to tell, we'd love to add it to the Library!
Articles
Yet another new language, Catalan, has been added to the Library with a batch of news articles. The archives of articles from The New York Times has been expanded to include June 1900, and 300+ items from the New Mexico Department of Transportation put the number of articles in The Crittenden Automotive Library over 20,000!
Of course, as more magazine volumes from nearly a century ago have been added recently, I'm reminded that this 20,000 number doesn't include a heck of a lot of articles that are in the Publications section of the Library, nor does it include a small but growing section of NHTSA complaints that I'm indexing with the articles.
40,000 by the end of the year seems very reachable, just 109 articles per day for the second half of the year. Now that the "spring cleaning" season is over, that seems quite doable if I don't spend too much time at car shows this summer.
About The Crittenden Automotive Library
The Crittenden Automotive Library @ CarsAndRacingStuff.com, based in Woodstock, Illinois, is an online collection of information relating to not only cars, trucks, and motorcycles, but also the roads they drive on, the races they compete in, cultural works based on them, government regulation of them, and the people who design, build, and drive them. We are dedicated to the preservation and free distribution of information relating to all types of cars and road-going vehicles for those seeking the greater understanding of these very important elements of modern society, how automobiles have affected how people live around the world, or for the general study of automotive history and anthropology. In addition to the historical knowledge, we preserve current events for future generations.
The Library currently consists of over 517,000 pages of books, periodicals, and documents, over 20,000 individual articles, more than a week of video and two weeks of audio, more than 22,000 photographs & other images, and a Reference Desk with more than 120 book volumes and thousands of advertising brochures & documents kept available for the information they contain but can't be copied into the online Library for sharing due to copyright.
Connect with The Crittenden Automotive Library