Tail Lights: July 9, 2014
Opinions expressed by Bill Crittenden are not official policies or positions of The Crittenden Automotive Library. You can read more about the Library's goals, mission, policies, and operations on the About Us page.

Volume 3, Issue 7
Four Wheel Felonies
Bill Crittenden
July 9, 2014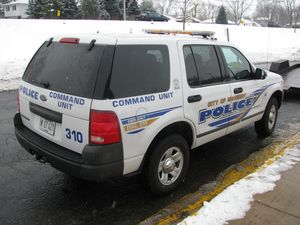 McHenry Police Department Ford Explorer
False legend has it that when Willie Sutton was asked why he robbed banks, he replied, "that's where the money is." He rebutted it later in his life, but it's still going around because it's sound logic for criminals.
Cars rank just below houses and educational expenses in the most expensive things we invest in during the course of our lifetimes. Compared to fixed buildings and things that you've learned, cars are relatively easy to steal. So it should come as no surprise that cars have become a magnet for crime since their invention.
But as millions of people work in occupations related to the multiple multibillion dollar industries related to the automobile, there are plenty of ways to try and make a fast buck beyond stealing cars.
In addition to the money involved, sometimes car crime is just related to anger or stupidity. Cars can be lethal in criminally negligent hands, including sober people using them as weapons in anger or stupid people getting drunk and crashing unintentionally.
It reminds me of a great line from Hot Fuzz, that they don't call car collisions "accidents" because that implies that no one is to blame.
The Crittenden Automotive Library now includes hundreds of news releases from the various divisions of the United States Department of Justice on crime committed relating to the automobile. From the first half of a project on this topic, here's a sample of the crimes included:
Theft & carjacking
Highway construction fraud
Armored car robbery
Staged car accidents
Fake NASCAR merchandise
Motorcycle gangs
Bribing taxicab commissions
Embezzlement from vehicle dealers/manufacturers
Drivers' license fraud & DMV bribery
Bank robbery getaways (and sometimes resultant chases)
Theft of manufacturer trade secrets
Reverse engineered counterfeit auto parts
Theft by parking lot/garage/meter attendants & companies
Fixing tickets
Auto parts price fixing
Truck cargo theft
Moving company ransom schemes
Exotic cars recovered as collateral against fines from convicted felons
The list above was created from the new index for the United States Department of Justice at http://www.CarsAndRacingStuff.com/library/government/index_departmentofjustice.php
More will be added to this index soon, as the project is just a little more than halfway done. This is in addition to historical articles from the 1900's, 1910's, and 1920's that involve automobile crimes, as well as the contributions from The Woodstock Advocate, covering local issues in the McHenry County area for the last several years.
2013 Geneva Motor Show
425 pictures from the 2013 Geneva Motor Show are now online, and along with numerous exotic supercars and European cars not seen in the U.S. market there have been a large number of new vehicle topic pages created.
I find it interesting that even the utterly mundane seems interestingly exotic to someone not used to it. Not only have I been writing about the American driving experience for British readers, this photo set includes a lot of vehicles that are interesting just because I've never seen one in person before. This includes such plain-Jane vehicles as the stock offerings from SsangYong, Renault, Peugeot, Opel (vehicles sold as Vauxhalls in the UK), as well as the vehicles of familiar marques that for some reason or another are not sold in the U.S., such as Ford's Tourneo line of vans and Toyota's Auris.
The Auris is a really good looking wagon, being based off the Corolla with a little RAV4 style thrown in, it is a vehicle I'd highly recommend bringing here. I'd consider buying one myself, but I already have a version of a Corolla wagon that I love!
Dead Trees
What this month lacks in volume, it made up for in quality. The 1961 Chevrolet passenger car shop manual, the 1964 Chevrolet shop manual supplement, and the 1985 Ford passenger car (excluding compacts) shop manual will be added to the Reference Desk soon.
History Beyond the Fenders
There are a ton of new stories in that batch of DoJ stories in which cars or trucks play an odd or peripheral role, but this one is one of my favorites:
According to one indictment, in 2011 a pair of brothers dropped off a trailer at a Tyson meat plant in Kansas to be loaded by falsely using a legitimate trucking company name to win a contract for hauling cargo to California. The driver who dropped off the trailer never came back to pick it up. Had the scheme worked, he may have stolen up to $100,000 (wholesale) worth of meat.
It's also not the only article in this batch including a truck cargo theft that involved meat. Which makes one wonder, who exactly do you go to to fence a stolen trailer load of meat? How commonly do people end up eating stolen meat? How the heck does someone even end up in the stolen meat business? How would a truck thief even know who to call to offload stolen meat? The end retailers are not exactly underground like the drug trade, nor is the product easily stored & concealed like a kilo of cocaine, and there's definitely a time limit on how long a thief has to move the product.
I just can't wrap my head around the fact that we have a stolen meat trade in America where one can sell off a trailer of stolen steaks on the black market, and that this a.) happens often enough to make it into multiple news articles, and is b.) not strange enough to warrant a huge "you're never going to believe what happened!" story about it on BuzzFeed and Huffington Post.
About The Crittenden Automotive Library
The Crittenden Automotive Library @ CarsAndRacingStuff.com, based in Woodstock, Illinois, is an online collection of information relating to not only cars, trucks, and motorcycles, but also the roads they drive on, the races they compete in, cultural works based on them, government regulation of them, and the people who design, build, and drive them. We are dedicated to the preservation and free distribution of information relating to all types of cars and road-going vehicles for those seeking the greater understanding of these very important elements of modern society, how automobiles have affected how people live around the world, or for the general study of automotive history and anthropology. In addition to the historical knowledge, we preserve current events for future generations.
The Library currently consists of over 517,000 pages of books, periodicals, and documents, over 20,700 individual articles, more than a week of video and two weeks of audio, more than 22,000 photographs & other images, and a Reference Desk with more than 120 book volumes and thousands of advertising brochures & documents kept available for the information they contain but can't be copied into the online Library for sharing due to copyright.
Connect with The Crittenden Automotive Library