Tail Lights: August 6, 2014
Opinions expressed by Bill Crittenden are not official policies or positions of The Crittenden Automotive Library. You can read more about the Library's goals, mission, policies, and operations on the About Us page.

Volume 3, Issue 8
Shelf Space
Bill Crittenden
August 6, 2014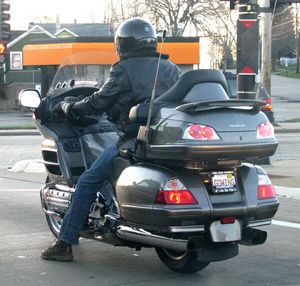 A Honda Gold Wing. Motorcycles are a big part of The Crittenden Automotive Library!
News comes from Wisconsin last month of a school library emptied of much of its contents due to an order to remove materials that might not be in use.
The administration's criteria were based on the age of the books and whether or not they had been checked out in a certain amount of time. This resulted in a list of books being removed that included Homer's Odyssey, Beowulf, and the Bible.
Story at Racine County Eye
Now, simply because a book is old doesn't mean it won't have value, and I'm not referring to a sale price. Aside from the "timeless classics" old books contain valuable historical context when studying modern topics.
Just because a book hasn't been checked out in a while doesn't mean people aren't using it IN the library, for reference, quotes, or photocopying a page or two so that they don't have to carry the whole volume home with them. Technically it's a copyright violation but let's be realistic...my local library wouldn't have had an entire bank of 10-cent photocopiers when I was growing up if people weren't using the heck out of them, and nobody's going to chase down a kid who copies something for a school project.
So to me, the rule I would make for a library is that if you have space to put it, you keep it. Thinning out a collection to keep just the most popular items turns the library into a Top 40 station for books; it guts the depth that make libraries so valuable.
As this issue relates to The Crittenden Automotive Library, we are hosted on an "unlimited" plan by one of the world's most established internet companies. We also work with The Internet Archive to keep our host from throttling back our server access from overuse. Between these two resources, we're able to keep available nearly a half of a terabyte of data going back to the 1800's available around the world 24 hours a day, 7 days a week.
We have the space, and we're going to keep filling it.
As we continually add more, the depth of available information on every major topic grows, and the combination of resources from multiple sources improves the body of knowledge...just keeping the most popular books or articles on each topic would only give part of the story.
Seeing those empty shelves in the story was a bit sad, as someone who has spent his adult life trying to accumulate as large a body of knowledge as possible and share as much of it as legally possible with the rest of humanity. And just where were those missing books going to end up?
But that story also makes me more determined than ever to keep doing what I'm doing and support others who wish to do the same. Maybe the physical library, as a tool of research, is suffering from the inefficiencies of keeping printed books and the popularity of the internet. That just means all of us who accumulate our resources online, in places such as Wikipedia, Project Gutenberg, The Open Library, The Internet Archive, and all the various smaller projects spread across the web, have to step it up, so that there isn't an "information gap" between a physical library's closing and an internet library's ability to meet the needs of its patrons.
Indexing
The links to the year-by-year indices (and content counts) have been moved to a nifty table on the home page of CarsAndRacingStuff.com under "Information by Type." This should make it easier to browse around if you're not sure what you're looking for or don't have a particular topic in mind and just want to see something you weren't expecting to find.
A similar list should be coming soon of all of the year-by-year indices of racing information.
This is the major difference between The Crittenden Automotive Library and many other resources: the ability to browse. So many other resources offer limited browsing ability and require searches to dig through the information. We put the information available on a topic onto pages that can be read through item by item, to make sure nothing gets missed. Then, to ensure that mentions of a car or a person buried in articles on other topic are still available, we offer Google Site Search as another tool available to you.
Cruisin'
I finally got out of the basement and off to a cruise night this year. As always, the Green Street Cruise Night in McHenry was huge, and full of plenty of cars I hadn't seen in the area before. This photo set will be online soon. This is important to mention because not all of the content in The Crittenden Automotive Library is collected from other sources, some is exclusive to our Library.
Dead Trees
I found an old copy of Today's Motor Sports from January of 1962 that's out of copyright and full of vintage racing photos and information including racing at Riverside, the 1961 United States Grand Prix, and the 1961 SCCA Divisionals at Meadowdale. Some articles are online now, with the rest to go up soon!
History Beyond the Fenders
This issue's
History Beyond the Fenders
is the completion of the huge batch of FBI and Department of Justice articles I mentioned last issue, pushing the "Article Odometer" up over 21,300. New crimes discovered include one scheme to sell stock in an investment company that was supposed to bring a major racing event to Cincinnati, price fixing in the international car shipping business, and another incident of meat theft (seriously, what is it with meat theft?). These incidents are a big part of the overall story of the automobile, which goes far beyond race track exploits and the craftsmanship of the cars themselves. In so many ways, crime has been a part of the automobile's culture, from a DUI being an issue in a Presidential campaign to commercials for The Club (who remembers those?) and the film Gone in 60 Seconds.
About The Crittenden Automotive Library
The Crittenden Automotive Library @ CarsAndRacingStuff.com, based in Woodstock, Illinois, is an online collection of information relating to not only cars, trucks, and motorcycles, but also the roads they drive on, the races they compete in, cultural works based on them, government regulation of them, and the people who design, build, and drive them. We are dedicated to the preservation and free distribution of information relating to all types of cars and road-going vehicles for those seeking the greater understanding of these very important elements of modern society, how automobiles have affected how people live around the world, or for the general study of automotive history and anthropology. In addition to the historical knowledge, we preserve current events for future generations.
The Library currently consists of over 537,000 pages of books, periodicals, and documents, over 21,300 individual articles, more than a week of video and two weeks of audio, more than 22,000 photographs & other images, and a Reference Desk with more than 120 book volumes and thousands of advertising brochures & documents kept available for the information they contain but can't be copied into the online Library for sharing due to copyright.
Connect with The Crittenden Automotive Library