Tail Lights: August 9, 2014
Opinions expressed by Bill Crittenden are not official policies or positions of The Crittenden Automotive Library. You can read more about the Library's goals, mission, policies, and operations on the About Us page.

Volume 3, Issue 9
Dok je srca, bit će i Kroacije
Bill Crittenden
August 9, 2014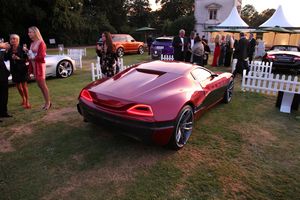 Rimac Concept_One at the exclusive 2012 Salon Privé London.
This week's updates include dozens of pictures and some press releases from a company called Rimac Automobili. They are an automotive technology and electric drivetrain developer from Croatia, based outside of Zagreb. They've also produced one heckuva cool electric supercar, the Concept_One.
Now, I know Croatia doesn't come to mind when thinking of great automotive manufacturing economies. Usually to Americans the United States, Germany, and Japan come to mind first, with Great Britain, Italy, France, Sweden, and lately South Korea in a sort of second tier.
But there are so many more cars made around the world that don't make it to these shores. Without them, it can be difficult to remember just how global the automobile industry is.
And while there are some...questionable manufacturing practices...around the world, not all cars from nontraditional automobile producing countries turn out like the Yugo.
Volkswagen owns Dacia, a car company based in Romania, whose most famous fan is non less an automotive expert and icon as Top Gear's James May. VW also owns the Czech Republic's Škoda brand.
Spain is home to the Seat marque, whose products are fairly common sights in Europe. Mexico now has its own sports car manufacturer, Mastretta. Popular dirt bike brand KTM is from Austria. Australia has Holden, its own division of General Motors, as well as exclusive Ford designs including the Falcon, a car they never stopped making in some form or another since the 60's. The Malaysian government runs their own domestic company, called Proton.
India has been in the car business since independence, with a domestic industry focused on affordable, tough little cars. Tata Motors, builder of the Nano and new owner of the Jaguar Land Rover group is a homegrown automaker.
China's auto industry is booming. If you haven't heard of the names BYD, Chery, Geely, Great Wall, or Hongqi, you will hear more about them soon as they work to gain a toehold in the American market. Not only do they have their own domestic brands, but their country buys enough Buicks to warrant their own versions that we can't get in Buick's home market!
So, a belated welcome to Croatia in joining the club of auto manufacturing countries!
In welcoming them to The Crittenden Automotive Library, the single Rimac press release in Croatian required the creation of a Croatian language index, but you'll notice that the name that appears on it translates to Brizic Automobile Library. Over a century ago a Croatian businessman with the surname Brizic lived in Trieste, and when visiting his homeland on his way to America, met an Italian woman living there. This odd Croatian-Italian couple who lived in each others' lands made their way here, and their daughter would become my maternal grandmother.
And that is a little insight into why The Crittenden Automotive Library is so internationally focused. If you look beyond the superficial, you'll see that we're all connected in some way.
British Government
Thanks to a license that allows re-use, I'm anticipating soon adding a lot of information from the Parliament of the U.K. to the Library. So a page similar to the American Government page was set up, and what a way to get it going: the second item on it is from 1896 and details the replacement for Britain's "Red Flag Law," which choked any attempt at an automobile industry by requiring motor cars have a man on foot waving a red flag preceding them.
This set of regulations on "light locomotives" (the world hadn't yet settled on automobiles as the name) has some surprisingly insightful components that we take for granted as important functions of driving even today.
Dead Trees
Nothing new to report added to the Reference Desk or the Library's offline collection, but articles from scanned material have been entered into the articles section in plain text format. As optical character recognition (OCR) often generates gibberish, manually entering in article text makes this material searchable. It is, however, very time consuming. I'd welcome some help, and I'd offer automotive entrepreneurs a link to their site permanently on the bottom of each article page they type out for me. Contact me for details.
Cruisin'
Another photo set from McHenry, Illinois' very popular Green Street Cruise Night is online now! There are a lot of classic motorcycles in this set.
History Beyond the Fenders
This week's
History Beyond the Fenders
entry comes from the art world. Several medium-resolution images (not sharp enough to print, for obvious reasons) from Hendrik Mueller of classic pre-WWII racing cars are in the Library now courtesy of CarArt.us. Few modern subjects have inspired as much art as the automobile, a subject which can in its own right be considered a work of art. Essentially paintings or drawings of metal sculptures, many of them used in "heroic" exploits on motor racing circuits...it's no wonder these images are so popular.
About The Crittenden Automotive Library
The Crittenden Automotive Library @ CarsAndRacingStuff.com, based in Woodstock, Illinois, is an online collection of information relating to not only cars, trucks, and motorcycles, but also the roads they drive on, the races they compete in, cultural works based on them, government regulation of them, and the people who design, build, and drive them. We are dedicated to the preservation and free distribution of information relating to all types of cars and road-going vehicles for those seeking the greater understanding of these very important elements of modern society, how automobiles have affected how people live around the world, or for the general study of automotive history and anthropology. In addition to the historical knowledge, we preserve current events for future generations.
The Library currently consists of over 537,000 pages of books, periodicals, and documents, over 21,300 individual articles, more than a week of video and two weeks of audio, more than 22,000 photographs & other images, and a Reference Desk with more than 120 book volumes and thousands of advertising brochures & documents kept available for the information they contain but can't be copied into the online Library for sharing due to copyright.
Connect with The Crittenden Automotive Library