Tail Lights: October 2, 2014
Opinions expressed by Bill Crittenden are not official policies or positions of The Crittenden Automotive Library. You can read more about the Library's goals, mission, policies, and operations on the About Us page.

Volume 3, Issue 11
Hot Rods and Comic Books
Bill Crittenden
October 2, 2014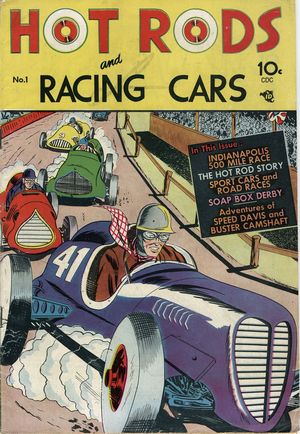 Issue 1 of Hot Rods and Racing Cars, November 1951.
Most people associate the comic book with the classic costumed superhero: the muscular, usually male, almost exclusively Caucasian hero with a chiseled jaw and primary color tights that prefers fists to firearms. Like Superman or Captain America.
But the Golden and Silver Ages of comic books were an entirely different world, when comic book artists weren't trying to outdo each other in darkness, violence, and blood (1986's Watchmen is probably the platinum standard for violent darkness in comics).
Almost every conceivable topic was available and there were titles tailored to every age group. Okay, the heroes were still almost all white except for the occasional horribly stereotypical minority brought in to further a plot, and women were viewed through the lens of the era that inspired Mad Men, but there was still a wider variety of topics than I see today at the comic shop.
The still-popular Archie Comics series comes to mind, but back then there were also teenage love stories, military tales, a lot of space and science fiction and Twilight Zone kind of strange suspense stories. Detective stories were another hugely popular genre, and Dick Tracy, based on the the most popular crime fighter without a bat costume, was drawn for 46 years by its creator just a few miles from The Crittenden Automotive Library's location in Woodstock, Illinois.
So it's no surprise that the popular postwar topics of hot rods and racing cars would make it onto the pages of the Silver Age comic book. Heck, one series is even called Hot Rods and Racing Cars, and some issues of it have been added to The Crittenden Automotive Library as the beginning of a new Comic Book index.
Fast forward to the early 1990's, when ink flowed like water in almost every industry, and racing comics made a reappearance.
Side note: what is it about the 1990-1994 era that made collectible items so overprinted or overproduced in almost every genre I encounter? Comic books, collectible sports cards, and model kits, just off the top of my head.
So. Much. Crap.
Anyway, Vortex Comics ran a series in 1990 of comic book versions of NASCAR's most historic stories. I love this series because it falls into an odd black hole between the comic book fans, who weren't interested in NASCAR history and don't remember the comics when I look for them at shops, and NASCAR fans, who don't remember them either because they weren't ever interested in comic books and don't have them in their collections of memorabilia.
They're a big hit with the NASCAR crowd when I pull them out of my collection to show off the dozen or so issues I've found.
At one model car show where I stumbled across some of them, I showed them to my father-in-law and his best friend, who was as much of a Ford-only of a guy that I've ever met. The Ford friend, Chris, read every issue I had about a Ford driver (Bill Elliott, Mark Martin, and Sterling Marlin in his #22 Ford years) cover to cover before we left, and barely thumbed through the ones about Chevrolet drivers. Probably looking for drawings of Fords.
Because of copyright I can't share these online, but you're welcome to ask your local comic book shop about them or search for them on Amazon or eBay. They only usually cost me a dollar an issue when I find them at shows and swaps.
A list of known comic books about racing and cars as well as an index of issues available for download directly from The Crittenden Automotive Library is now available as a sub-index of the Publications section.
Also, the 1920's-1930's comic strip about folks who work at an automobile garage, Gasoline Alley, was the inspiration for an old time radio show. 6 hours of episodes from 1948, found while searching for more old comic books, have also been added to the Library.
Personal side note: I'm not a comic book collector or reader but I'm excited about this sort of thing because I love comic book superhero movies and television shows. Captain America and Phil Coulson are my favorite characters. Yes, I love that Phil drives "Lola" and I hope as Agents of S.H.I.E.L.D. season 2 gets rolling we find out what happened to her after the crash landing in L.A.
Hey, I wrote a whole thing about comic books and cars without once mentioning the Batmobile!
Aww, damn it.
Site Design
The sepia is back. I tried the grey, and it just wasn't growing on me, so there's a new page headline with a light sepia background image pulled from a 1972 magazine article about the original Chrysler.
I've got to admit, the Ed Carpenter Racing files made me miss the old colors the most, seeing picture after picture of the white, dark green and dark gold Fuzzy's Vodka car.
The color is a bit redder this time as I actually researched sepia ink and its history and got the "official" color code off of Wikipedia's page on the topic.
How's that for attention to detail?
History Beyond the Fenders
I think this issue's History Beyond the Fenders entry should be pretty obvious (it's comic books, in case you missed it), but for a second entry how about an article from November 28, 1922, where New York City's Police Commissioner Richard E. Enright seeks a "traffic viaduct" through the city to funnel cross-city traffic from one end of the great metropolis to the other more quickly:
A viaduct over West Street from the Battery, to run as far north as Eighty-sixth Street, would be the most immediate and practical step to relieve the existing situation, the Commissioner said...By the construction of ramps at various side streets, about half a mile apart, through traffic rather than short hauls could utilize this thoroughfare, it was explained.
And thus Commissioner Enright just described something that resembles New York's West Side Elevated Highway (construction started 1929), a prototype for the elevated interstate highway through urban areas that's common today.
Interesting to see how old so many of our ideas really were, but didn't come into existence until a later date because of technology, politics, or economics.
Keep on Truckin'
My first venture into creating my own web page was the Security & Safety Information Site. The Crittenden Automotive Library doesn't actually "pay the bills" and I've been a security professional for about 14 years. SSIS was a collection of links to information and documents for the good folks that used to frequent the SecurityProfessionalsSite message boards, and included a handful of articles about the industry.
One of these articles, since it was about identifying cars in incident reports, appears in this Library.
When going through my basement and purging a lot of old projects and things I don't work on anymore, I came across my collection of security information. One of the pieces was an old (1970's?) brochure for truck and trailer security systems from Babaco, and it's now available to read online at CarsAndRacingStuff.com.
Other items were kept in the offline resource library but aren't shareable. They include articles about security at parking garages, automatic license plate readers, and auto industry factory security. This shows just how stepping outside of the regular automotive press for sources can turn up some interesting pieces of information.
Bringing these disparate bits of information together is what makes The Crittenden Automotive Library's picture of the automobile different than any other in the world. And when the Library has more time to develop, hopefully the most comprehensive and complete picture of the automobile and its impact on society.
About The Crittenden Automotive Library
The Crittenden Automotive Library @ CarsAndRacingStuff.com, based in Woodstock, Illinois, is an online collection of information relating to not only cars, trucks, and motorcycles, but also the roads they drive on, the races they compete in, cultural works based on them, government regulation of them, and the people who design, build, and drive them. We are dedicated to the preservation and free distribution of information relating to all types of cars and road-going vehicles for those seeking the greater understanding of these very important elements of modern society, how automobiles have affected how people live around the world, or for the general study of automotive history and anthropology. In addition to the historical knowledge, we preserve current events for future generations.
The Library currently consists of over 537,000 pages of books, periodicals, and documents, over 22,200 individual articles, more than a week of video and two weeks of audio, more than 22,000 photographs & other images, and a Reference Desk with more than 120 book volumes and thousands of advertising brochures & documents kept available for the information they contain but can't be copied into the online Library for sharing due to copyright.
Connect with The Crittenden Automotive Library