Tail Lights: November 16, 2014
Opinions expressed by Bill Crittenden are not official policies or positions of The Crittenden Automotive Library. You can read more about the Library's goals, mission, policies, and operations on the About Us page.

Volume 3, Issue 13
U.S.A.! U.S.A.!
Bill Crittenden
November 16, 2014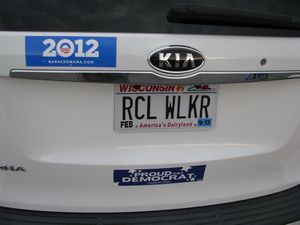 A Wisconsin voter uses the back of their Kia as a rolling political billboard during the Recall Walker campaign of 2012.
A few weeks ago we had an abysmally attended "midterm" election (worst turnout since 1942) and being neck-deep in political news got me thinking about the American Government section of The Crittenden Automotive Library.
As I ALWAYS have to remind people when drawing attention to this section, the Library is completely politically neutral. President Obama appears on the American Government label across CarsAndRacingStuff.com because he's the President. When we have a new President, we'll have a new label, regardless of who gets elected or to which party they belong.
We welcome contributions of political materials and commentaries from
both
sides, especially as the auto industry bailout, Cash for Clunkers program (remember that?), and occasionally UAW labor disputes become major political issues. But our indices are politically neutral and we maintain neutral respect for the elected leaders of the United States.
Sigh...sadly necessary disclaimer aside...
The American Government index was getting crowded and taking for-freaking-ever to load. Well, I had been waiting for a few agencies to accumulate enough information to warrant their own pages, as the Department of Justice and Department of Transportation already have, but as the election results were coming in that Tuesday night I felt inspired and set to work on splitting apart all of the state sections into their own pages.
Now included in the state pages are the EPA regulation changes that pertain to each state and the FHWA notifications relating to the roads in each state, information previously not separated out state by state.
Also included in each state page now are the vehicles used by government agencies of each state, particularly the fire and police vehicle photographs from the big Emergency Services Vehicles photography section.
Hopefully, now that each state has a clutter-free, "go-to" page for political and government information, we'll attract some more contributions from all across the country. Yes, this includes
YOU
. Feel free to write about your state roads and how government could do a better job fixing them, and e-mail it to admin@carsandracingstuff.com for inclusion!
This separation will also prepare us for adding press releases and public statements of each state's Senators and Representatives in the United States Congress from the House and Senate websites. The way I see it, even if (for example) a U.S. Representative from Kansas is only referring to Federal government policy, that statement came from a Kansas politician so it's a part of Kansas automotive history and can affect a Kansas election if that official is still in office. That means, as far as I'm concerned, it definitely belongs on the Kansas page of the Library's American Government section.
Find the links to the state pages on the American Government index and bookmark your state's page today. The 2016 elections are less than two years away, so we can
finally
talk about them without being ridiculous!
History Beyond the Fenders
This issue's
History Beyond the Fenders
entry is a book (really a bound collection of publicly released documents) showing all of the Pennsylvania license plate registrations, including plate number, name, and address of the registrant, for a big chunk of 1917.
Yeah, it's an astronomic long shot, but maybe this will be useful to someone who has a license plate or a photograph and they want some more background on it.
But in general it's
very
illustrative of the "olden days" before privacy and identity theft were the problems they are today.
Or you could just look up your own family names out of curiosity: number 20526 was registered to Stanley Walczak of Erie, Pennsylvania. No Crittendens were listed, but there is (or was) apparently a Crittenden Street in Philadelphia. Too bad it doesn't say what kind of car they drove, that would be really cool. Despite the oversharing of what we would consider today private information, makes & models weren't important considerations to newspapers or government agencies in the early days of the automobile.
We'll keep an eye out for more of these, the more complete a record that can be assembled the more useful the collection will become.
Dead Trees
Due to budgetary constraints there's not much new in the Reference Desk lately, but there's actually so much more in the offline collection that could go on the list and hasn't been added yet.
The shop manuals were the most "reference-worthy" materials I could think of, but a lot more books are going to be added soon. I've barely touched the collection of racing books and biographies so far.
MUCH more to come soon...
About The Crittenden Automotive Library
The Crittenden Automotive Library @ CarsAndRacingStuff.com, based in Woodstock, Illinois, is an online collection of information relating to not only cars, trucks, and motorcycles, but also the roads they drive on, the races they compete in, cultural works based on them, government regulation of them, and the people who design, build, and drive them. We are dedicated to the preservation and free distribution of information relating to all types of cars and road-going vehicles for those seeking the greater understanding of these very important elements of modern society, how automobiles have affected how people live around the world, or for the general study of automotive history and anthropology. In addition to the historical knowledge, we preserve current events for future generations.
The Library currently consists of over 540,000 pages of books, periodicals, and documents, over 23,000 individual articles, more than a week of video and two weeks of audio, more than 22,000 photographs & other images, and a Reference Desk with more than 120 book volumes and thousands of advertising brochures & documents kept available for the information they contain but can't be copied into the online Library for sharing due to copyright.
Connect with The Crittenden Automotive Library