Tail Lights: November 29, 2014
Opinions expressed by Bill Crittenden are not official policies or positions of The Crittenden Automotive Library. You can read more about the Library's goals, mission, policies, and operations on the About Us page.

Volume 3, Issue 14
Catching Up
Bill Crittenden
November 29, 2014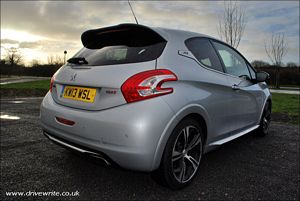 A Peugeot 208 GTI from a DriveWrite review by Geoff Maxted.
You know that feeling an endurance racing driver gets when he sees his competition pull into the pits as he's just getting settled in to a long stint? Knowing that he's just eating through the miles while the opponent is stalled?
I imagine my feelings from mid-November to the beginning of February are fairly similar.
As Kevin Harvick and Lewis Hamilton complete their champions' media tours, the racing scene quiets down and settles in for the winter offseason just as I've been getting organized and putting up a lot of content.
Aside from the projects previously mentioned in prior editions of Tail Lights: the new comic book section, a site redesign, separate patent indices, and the reorganization of the American Government index including creating separate state pages, I've also gotten close to hitting article #23,000, reorganized a large portion of my home library to make it more accessible to use as site content, and streamlined the processes used to add content to the online library to be able to add more stuff faster.
And now the steady stream of motorsports press releases will taper off and I'll have nowhere to go and take pictures, there being no more small car shows or cruise nights in the area out northwest of Chicago until at least April.
Time to see how much I can do to catch up on all of my projects and "To-Do's" between now and Daytona Speedweeks and the beginning of the 2015 racing season.
I had hoped at the beginning of the year that by the end I'd be at 40,000 articles and 1,000,000 document pages, but I spent the year instead solidifying what's already online with better indexing and a much better site appearance. Oh, and I painted & re-tiled a bathroom and did the most thorough cleaning I've ever done on my garage in my six years in Woodstock, as well as spending a great deal of time with a family member having a health issue, all while working full time and raising a nine-year-old boy.
I don't think I can process 17,000 articles and 460,000 pages of documents in a little over a month that includes a lot of family holidays as well as the big shared holidays of Christmas & Thanksgiving.
So I'm going to set my 2015 goals the same as they were for 2014: 40,000 articles and 1,000,000 document pages. At the time I made this goal, it was to be roughly a doubling of site content in these two areas, so if I make it that means that the C.A. Library site content will have roughly doubled in two years instead of one.
So as a large number of my content creators settle into the pits of the offseason, it's nothing but open roads and green flags on clearing out my inbox and building The Crittenden Automotive Library.
Only 1,385 emails behind. Ready, set, GO!
Dead Trees
Still no new books to add to the Reference Desk section of the site, but I've been spending some time and money on organization recently. If I could finish organizing my collection of papers and pamphlets I could then start at one end of the collection and work my way across it page by page, knowing what has and what hasn't gone into the online Library yet.
There are a ton of great and old magazine ads from the 1970's and early 80's that can and will eventually be added to the C.A. Library, hopefully starting early in 2015.
About The Crittenden Automotive Library
The Crittenden Automotive Library @ CarsAndRacingStuff.com, based in Woodstock, Illinois, is an online collection of information relating to not only cars, trucks, and motorcycles, but also the roads they drive on, the races they compete in, cultural works based on them, government regulation of them, and the people who design, build, and drive them. We are dedicated to the preservation and free distribution of information relating to all types of cars and road-going vehicles for those seeking the greater understanding of these very important elements of modern society, how automobiles have affected how people live around the world, or for the general study of automotive history and anthropology. In addition to the historical knowledge, we preserve current events for future generations.
The Library currently consists of over 540,000 pages of books, periodicals, and documents, over 23,000 individual articles, more than a week of video and two weeks of audio, more than 22,000 photographs & other images, and a Reference Desk with more than 120 book volumes and thousands of advertising brochures & documents kept available for the information they contain but can't be copied into the online Library for sharing due to copyright.
Connect with The Crittenden Automotive Library