Tail Lights: December 13, 2014
Opinions expressed by Bill Crittenden are not official policies or positions of The Crittenden Automotive Library. You can read more about the Library's goals, mission, policies, and operations on the About Us page.

Volume 3, Issue 15
Beyond Wikipedia
Bill Crittenden
December 13, 2014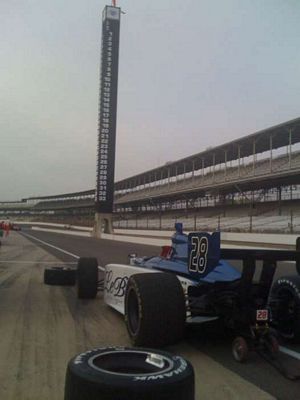 Daniel Herrington's Bryan Herta Autosports Indy Lights car at Indianapolis in 2009.
I took a slight detour through the archives of Bryan Herta Motorsport while trying to make sure I did a thorough job of emptying out my email inbox before the end of the year (down to 1241 from 1385!). The addition of those articles, and a bunch from other sources in my email inbox, puts The Crittenden Automotive Library at over 23,600 articles.
But quantity aside, this batch was also of great historic quality. Not everyone will immediately recognize the team name, but everyone in motorsports remembers Dan Wheldon. Wheldon won the Indianapolis 500 for Bryan Herta Autosport in what was to likely be the Indy Lights team's only IndyCar Series start of the 2011 season. That will go down in history, even if the Indy 500 is run for
another
100 years, as one of the greatest wins in the epic history of the event.
Then BHA and Wheldon teamed up again for testing the next generation Dallara car to debut for the 2012 season Andrew again for the IZOD IndyCar World Championship race at Las Vegas Motor Speedway, and the rest is tragic history. Here is some of what I had to say at the time:
The risks aren't for everybody. Some people are perfectly content to be competitive playing golf, or get their thrills by getting filmed for Antiques Roadshow. Simply going 220 miles an hour in an open car doesn't sound like a risk worth taking for many...And despite the accident, IndyCar racing won't be short of willing drivers in the coming years. There are just too many people who aren't content sitting in a cubicle and watching the world pass by from their front porch.

While the risks caught up with Dan Wheldon yesterday, consider his life's rewards. He's a 2-time winner of the Indianapolis 500, the most historic race in all of motorsports. 2005 IndyCar series champion, proclaiming him to be the best in his business that year. Loved and remembered by millions, with a permanent place in racing history established. Dan may not be there to see his children grow up or to accept his inductions into racing's Halls of Fame, but he still managed to live more in a short 33 years than almost everybody else would given a full century. He may not have survived, but he truly lived.
I still get a little emotional reading that and remembering the race broadcast. But then I read Dan's Wikipedia page...it sounds as dry and clinical as a coroner's report. As it is designed to be: neutral and factual for the purpose of conveying just the basic information about a topic. There's nothing wrong with that. Wikipedia is an encyclopedia, not a memorial wall.
But then that's partly why this library exists. To collect the rest of the story (or as much of the rest of the story as possible given the constraints of time, resources, and copyright). So that people can read about how Bryan Herta Autosport grew in a few years from a fresh new Indy Lights team to win the greatest spectacle in American open wheel racing, and to see how they carried on after the tragedy. Preserving and making available all of the quotes and reactions that didn't make the standard AP story that many sources republish.
Two of the three main "purposes" of The Crittenden Automotive Library are "preserving the present for future historical research" and "preserving all of automotive history." Who knows what will be important to historians or casual browsers a decade or a half century from now? Too much has been lost in the gap between information being discarded as "old news" and being old enough to be preserved as "historic."
And while I can't possibly bridge the gap by myself, I'll keep doing what I can.
I'm definitely not the type to want to go wheel to wheel at 220 miles an hour in an open cockpit. But long after a website remodel or a merger takes Bryan Herta Autosport's original website and news releases offline, the information will still be available to future IndyCar fans and while there's no trophy for it, I'm excited to be a part of that. Everyone has different ideas of self-actualization and this Library is mine. Sure, there's no trophy, and almost no money involved in success, but the e-mails I get from the people I can help are my victories.
History Beyond the Fenders
History Beyond the Fenders
is the concept of covering the entire story of the automobile beyond the vehicles themselves, including culture, government, business, and people involved in the auto industry and car hobbies.
This issue's
History Beyond the Fenders
comes from the model car hobby...
It's been a really busy few weeks, so I haven't done much more than enter tons of new stuff into the Library, but another of my many birthdays has passed and this year I received a model kit of a Hyundai Azera.
It's a day that so many I've met swore would
never
come, but Hyundai has made it to the model kit market! This is in addition to invading the Hot Wheels racks about seven or eight years ago.
John Walczak bought it for me, as well as a copy for himself. He plans on building his stock, and as I've promised myself I'd take breaks from the computer to indulge my other automotive interests, mine will be custom. As I always have to turn everything I can find or do that's automobile-related into content for The Crittenden Automotive Library, pictures and a review are coming soon.
Dead Trees
I know I haven't made any of the additions to the Reference Desk that I mentioned in prior issues. Did I mention how busy I was?
But I did scan and upload a little newsletter from an odd source. Babaco News was the newsletter of Babaco Alarm Systems, a company that produces freight truck alarms. The Winter 1978 issue is available now. I found it when clearing out my office's old security industry information to make room for more automobile industry information.
Long before I ever registered CarsAndRacingStuff.com I had started an online resource for people who, like myself, were in the private corporate security business. That didn't last long, but it was the beginning of an education in computer code and intellectual property that would help in the creation of The Crittenden Automotive Library.
As I hadn't touched it in years I decided to let it go to make room for more automotive information. Just as I picked through my brother's old video game magazines for all of the advertisements of and references to and reviews of racing video games, I picked through the information for what I could find on the automobile's relation to the security industry. I found some unusual stuff: articles on security at Toyota's factories, that issue of Babaco News and an accompanying brochure, articles on Securitas' mobile security program, articles on car dealership security, reviews of license plate readers.
There are so many fun tidbits of information available about cars that aren't in traditionally automotive media! Almost any industry will have some relation with automobiles at some point or another. Law enforcement, the military, video gaming, art, sports, Hollywood films, music...all have their own dedicated media which can be picked through for an even wider view of automobile history.
About The Crittenden Automotive Library
The Crittenden Automotive Library @ CarsAndRacingStuff.com, based in Woodstock, Illinois, is an online collection of information relating to not only cars, trucks, and motorcycles, but also the roads they drive on, the races they compete in, cultural works based on them, government regulation of them, and the people who design, build, and drive them. We are dedicated to the preservation and free distribution of information relating to all types of cars and road-going vehicles for those seeking the greater understanding of these very important elements of modern society, how automobiles have affected how people live around the world, or for the general study of automotive history and anthropology. In addition to the historical knowledge, we preserve current events for future generations.
The Library currently consists of over 540,000 pages of books, periodicals, and documents, over 23,600 individual articles, more than a week of video and two weeks of audio, more than 22,000 photographs & other images, and a Reference Desk with more than 120 book volumes and thousands of advertising brochures & documents kept available for the information they contain but can't be copied into the online Library for sharing due to copyright.
Connect with The Crittenden Automotive Library