Tail Lights: 6 February 2016
Opinions expressed by Bill Crittenden are not official policies or positions of The Crittenden Automotive Library. You can read more about the Library's goals, mission, policies, and operations on the About Us page.
Tail Lights
Automotive History from a Different Perspective
Volume 5, Issue 1
Cleaning Up
Bill Crittenden
6 February 2016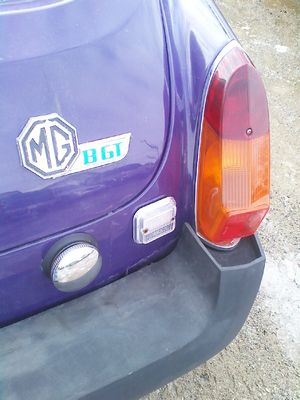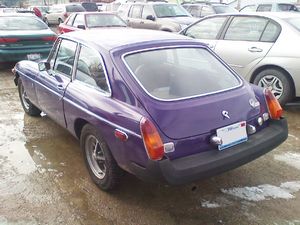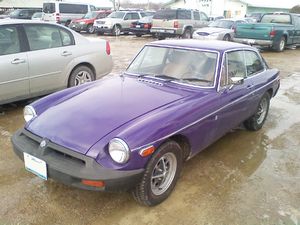 MGB GT from a British car swap meet in Illinois.
In sports terms, 2016 looks to be another "rebuilding year."
The short version of the story is that after the 2009 economic downturn I spent half a decade bouncing rapidly from project to project desperately looking for that "spark" that would take The Crittenden Automotive Library to a level where I could make some real money and put my job security in my own hands.
Now that things have settled down, I've begun long-term planning for building a stable, permanent resource, but those rough years left a hell of a mess to clean up.
The cleanup process began in earnest in 2015, starting with emptying out 8 years of unprocessed emails from my inbox, over 1,800 of them at one point if I recall correctly. It continued with building a system to organize and keep track of the hundreds of sources of information so that I can stop losing track of sources as I go from one to another.
Most of fall was spent doing some major reorganizing of the behind-the-scenes file organization, fixing up the homepage, and improving the site's main article indices with European date formats and expanded article source descriptions.
December was mostly time off of the site while I took care of family business.
So that's where I'm at now, here's where I'm going...
2016 will be in two main parts: one is to process through 2,000 patent files, about 250 other files on my hard drive, and 2,600 lines of notes from the past 3 years: Federal Register article numbers, names of books in Google Books, article dates and descriptions from Wikinews and VOA News, and video game codes & review data.
Going through all of that will create about 30,000 lines of article notes to index, and I've got about 100,000 lines of race results to separate out and put on each driver or event's page that I'll do at the same time.
This will take a bit more time than it used to, because as I'm updating Topic Pages I'm also adding features to make them fuller and more useful: better descriptions, short histories from Wikipedia or government biographies, and links to official sites and Wikipedia pages.
See an example at
http://CarsAndRacingStuff.com/library/s/slk55amg.php
While all this is going on, I'd like to finish inventorying my books & magazines and adding most of them to the Reference Desk section, as well as finishing building my binders of clippings & flyers.
By the tenth anniversary of the Library on September 6th it will look the same as it does today on the surface but will feel much more full and substantial in its available resources.
2017 should be the year I can switch to spending 100% of the time on creating new content, scanning books, and building photo galleries.
Oh, but there's one more thing about building for the future...
Financial
As I mentioned earlier, I spent quite a few years during the Great Recession chasing extra income and the last year cleaning up the mess I had left.
My priority now is to take a long-term view towards building a useful and lasting institution of automotive knowledge.
Money would still help, though.
Aside from my weekends, I have just a few hours per night to get down to the office and put something online. If I brought in enough to make this my full-time occupation, just imagine all I could do with ten hours a day for six or seven days per week!
It's a fairly low bar here: I want to replace the income I make working night shift security so that I can spend all of that time putting more automotive information online for you.
So if you can spare a few bucks, go to https://www.gofundme.com/df3mos to donate through GoFundMe, or send to our PayPal account, the email is admin@carsandracingstuff.com.
Contributors & tippers will be thanked in future editions of Tail Lights and listed in the "About Us" section. You can contribute on behalf of a business and have the name link to a site or social media profile, so it works as great low-cost advertising provided the link isn't against my web host's rules (sorry, no online gambling, hate speech, adults-only material, or illegal stuff).
Major Additions
Thanks to finding some uncopyrighted material in the
Google News Archive
, I've been able to start filling in the huge news article gap between the end of blanket public domain in 1922 and the beginning of internet news in the early 1990's. I'd like to have 100 articles from every year online sometime before perhaps the end of the year, but realistically I know that's too optimistic.
Just to get a bit of a boost on building a 2016 news archive, I've been putting up a large amount of press releases from PRWeb because their PDFs are so quick & easy to post.
Dead Trees
Thanks to a $25 Christmas gift card to Half Price Books from John & Shelly Walczak, and a few extra bucks of our own available at Christmastime, the end of December was great for adding new material to the offline collection and Reference Desk. I think next time I get some extra spending money I'll have to take it to Menards and get a new shelf before I add much more!
This was a really interesting and odd bundle of stuff. First off, the British Rally Championship DVD, that was just a lovely bit of luck finding that in suburban Chicago. Sometimes you just have to wonder how some things end up where they do.
The book about J&P Cycles is published by the company and sold through their parts business. It's definitely not a common find, and really nicely done.
The Art of Turbo was only $3 and still in the wrapper. Hey, I know it's an unwatchably silly movie from an adult's point of view, but I had a 7 year old at home when it first came out and he
loved
it.
DVD: Pirelli British Rally Championship 2003
DVD: Ice Road Truckers: Season One
1995 GM U Platform Service Manual, Volume 2 (Drivability, Emissions, and Electrical Diagnosis for Lumina, Trans Sport, and Silhouette)
1997 Chrysler Corporation Technical Bulletins
Indy Review: Volume 2, 1992
The Harley Davidson Reader
Silent Thunder: Breaking Through Cultural, Racial, and Class Barriers in Motorsports by Leonard W. Miller
Engines of Change by Paul Ingrassia
Ran When Parked... Advice and Adventures from the Affordable Underbelly of Car Collecting by Rob Sass
The Art of Turbo by Robert Abele
Keeping the World on 2 Wheels: How J&P Cycles Changed the American Motorcycle Industry by Ed Youngblood
Current Library Statistics
Articles: 29,911 (+884)
Images: 34,100+
Publications: 707,283 pages in 8,173 documents (+2,748 pages, 1,322 documents)
Video: 1 week, 12:02:53 (+6:03)
Audio: 2 weeks, 5 days, 9:44:23 (-1:00)
Event Photography: 181 sets (same)
December 2015: 14,438 page views from 7,709 total visitors for month, daily average of 465.7 views from 248.6 visitors.
January 2016: 16,527 page views from 8,394 total visitors for month, daily average of 533.1 views from 270.7 visitors.
Current Social Media Statistics
Facebook: 409 Likes (+3)
Instagram: 438 Followers (+14)
Pinterest: 6 Followers (same)
Tumblr: 143 Followers (+9)
Twitter: 1,075 Followers (+4)
About The Crittenden Automotive Library
The Crittenden Automotive Library @ CarsAndRacingStuff.com, based in Woodstock, Illinois, is an online collection of information relating to not only cars, trucks, and motorcycles, but also the roads they drive on, the races they compete in, cultural works based on them, government regulation of them, and the people who design, build, and drive them. We are dedicated to the preservation and free distribution of information relating to all types of cars and road-going vehicles for those seeking the greater understanding of these very important elements of modern society, how automobiles have affected how people live around the world, or for the general study of automotive history and anthropology. In addition to the historical knowledge, we preserve current events for future generations.
The Library currently consists of over 710,000 pages of books, periodicals, and documents, over 29,900 individual articles, more than 7 days of video and 19 days of audio, more than 34,000 photographs & other images, and a Reference Desk with more than 225 book volumes and thousands of advertising brochures & documents kept available for the information they contain but can't be copied into the online Library for sharing due to copyright.
Connect with The Crittenden Automotive Library