Tail Lights: Going With the Flow
Opinions expressed by Bill Crittenden are not official policies or positions of The Crittenden Automotive Library. You can read more about the Library's goals, mission, policies, and operations on the About Us page.
Tail Lights
Automotive History from a Different Perspective
Volume 5, Issue 4
Going With the Flow
Bill Crittenden
22 July 2016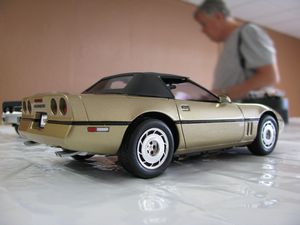 Hey, look! A Chevrolet! We still love everybody here! This 1986 Corvette C4 was at the 2013 GTR Summer NNL model car show in Crystal Lake, Illinois.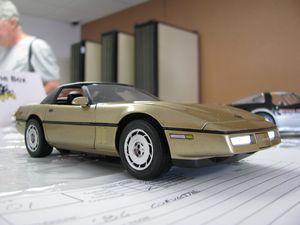 It's been a very busy summer at The Crittenden Automotive Library thanks to a donated collection of papers, newsletters, and magazines I've been calling the Bob Hanselman Collection since it came from the former Ford Model A aficionado's estate via auction aficionado Dave Crittenden (my father, of course). About half of the public domain materials have made it onto CarsAndRacingStuff.com, a few copyrighted items have been added to the Reference Desk, and the rest have been sort of put on the back burner for the moment as I catch up with recent news and events for a few weeks. You can see a list of the materials in the Major Additions section.
Last week there was a horrific terror attack in Nice, France. This historic event used what is normally a benign wheeled vehicle for the transportation of goods and materials as a weapon of mass murder and the use of a truck puts it within the scope of The Crittenden Automotive Library. A new Special Collection has been created to track the news and political response to the event at
Special Collections: July 2016 Terrorist Attack in Nice, France
including news and videos from the Voice of America with more to come soon as more sources chime in.
The most noticeable change since the last Tail Lights is that we have a new banner design. No picture needed, just look up at the top of your screen! While the scanner was humming along I took the time to change the fonts in the navigation links in the upper left corner of the site and the banner across the top. "Crittenden Automotive Library" is now in a font resembling the script of the Ford Motor Company's logo, paying homage to the most historic automobile manufacturer in the United States. The rest is in an aged typewriter font that's supposed to resemble the old, uneven scanned newsprint that a large quantity of automotive material on CarsAndRacingStuff.com originated from.
Despite the Ford-style lettering, and the family's new C-Max, Intern Eli's love of the Mustang, and the huge collection of largely Ford material I'm scanning, we're definitely not going to become a Ford-focused library. The background image behind the banner is still a Chrysler, I still drive a Pontiac, and most importantly there are still photos and articles posted nearly every day from various auto manufacturers all around the world.
What really happened is that I was getting tired of the "plain" Times New Roman in the banner, and among the few really recognizable automotive fonts the Ford script just looked the best. The classic style goes well with this collection of automotive history going back to the 1800's.
I think about my family's new appreciation for Ford and I realize that it's an interesting reflection of the ebb and flow of the automobile industry. There was a day when I never would have considered owning a Ford. I learned to drive stick shift in a 1995 Ranger, and the experience of driving it was among the reasons I bought my 2001 S-10. My wife's parents bought more than twenty-five GM cars and vans from the seventies through 2012. As Ford crawled out of their dark period while General Motors declined, our four-GM driveway gave way to three Fords and and the same sad old Pontiac Vibe that I'll never get rid of.
On the other side of the coin, a man I know who will remain unnamed came of age when Chrysler ruled America's roads, he got to drive the best Dodge and Plymouth muscle cars brand new in the golden age of American muscle. No one can blame him for being a Mopar Man in that era, I probably would have been too. Last I heard from him, though, he was struggling with a blown engine and transmission problems in his more recent Avenger and Dakota. He couldn't let go of his brand loyalty even when the company was decades removed from its heyday and sticking with them was to the detriment of his family's finances.
Our family is going with the flow of the automotive industry, trying to stay near the top as some automakers rise while others fall. Some may call it disloyalty, but to me it's about the most important loyalty of all: I'm just doing what I feel is best for my family.
As I'm to Ford at the age of 35, I don't expect to be a fan of the brand forever. Maybe some day twenty years from now I'll look at that Ford lettering and decide to change it again because it won't look right on the back window of the 2035 Dodge I just bought. Maybe Dodge won't even exist in 2035 and my last car will carry a badge that doesn't even exist yet. Sure, a lot more major brands are dying lately than being created, but if you don't believe that a new brand can capture the loyalty of a significant number of drivers just ask a Tesla owner.
Or maybe by 2036 Uber will have its way and people will forego the costs and responsibility of ownership for
app-controlled self-driving cabs
.
We'll just have to wait and see what the next year and next decade and next generation has in store for the automobile industry. Even as we here at The Crittenden Automotive Library enjoy the past and cover current news, we're also looking forward to see what the future will bring.
Financial
With a huge new bundle of information available, financial contributions and advertisers are the key to getting this information digitized and online. It takes a lot of time to scan, edit, and upload, and I've never had this much to process all at once. Help us by contributing at
https://www.gofundme.com/df3mos
.
Every $100 in contributions allows me to take a night off of the "regular job" and put more time into building The Crittenden Automotive Library.
PayPal address: admin@CarsAndRacingStuff.com
GoFundMe link:
https://www.gofundme.com/df3mos
Major Additions
At the beginning of the year, as I do every year, I start a new Article Index page for the new year. Looking to get 2016 off to a good start, I used new source PRWeb to quickly add hundreds of new articles to the once blank index.
The volume was prolific, and after having added nearly seven months' worth of press releases to the usual motorsport press releases, Federal Register notices, Congressional Record speeches, and VOA News articles...there are over 2,600 articles in the 2016 index and I find myself having to split it into quarters to keep each section under a half a megabyte!
As mentioned above and again in
629.2
, much of the Bob Hanselman Collection has made its way online. One particularly interesting addition has been the two issues of
The Antique Auto Locator
, a publication from The Crittenden Automotive Library's hometown of Woodstock, Illinois.
Date
Document Name & Details
Documents
11-18 June 1949

1949 Philadelphia & National Antique Auto Show


Philadelphia Automobile Trade Association
Program Page - 499MB - 76 pages
1960

Books About Fords


Polyprints
PNG - 158MB - 32 pages
August 1961

Four in a Row and How They Go: Ford Model "A" "B" "C" 1928-1934


Western Racing Equipment

PNG format - 46MB - 8 pages
1962

Famous GM Cars


General Motors
PNG - 325MB - 24 pages
29 July 1962

International Model A Reunion


Henry Ford Museum and Greenfield Village

PNG format - 40MB - 6 pages
July 1965

The Distributor


New Florida Region M.A.R.C.
Issue Page - 110MB - 20 pages
October 1969

Car Tips

Issue Page - 113MB - 32 pages
March 1970

The Antique Auto Locator

Issue Page - 51MB - 12 pages
May 1970

The Antique Auto Locator

Issue Page - 66MB - 16 pages
October 1970

The Badgers A

Issue Page - 79MB - 9 pages
1971

Books About Ford


Polyprints
PNG - 104MB - 8 pages
1971

Indianapolis Motor Speedway Visitor Guide


Indianapolis Motor Speedway

PNG format - 35KB - 12 pages
January 1971

The Antique Auto Locator

Issue Page - 68MB - 16 pages
February/March 1971

Car Buff

PNG format - 232MB - 40 pages
March-April 1972

Antique Automobile


Antique Automobile Club of America
PNG - ~500MB - 80 pages
26 August 1972

Robert Hanselman: 1929 Ford


M.A.R.C. Ft. Sheridan Meet
AACA Judging Form, PNG format - 5.7MB
M.A.R.C. Judging Form, PNG format - 10.4MB
October 1972

The Moto-Meet-er


Illiana Antique Automobile Club
Issue Page - 48MB - 8 pages
December 1972

Car Classics


Krause Publications
Issue Page - 617MB - 84 pages
November-December 1973

The Sidemount


Packards of Chicagoland
Issue Page - 32MB - 6 pages
History Beyond the Fenders
The Crittenden Automotive Library includes information from all aspects of automotive transportation and competition. This section highlights some new material added to the Library about a topic other than vehicles themselves.
A funny thing happened when tearing apart magazines for the offline library's binders of clippings, flyers, and other papers.
Oh, in case you haven't read it before, I've been gathering together all of the loose papers, pamphlets, printed newspaper articles, and other thin printed materials into an organized set of binders. There are a couple dozen of them, and I'll be going through them sometime next year, adding what I can to the online Crittenden Automotive Library.
Occasionally I get a free issue of the Institute for Justice's "Liberty & Law" newsletter, and there is usually at least one automotive related story in each issue.
This month's clippings started with the cover, featuring the story "IJ Stops Highway Robbery", with a picture of a driver looking in the rear view mirror as he adjusts it. The article is about a case of civil forfeiture where a band was stopped and the charity money they raise was seized by police at a traffic stop. In some jurisdictions, police are allowed to seize valuables and cash based on the belief that people traveling with large amounts of cash must be involved in trafficking illegal drugs.
On the back of that page and continuing on to the next one was a story about Baltimore's law restricting food trucks. Page 6 began a story on "amortization," a process whereby existing businesses in rezoned areas are declared illegal after a certain amount of time instead of being allowed to continue in business, the new zoning taking effect upon the closure or moving of the business. It just so happened that the business in question was Hinga Mbogo's Dallas-area auto repair shop.
Page 9 saw the continuation of the page 1 story, and the inside of the back cover had quotes on the Mbogo shop.
And that was the entire newsletter. Torn apart, page by page, only to end up keeping the whole thing cover-to-cover!
It ended up being a great illustration of just how large and varied vehicle-related businesses or uses for vehicles can be: vehicles involved were a car used by a band on tour, food trucks, and a repair shop. It also showed just how many things from outside the automotive business can affect it: the stories' topics were police search & seizure procedures, food vendor regulations affecting food trucks, and municipal zoning.
All are within the very wide scope of The Crittenden Automotive Library.
629.2
The Dewey Decimal System's designation for automobiles, trucks, motorcycles, and driving fall within the 629.2 range. In addition to the online collection, Library Owner Bill Crittenden's personal collection of books, magazines, and miscellaneous papers is available for reference, and this section highlights new materials available on the online Library's Reference Desk and notices of new books being published.
As I mentioned last time, we received a collection of old antique car collector information assembled by Bob Hanselman, former Ford Model A collector from Arlington Heights, Illinois. Several magazines, newsletters, and documents in the public domain have made their way into the Library's online collection (a list can be viewed above). Many of the materials still in copyright will make their way onto the Reference Desk page, and a few begin this month's list of additions:
New Reference Desk Additions include:
Veloce Publishing is going to be re-releasing out-of-print books for their Classic Reprints Series. They're a great source for very detailed information on a huge range of European and European-market cars & motorcycles. Go to
veloce.co.uk
for more information.
June paper reprints
Triumph Production Testers' Tales – from the Meriden Factory
by Hughie Hancox
How to illustrate and design Concept Cars
by Adrian Dewey
The Alfa Romeo DOHC Engine High-Performance Manual
by Jim Kartalamakis
The BMW Boxer Twins Bible
by Ian Falloon
The BSA Bantam Bible
by Peter Henshaw
July paper reprints
The Triumph Speed Twin & Thunderbird Bible
by Harry Woolridge
BMC Competition Department Secrets
by Marcus Chambers, Stuart Turner, and Peter Browning
The Volkswagen Bus Book
by Malcolm Bobbitt
RX-7 – Mazda's rotary engine sports car – 3rd Edition
by Brian Long
Fiat & Abarth 500 & 600
by Malcolm Bobbitt
Fiat & Abarth 124 Spider & Coupé
by Johnny Tipler
Veloce Digital (new to eBook format)
Bentley Continental – Corniche & Azure
by Martin Bennett
Ford F-100/F-150 Pickup
by Robert Ackerson
Building a Dune Buggy – The Essential Manual
by Paul Shakespeare
Works Rally Mechanic
by Brian Moylan
How to Modify Your Retro or Classic Car for High-Performance
by Daniel Stepleton
To get a mention here, just email admin@CarsAndRacingStuff.com and let us know what's being published and when it'll be out.
Current Library Statistics
(since 25 May 2016)
Articles: 33,001 (+1,658)
Images: 34,175+ estimated (+25)
Publications: 712,583 pages in 8,842 documents (+913 pages, +78 documents)
Video: 1 week, 14:34:53 (+2:10:56)
Audio: 2 weeks, 5 days, 9:43:23 (same)
Event Photography: 183 sets (+1 set)
May 2016: 13,431 page views from 7,784 total users for month, daily average of 433.2 views from 251 new users.
June 2016: 13,437 page views from 7,106 total users for month, daily average of 447.9 views from 236.8 new users.
Page views and user information provided by Google Analytics.
Current Social Media Statistics
(since 25 May 2016)
Facebook
: 437 Likes (+18)
Google+
: 47 Followers
Instagram
: 502 Followers (+28)
Pinterest
: 16 Followers (+5)
Tumblr
: 166 Followers (+18)
Twitter
: 1,461 Followers (+245)
About The Crittenden Automotive Library
The Crittenden Automotive Library @ CarsAndRacingStuff.com, based in Woodstock, Illinois, is an online collection of information relating to not only cars, trucks, and motorcycles, but also the roads they drive on, the races they compete in, cultural works based on them, government regulation of them, and the people who design, build, and drive them. We are dedicated to the preservation and free distribution of information relating to all types of cars and road-going vehicles for those seeking the greater understanding of these very important elements of modern society, how automobiles have affected how people live around the world, or for the general study of automotive history and anthropology. In addition to the historical knowledge, we preserve current events for future generations.
The Library currently consists of over 712,000 pages of books, periodicals, and documents, over 33,000 individual articles, more than 7 days of video and 19 days of audio, more than 34,000 photographs & other images, and a Reference Desk with more than 225 book volumes and thousands of advertising brochures & documents kept available for the information they contain but can't be copied into the online Library for sharing due to copyright.
Connect with The Crittenden Automotive Library