Tail Lights: Voice of the World
Opinions expressed by Bill Crittenden are not official policies or positions of The Crittenden Automotive Library. You can read more about the Library's goals, mission, policies, and operations on the About Us page.
Tail Lights
Automotive History from a Different Perspective
Volume 5, Issue 5: Voice of the World
Bill Crittenden
30 September 2016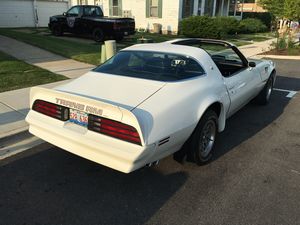 1978 Pontiac Trans Am at a cruise night in Huntley, Illinois.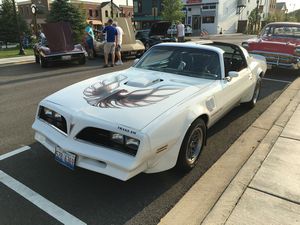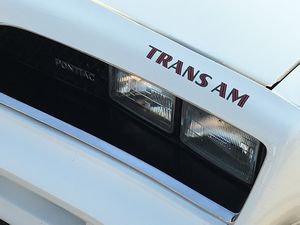 It's been an amazing past couple of months for new content at The Crittenden Automotive Library. While working on other things, I discovered that the Voice of America News website changed designs again. The last time they did that I lost access to a large portion of their collection. Worried that five years of notes on articles would become worthless, I dropped everything else and plowed through their archives from 2010 to this past week.
The Voice of America was founded to broadcast neutral news and information into parts of the world that don't have a free and open media. In the Internet Age it continues to follow news and poltical stories for all of the parts of the world that still don't have a free media, and of particular importance to The Crittenden Automotive Library & its readers the VOA publishes in-depth human interest stories from every corner of the world that travels on wheels. My fascination with their frequent stories about the local transportation cultures throughout Africa is the reason The Crittenden Automotive Library has the "Automotive Africa" section, one of our biggest, best, and most interesting Special Collections.
In the meantime, six weeks of other stuff I haven't been doing has piled up. The next week will be spent catching up on that, starting with 1,700 press releases from PRweb. That should put us above 35,000 articles. After getting off to a good start last weekend, we're already well over 34,000.
Indexing is falling further behind than usual, partly because there's so much new material but also because more detailed Topic Pages require more time to set up. Financial contributions and sponsorships can help me afford the time to catch up on indexing the new material as well as updating 14,600 old Topic Pages with new details.
While indexing is very labor intensive and requires a lot of its own dedicated time, I can be downloading & uploading media files in the background while I process those press releases. I've found a new source of old-time radio programs, and just as a sample I've posted two episodes of The Milton Berle Show from 1947 & 1948, saluting motoring & the automobile industry. More coming from that source soon. Also, I've picked through the Prelinger Archives at The Internet Archive and I have a list of videos added since I last browsed there, and they'll be going online while I work on those press releases. Chevrolet promotional films
American Engineering
and
American Look
are already online.
Financial
With all of the indexing needing to be done, financial contributions and advertisers are the key to getting this information accessible and browsable. It takes a lot of time to scan, edit, and upload, and I've never had this much to process all at once. Help us by contributing at
https://www.gofundme.com/df3mos
.
Every $100 in contributions allows me to take a night off of the "regular job" and put more time into building The Crittenden Automotive Library.
PayPal address: admin@CarsAndRacingStuff.com
GoFundMe link:
https://www.gofundme.com/df3mos
Major Additions
The VOA News collection now spans from the end of 2009 to now, minus about half of 2012's videos which were missing from their archives. Partial coverage goes all the way back to 2003.
The Video Guide has been simplified and updated to make browsing a little easier, check it out at
http://www.carsandracingstuff.com/library/video/videoguide.php
. The Audio Playlist will be getting the same treatment soon.
Off to a
very
late start this season, the first pictures from 2016's cruise nights in the McHenry County area are online now and there's a few small car shows' worth of photos waiting to go online.
History Beyond the Fenders
The Crittenden Automotive Library includes information from all aspects of automotive transportation and competition. This section highlights some new material added to the Library about a topic other than vehicles themselves.
Voice of America News isn't a traditional automotive media source. They cover news, politics, and human interest stories from all over the world. Due to how common automotive transportation is, how it's affected by and woven into our cultures, and how important the automobile industry is to economics & politics that VOA News coverage often includes stories within the scope of The Crittenden Automotive Library.
VOA has correspondents in corners of the world most people don't hear about outside of the pages of National Geographic, and their human interest stories have the same sort of feel (but with much less spectacular photography).
Here is just a sampling of the amazing range of topics covered by the big VOA News update include...
Kenya's "Rhino Charge" off-road rally for charity
The annual Memorial Day "Rolling Thunder" biker rally in Washington D.C. commemorating veterans
Senegal's "Cars Rapide" minibuses and Uganda's "Boda Boda" motorcycle taxis
Ride sharing and self-driving car technology
VOA News Learning English service's series on their Route 66 road trip
The automobile industry in India, China, and Thailand
The truck attack in Nice, France
Car-free days in Jakarta and Delhi
Auto shows in Detroit, Washington DC, and New York
Pedestrian deaths and traffic safety campaigns from the World Health Organization
Ted Landphair's reports of daily life from across the United States
629.2
The Dewey Decimal System's designation for automobiles, trucks, motorcycles, and driving fall within the 629.2 range. In addition to the online collection, Library Owner Bill Crittenden's personal collection of books, magazines, and miscellaneous papers is available for reference, and this section highlights new materials available on the online Library's Reference Desk and notices of new books being published.
Due to the urgency of the big VOA News project, new additions to the Reference Desk were on hold for a while.
However, here's the August/September list of new books from Veloce Publishing...
Porsche 911 – The Definitive History 2004 to 2012 by Brian Long
Choosing, Using & Maintaining Your Electric Bicycle – The Essential Buyer's Guide by Peter Henshaw
British Café Racers by Uli Cloesen
Vincent Motorcycles – The Untold Story since 1946 by Philippe Guyony
Porsche 911 – The Definitive History 2004 to 2012 by Brian Long
Mazda – Rotary-engined Cars – From Cosmo 110S to RX-8 by Marc Cranswick
Choosing, Using & Maintaining Your Electric Bicycle – The Essential Buyer's Guide by Peter Henshaw
August Reprints from Veloce Publishing
The Triumph Speed Twin & Thunderbird Bible (Veloce Classic Reprint) by Harry Woolridge
BMC Competition Department Secrets (Veloce Classic Reprint)
by Marcus Chambers, Stuart Turner & Peter Browning
The Volkswagen Bus Book (Veloce Classic Reprint) by Malcolm Bobbitt
How to illustrate and design Concept Cars by Adrian Dewey
Fiat & Abarth 500 & 600 (Veloce Classic Reprint) by Malcolm Bobbitt
Fiat & Abarth 124 Spider & Coupé (Veloce Classic Reprint) by Johnny Tipler
Triumph Production Testers' Tales – from the Meriden Factory by Hughie Hancox
The BMW Boxer Twins Bible by Ian Falloon
The BSA Bantam Bible by Peter Henshaw
New to eBook Format from Veloce Publishing
Nissan 300ZX/350Z – The Z-car story by Brian Long
The Toleman Story – Last Romantics in Formula 1 by Christopher Hilton
Motorcycling in the 50s by Jeff Clew
Triumph TR6 by William Kimberley
Porsche 911R-RS-RSR – Revised & Enlarged 4th Edition by John Starkey
Jeep CJ 1945-1986 by Robert Ackerson
Bugatti Type 40 by Barrie Price
Chrysler 300 – "America's Most Powerful Car" by Robert Ackerson
How to Restore Triumph TR5, TR250 & TR6 by Roger Williams
Lexus – The challenge to create the finest automobile by Brian Long
Jaguar MkI & II Saloons by Andrea & David Sparrow
Lexus – The challenge to create the finest automobile by Brian Long
The 4-Cylinder Engine Short Block High-Performance Manual by Des Hammill
Jaguar MkI & II Saloons by Andrea & David Sparrow
The Secret Life of the Morris Minor by Karen Pender
To get a mention here, just email admin@CarsAndRacingStuff.com and let us know what's being published and when it'll be out.
Current Library Statistics
(since 22 July 2016)
Articles: 34,322 (+1,321)
Images: 34,225+ estimated (+50)
Publications: 716,239 pages in 8,952 documents (+3,656 pages, +110 documents)
Video: 1 week, 23:23:02 (+8:48:09)
Audio: 2 weeks, 5 days, 8:31:08 (-1:12:15 due to correcting an error in previous calculation)
Event Photography: 187 sets (+4 sets)
July 2016: 12,588 page views from 7,009 total users for month, daily average of 406 views from 226 users.
August 2016: 13,598 page views from 7,606 total users for month, daily average of 438.6 views from 245.3 users.
Page views and user information provided by Google Analytics.
Current Social Media Statistics
(since 22 July 2016)
Facebook
: 442 Likes (+5)
Google+
: 67 Followers (+20)
Instagram
: 537 Followers (+35)
Pinterest
: 24 Followers (+8)
Tumblr
: 170 Followers (+4)
Twitter
: 1,632 Followers (+171)
About The Crittenden Automotive Library
The Crittenden Automotive Library @ CarsAndRacingStuff.com, based in Woodstock, Illinois, is an online collection of information relating to not only cars, trucks, and motorcycles, but also the roads they drive on, the races they compete in, cultural works based on them, government regulation of them, and the people who design, build, and drive them. We are dedicated to the preservation and free distribution of information relating to all types of cars and road-going vehicles for those seeking the greater understanding of these very important elements of modern society, how automobiles have affected how people live around the world, or for the general study of automotive history and anthropology. In addition to the historical knowledge, we preserve current events for future generations.
The Library currently consists of over 716,000 pages of books, periodicals, and documents, over 34,300 individual articles, more than 7 days of video and 19 days of audio, more than 34,000 photographs & other images, and a Reference Desk with more than 225 book volumes and thousands of advertising brochures & documents kept available for the information they contain but can't be copied into the online Library for sharing due to copyright.
Connect with The Crittenden Automotive Library