Tail Lights: Lane Change
Opinions expressed by Bill Crittenden are not official policies or positions of The Crittenden Automotive Library. You can read more about the Library's goals, mission, policies, and operations on the About Us page.
Tail Lights
Automotive History from a Different Perspective
Volume 6, Issue 4: Lane Change
Bill Crittenden
30 August 2017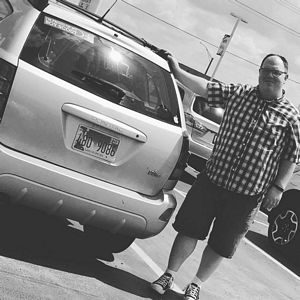 Heidi posted this in black & white, which is good because I was probably pretty red-faced at the time.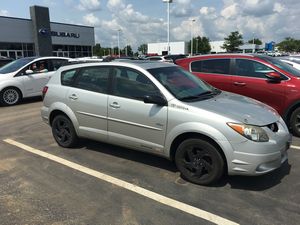 The only picture showing the black wheels.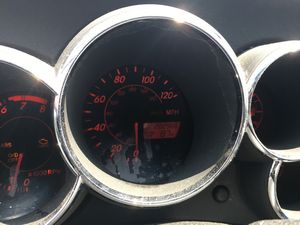 Final odometer reading before trading in.
Continuing the theme of 2017 being a year of major changes in our family, we ended a 14-year era by trading in our Pontiac on a new Kia Soul. This is a long one even by my standards, but it's an emotional topic and a major change for our lives here.
Most families have that one car they'll never forget, and I've got a feeling that this one was it for us.
In 2003 Heidi and I had been married for about half a year and we were ready to start having kids. I knew my pickup truck, which I loved dearly, wouldn't hold a car seat. So off we went to Reichert Chevrolet-Buick-Pontiac in Woodstock and I lobbied for the one engineered by Toyota. Something tells me if we ended up with the Sunfire this would have been a bitter story of disappointment written long ago.
It was a pretty cool little car at the time. It was Pontiac's second foray into "activity vehicles" for Gen Xers after the spectacular failure of the Aztek. The Vibe carried over some of the Aztek concept's styling combined with Pontiac's 90's-style orange glow interior wrapped around a Toyota Corolla wagon and topped off with post-9/11 rebates & incentives.
The only one they had on the lot was silver but we would've had to not only wait but give up some of the rebates so silver was okay with us. It came with a 200 watt amp, sunroof, and ridiculous exhaust tip which for some reason was wrapped with a big hose clamp
despite also being welded on
.
It started out as Heidi's car and I took her Blazer. She loved her cute little car and I loved having something that looked like my old truck from the front but had a big 4.3L V6 under the hood. We chose to bring our son home from the hospital in the Vibe, bundled under blankets and a car seat cover in the back seat on a subzero late December night.
Some years later, our personal fortunes and the economy turned. We switched vehicles because I had a long trip to work, a big Chevy minivan we picked up when the Blazer's transmission blew, and gas hit $4.50 a gallon as Heidi took a pay cut.
During the worst times I was counting out pocket change to get home the day before pay day, and if a tire blew the spare sometimes had to hang on a few paychecks before it could get a break. Yeah, the spare tire that probably says things like "don't use for more than 50 miles" and "maximum speed 50 miles per hour" has more than a few thousand highway miles on it total as the tires went out one by one. Not safe, but in the recession it was either that or starve. Thankfully we never had two go out at the same time!
A brake pad slipped out of a caliper, and I had to pitch the car into a snow bank to stop it in traffic. It was morning rush hour and I had to pump the brakes until they worked again and get my butt to work. The all wheel drive pulled us right out of the snow, and that was my first close call with the Vibe not making its destination.
Having almost no money for maintenance beyond oil changes and the occasional tire, the Vibe started to accumulate minor damage...and a reputation. No matter what broke, she never left me stranded. Stored outside and driven hard in all sorts of weather, the paint dulled & the badge on the back faded from red to pink.
At this point, it was my car. Heidi didn't want it back, and we would go on to trade off the minivan as soon as we could for her next car.
As the Vibe was definitely mine and we couldn't afford two car payments at the same time I chose to embrace the "rough around the edges" look. Once I got the basics fixed up again, I wanted to turn it into a pseudo-rally car, and get vinyl decals to make it look like CarsAndRacingStuff.com had a sponsored race car. Some little graphics went on, some cheap extra driving lights in the grille, and the interior panels that popped out went from red to orange to green as new plastic-adherent paint colors became available.
The wheels have been rolling around in a salty mix of northern Illinois slush for about a decade and the corrosion was getting bad. I convened Heidi to let me spray paint the wheels green like the The Crittenden Automotive Library logo. It wasn't quite the shade I wanted, but it matched the interior and it was what was available at Walmart.
I almost got those graphics, but then it was my turn for job troubles.
Then one frigid morning, after jump-starting the in-laws' car, the hood latch froze & didn't fully engage. When I left for work the hood came up and hit the windshield at 55 miles an hour. We eventually fixed the windshield, but hood pins cost a tenth of what a new latch cost, so it got pins. The clips kept rusting, because apparently they weren't designed for continuous outdoor use.
Running through ice cold water on a flooded roadway at speed (a truck in front of me changed lanes to avoid it at the last second and I couldn't follow because of a car next to me) resulted in a crack between the manifold and the catalytic converter.
Heidi began calling it The Beast. I had a more loving name for it...
Serenity
.
Towards the beginning of the TV series Firefly, Simon rattles off a list of all the shit going wrong for the crew. Mal answers, "we're still flying." Simon remarks, "that's not much." Mal says, "it's enough."
That Vibe just kept going. I pulled out its carpet (that got moldy), the driver side rear door lock wouldn't work on the remote, and it started randomly shedding the aluminum heat shields from under the bottom of the car and the plastic panels under the front bumper.
Looking fairly ugly and attracting too much of the wrong kind of attention with the noise, the names came off the window. The green wheels lasted a few years but the salt took its toll on the new paint and I repainted them a "don't look at me anymore!" flat black.
Security work is 24/7. There are no snow days, so if someone doesn't show up someone else gets stuck. The Vibe went through every snow storm, hot summer, long trips, while Heidi's car went from Venture to CX-7 to C-Max. Security can also mean sitting in the car, idling, for countless hours. The final 202,968 miles doesn't properly reflect just how long I spent in that car.
Towards the end it didn't do much more than get me to work and back. True to the lines from Firefly, it wasn't much, but it was enough.
Finally, something broke in the left rear that I couldn't fix with my limited resources, and despite my love for the car I knew it wasn't worth spending thousands of dollars on while it still had all the other problems it accumulated over the years. I needed reliable transportation for work, and for the first time I had to have Heidi come and pick me up.
Getting picked up was due more to my caution than anything. I wanted to make sure we knew where we were trading in the car before we attempted one final trip. I wasn't sure if we were going to get a Kia Rio, Nissan Versa, Hyundai Accent, or if something low mileage would catch our eye.
I'm still not a fan of Gary Lang, but they were the only ones in the county that sell Kia, and Heidi fell in love with an "Alien" green Kia Soul base model. The Kia warranty and Hyundai reliability appealed to me. The family I came from had five Hyundais, all very dependable.
It was more than we wanted to spend at the time, and not quite the car I wanted, but the doctors expect our son to be about six-foot-five or more when he's grown up. He's twelve now, and we basically bought him his first car. It's the perfect car for a really tall teenager: bright color, simple controls, tall, and not powerful enough to encourage and stupid stunts driving it.
In the end, with the left rear wheel wobbling to an insane degree, brake lights lighting up the dashboard like a Christmas tree, I limped it down Route 120 to Gary Lang Kia.
It still had one last trip left in it. It made it. And at the last stop light before the dealership I said "fuck it," dropped the shifter to L and planted the gas pedal to the floor one last time, gave the still-eager engine one last chance to growl before it was towed to the scrap yard by running it to the redline through the first two gears, halfway up the tach through third, and rolled it into the parking lot with tears in my eyes.
We took a few pictures, the only ones we've taken with the black wheels on the car, and Devin swapped the plates. We had lunch at Chick-Fil-A and decided that the new Soul's name should be Zoe because it a cute name and more subtle than Gamora.
My first instinct was to somehow make the Soul fit into the color scheme of the Library, and it seemed like a good time to finally do a long-wanted update of the site's colors.
The original Crittenden Library green was simply what Internet Explorer put out when using "darkgreen" in the programming. As the simple word marks fell out of use I simply switched to the hexadecimal equivalent of 003200. But it wasn't my favorite color and the Kia's color didn't look good with it, so I darkened it halfway to 003200 and added a slightly darkened version of Kia's Alien II color as highlights on the site.
Mixing dark & light green is a popular color scheme for landscaping companies and libraries, so I know it doesn't look
too
weird.
While I was updating graphics, I used the typewriter font I added to the main banner last year to more places and upgraded some of the Subject & Racing banner images.
The new, more mature feel to the site matches up with a new sense of seriousness about the Library. Started as a hobby in 2006, it turned into a sort-of business when we needed the money in the Great Recession, but lately I've had a more relaxed feeling about it since our jobs became better paying and more stable. It's not that it wasn't going to be my life's work anymore, but I started working mostly on behind-the-scenes, long-term projects.
Not anymore. Now we've got another car payment, and it's time to get serious about promoting interesting new content on The Crittenden Automotive Library on a near daily basis. Which is a great way to get more people onto CarsAndRacingStuff.com to see the new look!
As we settle in to the new vehicle, unexpected things happen. Heidi's really loving the Kia, and my patience with doing any car modifications grows as I try to take a more long-term view of things.
So it looks like our sparkly white 2013 Ford C-Max Hybrid will become The Crittenden Automotive Library's official "company car." When Eli is ready for the Soul, Heidi gets to pick a new car and I'll happily take the Ford.
The hybrid wagon with fairly tiny wheels for a car its size is totally inappropriate for a rally car design, so my intent for the C-Max is the subtle look of a corporate-issued plain white vehicle with a logo on the door. But I'll still paint the wheels green, I'll just buy better paint in the right shade this time.
Yeah, I still miss the Vibe. I'm sentimental, and I feel like I abandoned the car that never let me down. But I don't have the time, money, or space to work on a project car, and I need more reliable transportation to keep the job that really pays the bills. Heck, lack of money and garage space is pretty much why I've directed my "car guy passion" towards little things that can be carried down to my basement: books, computer equipment to build the online library, and scale model cars of all kinds.
I've traded the very real fear of something breaking while at speed on a two-lane country road and running into oncoming traffic for the financial pressures of a car payment. My wife is relieved, and I'm more nervous, because we have different worries.
But thanks to the new reliable car with working air conditioning I'm going to push myself to get out more, post more of "the good stuff," and try to get some sponsors to get some of that car paid off from my work on The Crittenden Automotive Library.
Maybe some day it'll help me afford a house with more garage space and I'll get something completely unreliable but entirely for fun.
So, on to another new era of The Crittenden Automotive Library...
Financial
Every $100 in contributions allows me to take a night off of the "regular job" and put more time into building The Crittenden Automotive Library.
PayPal address: admin@CarsAndRacingStuff.com
GoFundMe link:
https://www.gofundme.com/3gll734
Major Additions
It's been a busy couple of months at the "day job," so I haven't had time to keep up with the daily flow of emails. But along with tweaking the graphics I've wanted to make the pages linked to from the Home Page look nicer and a little more full.
The Audio Playlist, comic book page, Video Guide, and Automotive Fiction index were grouped together under the Entertainment heading. I split Video Games section off of the Hobbies page onto its own separate page so that it could be a part of both (and because it's pretty big now).
Finding lists of games & movies to fill out my own lists resulted in finding multiple vintage feature films out of copyright to add to The Crittenden Automotive Library. See the list below for some of what I've found!
Entertainment Resources
Audio Playlist
-
Automotive Fiction
-
Comic Books
-
Video Games
-
Video Guide
1934

Burn 'Em Up Barnes


Mascot Pictures

Topic Page - 6.9GB - 3:47:14
1941

Blonde Comet


Producers Releasing Corporation

Topic Page - 697MB - 1:04:52
1949

The Big Wheel


Samuel H. Stiefel Productions

Topic Page - 699MB - 1:28:49
3 September 2010

Mac Tools U.S. Nationals


John Crosby & Joseph Rivera Rebolledo for the U.S. Army

Photo Collection Page
29 July 2014

Vehicle Dynamics


Dr. R. Krishnakumar, Indian Institute of Technology Madras

Topic Page - 15.0GB - 26:14:02
History Beyond the Fenders
The Crittenden Automotive Library includes information from all aspects of automotive transportation and competition. This section highlights some new material added to the Library about a topic other than vehicles themselves.
Let me start this segment with a statement that shouldn't be controversial in any society:
Nazis are shitty people and I unequivocally condemn them for their hatred and ignorance
. Oh, and the same goes for their cosplay cousins in the KKK, as well as all the unaffiliated white supremacists who follow the beliefs but prefer khakis & polos to the dress codes of the Nazis or the Klan.
And let me throw in a request for antifa's "black bloc" to fuck off and quit giving the Nazis grounds to play the victim. Hey, I get it, you hate Nazis, I hate Nazis, regular patriotic Americans all hate Nazis, and Captain America made punching Nazis look cool. But he had the Army's authority, that was fiction anyway, and in a free country the best defense against white supremacy is exposure and speech like we saw in Boston.
See, you
can
condemn antifa without making it seem like you're sympathizing with the Nazis. Very easily, as a matter of fact. This isn't a conservative issue or a liberal issue, the two sides here are American and fascist, and I'm an American. I don't see why pundits & politicians have a hard time with this.
So what in the hell does this have to do with cars? Well, in case someone's either been under a rock this last month or someone's reading this in 2026 and needs the context: a few weeks ago there was a rally in Charlottesville, Virginia called "Unite the Right" which was supposed to protest the renaming of a park and removal of a statue of Robert E. Lee. It turned into a budget reenactment of the Nuremberg rallies with torches from Walmart and chants from the Third Reich. There were a few scuffles, but nothing much in the way of actual violence.
The second day brought a more openly white supremacist crowd. David Duke was interviewed, Nazi flags were waved openly, and polos were replaced with makeshift body armor. Scuffles turned into skirmishes, and blood was shed but nobody critically injured.
That was until some asshole whose Facebook cover photos mimicked the website banners at the Nazi blog The Daily Stormer was driving through a street crowded with counter-protesters (people assembling against the white supremacists) and snapped. He turned his dark gray Dodge Challenger into a murder weapon and plowed into a crowd, running through them and being stopped only by a line of vehicles. He backed up and drove away but was caught. He injured nineteen and left a 32 year old woman named Heather Heyer dead in the street.
This has been a topic bubbling under the surface for a few years now ever since Black Lives Matter & folks trying to block Keystone XL started shutting down highways and in response states started proposing bills that would absolve drivers of liability if they run through crowds of protesters. I haven't seen
official
word yet on these bills, but political analysts are now saying that they have no chance at passing.
Sponsors of such a bill in North Carolina said that it was intended to protect from liability drivers who fear for their lives when their cars are surrounded by protesters. That sounds reasonable, along the lines of "stand your ground" laws on use of firearms in self-defense.
However, laws or not, people in the dark underbelly of a particular political persuasion seem to have thought it was a "green light" (pun intended) to harm protesters of another political persuasion. A "highlight reel" video of cars pushing protesters was originally posted on The Daily Caller's website, then shared at Fox Nation with the words "study the technique; it may prove useful in the next four years" in the posting. The video itself was set to the tune of a song called "Move Bitch." It was all a big fuckin' hoot until they were taken down in the aftermath of Charlottesville once the wider world took notice and they thought it made their "side" look bad.
So now we have another instance of "the nice words the politicians release in statements" versus "what the base thinks they mean," a running theme of political debate in the week after the murder in Charlottesville.
Of course this isn't the first time a vehicle has been used as a terrorist weapon. We're sadly far too used to seeing trucks & vans used as such in Europe, so attacking people with moving vehicles wasn't unheard of. As though to highlight this, another American died among 13 killed in a van attack in Barcelona five days after Heather Heyer's death, an attack for which ISIS is taking credit and ratcheting up the rhetoric against the driver in Charlottesville as well as the people who post jokes online about running down protesters.
Watch for "cars & vans as terror weapons" to be a bigger topic of debate in the months to come now that it's come to America's streets, as well as any changes in public attitudes towards the Dodge Challenger. I've seen a few commentaries already on the murderer's choice in vehicles, but so far only from the kind of people who probably already looked down their noses upon them already.
Usually this section references additions to The Crittenden Automotive Library, but as of this time I haven't come across anything publishable and this is the first time I've had a chance to write anything myself. But when Congress returns from recess anticipate a flood of statements from the Congressional Record on this. I'll try to pick out the ones that are specifically about vehicular homicide and the laws that I just mentioned if they come up.
I really wish covering all things automotive was all about beautiful old cars & going fast. I wish I could spend all day looking at pics of Ramblers while NASCAR plays on the TV in front of my desk. But when people with minimal training are given control of a 3,000 pound mass of metal, glass, and plastic capable of propelling itself at more than seventy miles an hour, people are going to do stupid things. Add in the occasional murderous intent and it's sometimes really ugly looking through news about cars.
It's hard to make working on the Library an escape from the daily grind of ugliness in the news when it keeps seeping into the broader topic of automobiles. But I'm trying to build a library, and libraries have the good and the bad on the shelves side-by-side.
629.2
The Dewey Decimal System's designation for automobiles, trucks, motorcycles, and driving fall within the 629.2 range. In addition to the online collection, Library Owner Bill Crittenden's personal collection of books, magazines, and miscellaneous papers is available for reference, and this section highlights new materials available on the online Library's Reference Desk and notices of new books being published.
It was a token trip, but I couldn't wait to take the new Kia to a bookstore.
So, pretty much having a philosophy of "buy ALL the car books!" I've been busy over the past decade with the "low-hanging fruit:" instead of going out and looking for specific books at full price I've been just browsing the cheap stuff and picking up what randomly comes along.
I browse the clearance shelves at Half-Price Books, occasional swap meets, and local library book sales. If it's two bucks and I don't already have it, I'm probably taking it home. Factory shop manuals for $10 or less? I've got stacks of those I've accumulated over the years.
So I took the Kia to my local Half Price Books and picked up a couple odd books from the clearance shelves and found a 1982 Ford shop manual for $8. It was just Volume A from the set, but I'd already picked up Volumes C, E, and G from elsewhere before, so it was kinda cool to get a step closer to reassembling a full set for cheap from random sources.
Theoretically that's how most collections start and then once a person runs out of cheap sources they have to fill in the holes by searching and paying more for specific items. However, when you consider just how many different automotive books there are in existence, counting all those yearly manuals, running out of books to buy seems pretty impossible for one person even if I had an unlimited budget.
Which I definitely do not!
So instead I'm just picking up random cheap stuff as I come across it and seeing how it all fits together. As anyone who has ever started a big collection on a budget knows, it's fun in its own way.
| | |
| --- | --- |
| 1982 Book | 1982 Car Shop Manual Volume A (Body/Chassis/Electrical for Lincoln Town Car/Continental Mark VI, Ford/Mercury) by Ford Motor Company |
| 1982 Book | An Illustrated History of Trucks and Buses by Denis Miller; Galahad Books |
| 2008 Book | On the Move by Pamela Britton; HQN |
| 2017 Book | Kia Soul Owner's Manual by Kia Motors |
The "Wish List"
New books & reprints on the market not yet acquired by The Crittenden Automotive Library.
New books, new editions, and new reprints from Veloce Publishing
Diecast Toy Cars of the 1950s & 1960s by Andrew Ralston
Tinplate Toy Cars of the 1950s & 1960s from Japan by Andrew Ralston
Scooter Lifestyle by Ian Grainger
Maximum Mini by Jeroen Booij
How to Improve Triumph TR2-4A by Roger Williams
Formula One – The Real Score? by Brian Godfrey Harvey
Rover V8 - The story of the engine by James Taylor
Ford Design in the UK - 70 years of success by Nick Hull
The Volvo Estate - Design Icon & Faithful Companion
The Essential Buyer's Guide: Porsche 981 Boxster & Cayman by Adrian Streather
The Norton Commando Bible by Peter Henshaw
Wolseley Cars 1948 to 1975 - A Pictorial History by David Rowe
BMW Classic 5 Series 1972 to 2003 (New Edition) by Marc Cranswick
Reprinted books from Veloce Publishing
Jaguar Mark 1 & 2 - A Celebration of Jaguar's classic sporting saloons by Nigel Thorley
Autodrome - The lost race circuits of Europe
Miximum Mini - The essential book of cars based on the original mini
New editions from Veloce Publishing
How to illustrate and design Concept Cars by Adrian Dewey
Forthcoming titles are listed at
http://www.veloce.co.uk/shop/products/productList.php?prod_group=coming_soon
To get a mention here, just email admin@CarsAndRacingStuff.com and let us know what's being published and when it'll be out.
Current Library Statistics
(since 6 June 2017)
Articles: 38,796 (+1,523)
Images: over 34,470 estimated (+100)
Publications: 718,955 pages in 9,506 documents (+2,014 pages in 309 more documents)
Video: 2 weeks, 1 day & 17:58:11 (+37:47:47)
Audio: 2 weeks, 5 days, 19:25:25 (+1:59:38)
Event Photography: 191 sets (+2)
| Month | Total Page Views | Page Views/Day Average | Total Users | Users/Day Average |
| --- | --- | --- | --- | --- |
| July 2017 | 9,946 | 320.8 | 5,602 | 180.7 |
| June 2017 | 9,959 | 331.9 | 5,328 | 177.6 |
Page views and user information provided by Google Analytics.
Alexa Traffic Ranks
(September 5)
987,817 worldwide
258,924 in the United States
Current Social Media Statistics
(since 6 June 2017)
Facebook
: 477 Likes (+4)
Google+
: 74 Followers (+1)
Instagram
: 652 Followers (+27)
Pinterest
: 39 Followers (+6)
Tumblr
: 243 Followers (-28)
Twitter @CrittendenAuto
: 1,867 Followers (+56)
Twitter @Crittenden_RT
: 103 Followers (+3)
YouTube
: 460 Subscribers (+44)
About The Crittenden Automotive Library
The Crittenden Automotive Library @ CarsAndRacingStuff.com, based in Woodstock, Illinois, is an online collection of information relating to not only cars, trucks, and motorcycles, but also the roads they drive on, the races they compete in, cultural works based on them, government regulation of them, and the people who design, build, and drive them. We are dedicated to the preservation and free distribution of information relating to all types of cars and road-going vehicles for those seeking the greater understanding of these very important elements of modern society, how automobiles have affected how people live around the world, or for the general study of automotive history and anthropology. In addition to the historical knowledge, we preserve current events for future generations.
The Library currently consists of over 718,000 pages of books, periodicals, and documents, over 38,700 individual articles, more than 15 days of video and 17 days of audio, more than 34,400 photographs & other images, and a Reference Desk with more than 230 book volumes and thousands of advertising brochures & documents kept available for the information they contain but can't be copied into the online Library for sharing due to copyright.
Connect with The Crittenden Automotive Library