Tail Lights: Starting Over
Opinions expressed by Bill Crittenden are not official policies or positions of The Crittenden Automotive Library. You can read more about the Library's goals, mission, policies, and operations on the About Us page.
Tail Lights
Automotive History from a Different Perspective
Volume 7, Issue 3:
Bill Crittenden
1 September 2018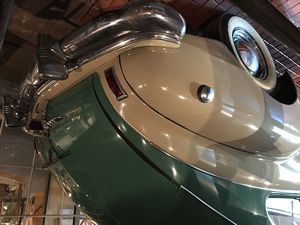 1948 Nash Ambassador in the Wisconsin Historical Museum in Madison, Wisconsin.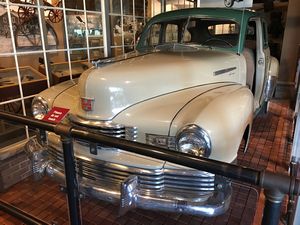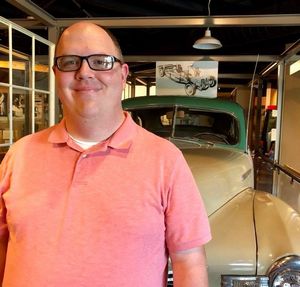 Well, it's been a while since I've done one of these! It's been a crazy busy year with a new job, two shift changes, multiple minor home disasters, a major home system upgrade, reorganizing the family's papers and finances, and many trips to the new Mariano's for gelato on hot days.
Plus I've still managed to make it so some car shows and spent quite a bit of time in the spring organizing the offline collection to prepare it for scanning. While that
is
productive time, you can't see it on CarsAndRacingStuff.com yet.
But all of that means I'm in a great position to get a lot of content online once life settles down.
I don't want to jinx it, but the new job is going better than I had expected. I'm learning a lot, and that includes things that I can apply to the management & building of The Crittenden Automotive Library both now and in the future. The longer commute has cut down on my productive time, and I'm not able to take random unpaid days off, so I've reworked my financial plans for both the family and the Library. Part of this is changing from short term "god I hope my company doesn't lose the account, what can I do to make money
right now?
" to a more stable, longer term plan.
Part of this means "starting over." I'm not deleting everything, although I decided earlier this year to scrap the race results tables (for the time being) this isn't a complete reset on the past 12 years. What this means is filling in the gaps starting with the oldest sources on the site.
I've previously tried to go back and fill in the gaps left when I bounced from project to project desperately looking for whatever would spark the biggest influx of page views, but now I'm really going back and finishing old past projects one at a time. First up were the press release archives of the FHWA & NHTSA.
This time I have a list of projects so I can keep track of what's been done and where I left off so nothing gets forgotten. There won't be as much random variety, but many more solid, completed collections.
Financial
Of course I'm still finding more content than I could hope to post in the time I have, but I'm still hoping that long term I'll be able to retire early to building The Crittenden Automotive Library full time and maybe even hire a person or two for even more. The bump in income and the knowledge I'm gaining in financial matters is going to help speed this along.
Among the many family life improvements this year is a brokerage account I started with a company called Robinhood. The business model seems simple: they offer free trades and no minimum balances, and make money from interest on the uninvested balances in people's accounts. I put $11 into an account just for fun and now I own a piece of the Ford Motor Company, U.S. Auto Parts, and Universal Technical Institute.
If you want to join,
use my referral link
and we'll both get some sort of free stock. I used a referral link to join and got Groupon, which I sold to buy U.S Auto Parts & UTI because this is mostly a fun addition to my random collection of automobilia...for now. But if I start accumulating stocks from referrals, I can take it more seriously and look for stocks that pay good dividends.
Long term I hope to pay off some debts that were incurred in recent years, build a source of steady investment income, and speed up the process to where I can work from home and spend at least 50 hours per week building The Crittenden Automotive Library.
You can help! Aside from using my referral link to start a Robinhood account if you haven't already, tips* are welcome and will be put into safe, insured investments (an interest bearing savings account for now) for the interest income, and anyone who puts in at least $5 gets on the list of contributors with a link to your website, blog, or social media page (with a few limits based on Google Adsense & my web host's content rules).
We're not a 501 charitable organization, so contributions are not tax deductible, and that's why we're calling them "tips," like you'd leave at a restaurant for good service.
If you appreciate what we do and want to help us do more, send a few bucks to admin@CarsAndRacingStuff.com on PayPal
or let me know if you use something like the Cash App so I can sign up.
Of course if you run an organization or a business and are interested in more exposure, sponsorships are available. Just email
admin@CarsAndRacingStuff.com
with what you have in mind.
GoFundMe link:
https://www.gofundme.com/3gll734
History Beyond the Bumpers
The Crittenden Automotive Library includes information from all aspects of automotive transportation and competition. This section highlights some new material added to the Library about a topic other than vehicles themselves.
Okay, I usually don't want to bury the fun stuff under the financial section, but I needed things in this order because of the lead in: I now own three shares in a variety of auto industry companies.
One of the interesting aspects of automotive history, is the business side of things. Henry Ford needed investment in his company to build his world-changing Model T assembly line, the collection of companies that became General Motors was a reflection of the generation in which it came together, and the cycle of boom and recession (and once a Great Depression) are reflected in the rise & fall of car companies over the generations.
Lately Elon Musk has been in the financial news, flirting with the idea of taking Tesla private and potentially triggering an SEC investigation by ruminating on that possibility publicly.
Automotive and business historians are exploring the parallels between Musk and GM founder William Durant, both visionary personalities distracted from their core businesses by outside interests and bringing their respective companies to the brink of bankruptcy from accumulating too much debt.
Personally, I think Elon Musk's place in automotive history is complicated. He's not finished yet, but he's taken already taken Tesla far beyond the likes of DeLorean and Tucker, two companies founded by visionaries and beloved by automobile enthusiasts. But this is the Twitter era, and Musk's personal legacy will be shaped as much by his tweets as his products.
While a lot of the news articles in The Crittenden Automotive Library reference the triumphs and troubles on the suit & tie side of the auto industry, there hasn't really been anything in the way of documents or anything the does more than scratch the surface with basic news geared for a general audience.
Now that I'm dipping my toes into the investment pool, and watching how car companies have to pay as much attention to quarterly earnings statements as they do model years, it's piqued my interest in what kinds of history could be available to broaden the perspectives on the topics we cover.
I'm wondering if anyone has an archive of really old investment prospectuses that can be shared, or business-centric current news that's licensed for republication that's far more detailed than the general news from VOA.
I'll look in to that.
629.2
The Dewey Decimal System's designation for automobiles, trucks, motorcycles, and driving fall within the 629.2 range. This section is about Library Owner Bill Crittenden's personal collection of books, magazines, and miscellaneous papers, much of which is available for reference if it's not directly available on CarsAndRacingStuff.com.
The focus this year has been on better management of the collection I already have, but there were a few new acquisitions I couldn't pass up. Of course the best ones are free books, and Mark Grimmenga of the Cruisin' Tigers GTO Club left a few books for his clubmates to give to a good permanent home (not a reseller) at the Indian Uprising Pontiac show. Original shop manuals for the 1983 Datsun 280ZX & 1986 Honda Accord are now on the Reference Desk and ready to be used to answer questions. Thank you to Mark and the Cruisin' Tigers for the books and for putting on an excellent show again this year!
Half off coupons at Half Price Books helped me add something Pontiac themed to the Reference Desk, and a book from 1939 in their antique books section is now the fourth-oldest in my collection.
The new job's weekday hours have been great for more family time, and we visited a Japanese mini-mall where I picked up a copy of a local newspaper in English and Japanese (called Chicago Shimpo) with a pre-Indy 500 interview of Takuma Sato. Yeah, you really can't take me
anywhere
without me finding something about cars!
Also, I was checking out a new (to us) used book store in nearby Crystal Lake, walking past a huge wall of mystery paperbacks (not a section I usually check out) when the title
Speed Week
caught my eye. It's a 1999 mystery novel about murder in a fictional world of stock car racing. It's cheesy as heck, but I'm happy to spend a few bucks at a local business to have something weird that I'm betting few NASCAR fans have in their collections.
Otherwise the recent focus has been on better using and taking care of the collection I've already accumulated. This includes new bookshelves, a full inventory of the books & magazines, and progress on the binders of magazine clippings.
Current Library Statistics
(+/- since 17 March 2018)
Articles: 41,314 (+1,535)
Images: 33,310 (+307)
Publications: 721,777 pages in 9,998 documents (+1,854 pages, +388 documents)
Video: 2 weeks, 3 days & 20:33:12 (+14:45:27)
Audio: 3 weeks, 3 days & 30:31 29:12 (+1:19)
Event Photography: 197 sets (+4)
| Month | Total Page Views | Page Views/Day Average | Total Users | Users/Day Average |
| --- | --- | --- | --- | --- |
| August 2018 | 10,190 | 328.7 | 6,015 | 194.0 |
| July 2018 | 9,242 | 298.1 | 5,363 | 173 |
| June 2018 | 9,248 | 308.2 | 5,379 | 179.3 |
| May 2018 | 10,244 | 330.4 | 5,894 | 190.1 |
| April 2018 | 9,366 | 312.2 | 5,610 | 187.0 |
| March 2018 | 10,816 | 348.9 | 5,794 | 186.9 |
Page views and user information provided by Google Analytics.
Alexa Traffic Ranks
(+/- since 17 March 2018)
1,615,575 worldwide (-273,016)
411,697 in the United States (+46,732)
Current Social Media Statistics
(+/- since 17 March 2018)
Facebook
: 500 Likes (+19)
Google+
: 76 Followers (-8)
Instagram
: 694 Followers (-7)
Pinterest
: 62 Followers (+4)
Tumblr
: 513 Followers (+204)
Twitter
: 1,902 Followers (-35, not bad considering the "purge" of fake accounts recently)
YouTube
: 673 Subscribers (+82)
About The Crittenden Automotive Library
The Crittenden Automotive Library @ CarsAndRacingStuff.com, based in Woodstock, Illinois, is an online collection of information relating to not only cars, trucks, and motorcycles, but also the roads they drive on, the races they compete in, cultural works based on them, government regulation of them, and the people who design, build, and drive them. We are dedicated to the preservation and free distribution of information relating to all types of cars and road-going vehicles for those seeking the greater understanding of these very important elements of modern society, how automobiles have affected how people live around the world, or for the general study of automotive history and anthropology. In addition to the historical knowledge, we preserve current events for future generations.
The Library currently consists of over 721,000 pages of books, periodicals, and documents, over 41,300 individual articles, more than 17 days of video & 24 days of audio, more than 33,000 photographs & other images, and offline reference materials including 527 book volumes, over 1,300 magazines & catalogs, and thousands of advertising brochures & documents.
Connect with The Crittenden Automotive Library