Tail Lights: The Great Indoors
Opinions expressed by Bill Crittenden are not official policies or positions of The Crittenden Automotive Library. You can read more about the Library's goals, mission, policies, and operations on the About Us page.
Tail Lights
Automotive History from a Different Perspective
Volume 8, Issue 2: The Great Indoors
Bill Crittenden
1 May 2020
Go to Tail Lights index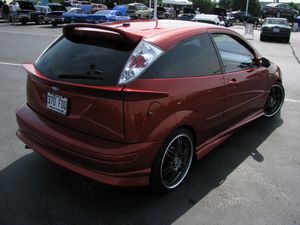 Custom Ford Focus from a 2010 car show. These have not aged well, but I'd still go to an all Ford Focus show if I could. I miss car shows. Not enough to infect people with a deadly virus, to be perfectly clear, but I still miss them.

Check out our current Online Collection & backlog stats!
Yesterday was not a good day.
A Thursday, I think, but it's hard to tell in this work-from-home shelter-in-place life. We had to take our oldest dog to be put to sleep, and since it's a pain in the ass to venture out with masks on & disinfectant wipes in hand we decided to do our grocery shopping early.
A drag-prepped SN95 Ford Mustang pulled up alongside us at a stoplight, barely street legal, the driver leaving us in a trail of the smell of racing gas. We grabbed a drive-thru burger on the way to the store and ate in the car while watching the intersection of Illinois Route 120 & US Route 12.
It was fun for a minute, just relaxing in the sunshine, enjoying the novelty of seeing cars that weren't on a screen even if they were mostly common stuff like Chevy Sonics and Nissan Rogues.
Then a couple of families saw each other in the drive thru, pulled up in the parking spots next to us, and decided to talk about how long it's been since they saw each other. With hugs all around. This was as my phone was going off about armed idiots stormed the Michigan statehouse, just a few hours after NASCAR announced their 2020 schedule starting May 17, and a day after Elon Musk screeched about fascism on his quarterly earnings call.
The whole "let's show the enemy that we're not changing how we live our lives!" bravado may have been good for standing up to terrorism a generation ago, but COVID-19 is a virus and
viruses just doesn't care
. It's not fake news, it's not the flu, and assigning blame isn't going to cure anyone. This is the ultimate "facts don't care about your feelings" problem. The coronavirus doesn't think, it's not going to be intimidated, it can't be negotiated with, and it doesn't care about your expectations for your job, your rent payments, your investment account, or your upper middle class life. Bickering about the standards for considering deaths COVID-related or not doesn't empty any ICU beds. It's here, people are dying from it directly, people are dying from other illnesses and injuries because medical care is overwhelmed, and the United States is failing in its efforts to mitigate it.
It's going to be a really long time until we get back to the way things were before. Long term, some things will never be the same again. In the short term, we either stay sheltered and events stay canceled, or we call off the shelter-in-place rules and infection rates go back up. That's not a political opinion, that's just scientific fact. While polling is less reliable than epidemiology, results suggest that even if we're "open" for the summer of 2020 a
lot
of people will stay home if they can and events will not be as well attended.
Since this is going to be a slow year for in-person events, and I'm spending a lot of time sharing my Library office with my day job, it seemed like a good time to organize and purge.
Several boxes of folded newspaper sections have been clipped and sorted, with smaller articles cut to binder page size and full pages flattened in a file cabinet drawer. Nothing automotive got tossed, but a recycling bin's worth of non-automotive clippings were disposed of. While doing work on the physical collection, the computer was busy downloading a big collection of old racing videos for the Digital Offline Collection.
It's not as fun as taking the camera to a classic car show, but it's what I have right now. It's all I'm going to have for a while. I'm lucky to have an aspect of my hobby that involves long hours at a computer in a basement.
For a "car guy" I've had a depressingly not-fun succession of cars my entire adult life. Had a family minivan, switched to a Pontiac Vibe that was barely kept roadworthy in the recession, bought a Mazda CX-7 that didn't hold up to the northern Illinois winters, traded that for a Ford C-Max hybrid, and when the Vibe broke too badly to repair myself I got a base model Kia Soul. Mostly great vehicles for what they needed to do, but nothing you'd want to take on a once-in-a-lifetime trip to the Pacific Coast Highway or park in the middle of a car show if you have any decency.
But a few bucks here and there,
many
years of holiday gift cards, knowing where to get some good freebies, and a lot of labor paid in books & die cast and I've got a pretty good collection of car stuff in my basement. It's been great in the cold winter months but it seems that this year I'm especially lucky to have a car-based hobby that can be enjoyed from a spot safe from most tornadoes let alone sneezes.
It's been great going through drawers and boxes and rediscovering things I'd forgotten I had. Inventorying them will come in handy for when the bookstores and flea markets reopen. Blending boxes of old articles in with the other sources already sorted helps to fill out the binders of archived clippings.
I know people are struggling to adapt mentally and emotionally, and an incredible number of people have lost their jobs, but if you can here's a list of things beside the basic "watch all your old car movies" advice that you can do to enjoy the car hobby without having to leave the street you live on...
If you've got an older classic car, do a deep cleaning.
Sort & clean your tools and note the things that have gone missing or gotten broken over the years so you can replace them next time you can get to a hardware store.
If you're really well versed on the history of a particular car, write a book!
If you're a racer, work on that website & marketing plan that'll get you sponsors when the tracks reopen.
Build a scale model if you've never done it before. If you are a model builder, you've needed no advice on what to do lately!
Get a steering wheel for your computer and try iRacing or commandeer the kids' Xbox and try Forza Horizon. Or Gran Turismo if it's a PlayStation.
Download all the car photos off your phone and label them on your hard drive. Share them on Facebook & Twitter if you haven't before!
If you're not into virtual racing, NASCAR is uploading a lot of old race broadcasts to YouTube. Bootleggers have uploaded a lot more from every series, you just have to go digging to find them.
The guy down the street is tuning his 240SX and taking it on short test drives around the block. If it's your kind of car, you've got plenty of time to play with engine mapping and every setting on every adjustable part in the engine bay.
Clear out that list of non-automotive home improvement projects so you can spend more time out & about when we get this thing figured out.
Most people see the way they grew up as "the way things should be," and I understand the old car community is more nostalgic than most. But real strength isn't in lashing out violently at change. Car guys from Gottleib Daimler to Elon Musk have changed the world. Real strength is in science, stoicism, adaptation, and making the places you go in the world a little better than you found them.
Financial
With the economy the way it is I don't expect much advertising income or movement towards retiring from the day job. All I can say for the month's update is "
I'm glad I'm not a Tesla investor
!"
The long-term goal, as always, is to see if I can collect enough ad revenue & tip contributions to make enough on dividends & interest to retire from the "day job" and build The Crittenden Automotive Library full time. I prefer money is donated to the many organizations helping people in our time of crisis or spent at struggling small businesses, but if you've done your part there and have a few spare dollars you'd like to contribute to our project check out the links below!
Put a little money in the "Tip Jar" via PayPal
Get a Robinhood account
, we both get a free stock!
We're not a 501 charitable organization, so contributions are not tax deductible, and that's why we're calling them "tips," like you'd leave at a restaurant for good service.
History Beyond the Bumpers
The Crittenden Automotive Library includes information from all aspects of automotive transportation and competition. This section highlights some new material added to the Library about a topic other than vehicles themselves.
Legal documents from court cases aren't a new category of additions to the Library, but before the coronavirus era began we started uploading thousands of pages of legal filings & court transcripts from the
General Motors ignition switch lawsuit
. What is new is the volume: over 400 documents from this one class action lawsuit alone.
Thanks to court orders, companies or plaintiff groups are sometimes required to compile the documents for specific class action suits on
websites created just for people following them
.
Since it costs money to maintain these sites I doubt they'll be online for decades to come, there may be a specific expiration date or an expiration based on the end of legal proceedings or when an amount of money set aside for this purpose runs out. Since I hope for The Crittenden Automotive Library to be online even after I've passed, our compilation pages will serve historians long after the original sites are offline.
Now that the GM ignition files have been uploaded, Takata's airbag lawsuits are next up on the "to-do" list in this area. If you know of any other similar court cases within our scope that should be saved, let us know by sending an email to
admin@carsandracingstuff.com
!
629.2
The Dewey Decimal System's designation for automobiles, trucks, motorcycles, and driving fall within the 629.2 range. This section is about Library Owner Bill Crittenden's personal collection of books, magazines, and miscellaneous papers, much of which is available for reference if it's not directly available on CarsAndRacingStuff.com.

Check out our current Offline Collection stats!
Since bookstores & flea markets & swap meets are shut down and Amazon is delaying delivery on items it doesn't see as a priority there hasn't been opportunities to do much shopping. But with 597 books & over 1500 periodicals there's always something to be done with what's already here.
As mentioned before, a lot of organization has been done with newspapers. Also stacks of magazine ads have been sorted, with some set aside for scanning when the Woodstock Public Library reopens. Inventories have been added to, within reason...I'm not inventorying every little scrap of paper in all of the binders of clippings.
If you follow us on Twitter or Facebook you can see some of these vintage ad scans as they're posted. There are still some from the last batch from when the WPL was open and I could use the big scanner, and once those are all posted I still have use of the smaller scanner in our own office for regular magazine size pages.
---
Site Visitor & Social Media Reach Statistics
If you'd like to advertise with The Crittenden Automotive Library and reach some of our visitors or social media followers, email
admin@CarsAndRacingStuff.com
.
| Month | Total Page Views | Page Views/Day Average | Total Users | Users/Day Average |
| --- | --- | --- | --- | --- |
| April 2020 | 14,682 | 489.4 | 9,354 | 311.8 |
| March 2020 | 9,226 | 297.6 | 5,179 | 167.0 |
| February 2020 | 11,039 | 380.6 | 7,603 | 262.1 |
| January 2020 | 8,877 | 286.3 | 4,469 | 144.1 |
| December 2019 | 11,032 | 355.8 | 7,556 | 243.7 |
| November 2019 | 6,888 | 229.6 | 4,045 | 134.8 |
Page views and user information provided by Google Analytics.
Alexa Traffic Ranks
(+/- since March 31)
1,061,074 worldwide (-205,372)
Unranked in United States
Current Social Media Statistics
(+/- since April 1)
Facebook
: 547 Likes (-1)
Instagram
: 612 Followers (+1)
Pinterest
: 314 Followers (+2)
Tumblr
: 691 Followers (-1)
Twitter
: 1,967 Followers (-2)
YouTube
: 1.14K Subscribers (no change)
About The Crittenden Automotive Library
The Crittenden Automotive Library @ CarsAndRacingStuff.com, based in Woodstock, Illinois, is an online collection of information relating to not only cars, trucks, and motorcycles, but also the roads they drive on, the races they compete in, cultural works based on them, government regulation of them, and the people who design, build, and drive them. We are dedicated to the preservation and free distribution of information relating to all types of cars and road-going vehicles for those seeking the greater understanding of these very important elements of modern society, how automobiles have affected how people live around the world, or for the general study of automotive history and anthropology. In addition to the historical knowledge, we preserve current events for future generations.
The Library currently consists of over 776,000 pages of books, periodicals, and documents, over 44,100 individual articles, 777K document pages, more than 18 days of video & 24 days of audio, more than 34,800 photographs & other images, and offline reference materials including 597 book volumes, over 1,500 magazines & catalogs, and thousands of advertising brochures & documents.
Connect with The Crittenden Automotive Library