Tail Lights
Opinions expressed by Bill Crittenden are not official policies or positions of The Crittenden Automotive Library. You can read more about the Library's goals, mission, policies, and operations on the About Us page.
Tail Lights
Automotive History from a Different Perspective
Volume 8, Issue 3
Bill Crittenden
1 June 2020
Go to Tail Lights index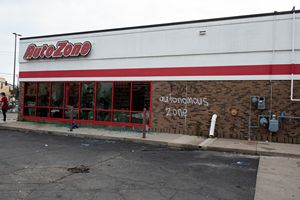 Vandalized AutoZone in Minneapolis, Minnesota on May 27th.

Check out our current Online Collection & backlog stats!
My country is on fire. During a pandemic. It's not an ideal situation for someone with a desire to build something permanent. It's distracting and demoralizing.
I don't know what else to talk about, so this seems like the right time to get something personal that I've had on my mind into the record.
In the past I've written about how my OCD and my upbringing and my wife's family contributed to creating The Crittenden Automotive Library. Today I'm going to add how white privilege contributed.
First of all,
white privilege
doesn't mean something's easy because you're white. It just means as a white guy I've had one less thing to worry about than a black person trying to do the same thing. It means I haven't had to worry about a
Central Park Karen
overreacting and trying to use the police to retalitate for an imagined slight.
I've been on an odd journey through the automotive world since before CarsAndRacingStuff.com went online. Sometimes it involved stopping at both new and used car lots after hours, or crawling around on the ground next to classic cars to get unusual angles. Multiple rounds through the Chicago Auto Show for duplicates of certain brochures. I've taken pictures of police cars at traffic stops, taken pictures of armored cars at dropoffs, parked borrowed cars in odd locations for photos, wandered around unattended tables at swap meets, and I've been to NASCAR races.
Not once have I been stopped or questioned by police or followed by security. One car owner questioned my photography only because he recognized my unusual style at a local cruise night and asked if I was who I was by name.
Almost everybody else has been completely welcoming and open to my presence. A lot of folks have even been comfortable enough to assume things about my views and drop racial slurs or racist opinions into conversations, and I can't even begin to tell you the things I've overheard from people I haven't even talked to. Doubtful I'd have been made to feel as welcome in those groups if I were black.
The recession coincided with a major change in my beliefs and outlook on life, and I really started to notice things I'd never noticed before in the attitudes in the people around me. When a black man couldn't get a job, I'd hear it's because they're "lazy" or it's "their culture," but when a white relative can't get a job "it's the economy?" They'll be the first ones to say "I'm not a racist" because they don't even realize the obvious biases in what they're saying.
So how would they have reacted to a black man parking a beater Vibe out of sight down the road and then walking around their show cars, in baggy shorts, poking their nose and camera into every little corner they could get to (without touching the car, of course)? Would I still have been just that weird guy taking a lot of pictures, or would nefarious motives be assumed?
This is what is meant for me to have white privilege: I never had to worry about it. I trusted that I didn't look
too
out of place, and if someone did take issue all it would take to set things right is a little explanation to the police.
Lately I've been seeing events on the news and wondering if I could have built The Crittenden Automotive Library if I were black. These aren't new events, but in the era of the smartphone camera they're now undeniable. Maybe I could have built this, but it wouldn't be the same. Assuming all other things in my life were the same: education, employment, upbringing, family...I'd still have had to have been far more careful in where I went, what I took pictures of, who I talk to, what help I ask for, and the opinions I voice. This would have absolutely tipped the balance of content away from the unique local photography and towards republishing other peoples' photos.
Or would I have ended up face down with a knee in the back of my neck because of someone else's prejudice anyway? Christian Cooper just asked a woman to leash her dog in a part of a park where leashes were required. Would I have ended up just another name to be remembered somewhere in between Eric Garner and George Floyd on a protest banner, and all the things I've been doing to preserve history, entertain, and educate other people just more human potential lost to senseless prejudice?
Even though that hasn't happened to me, I'm still sitting here writing about this shit while scrolling through the dumpster fire that social media has become, hoping that protests don't double as COVID-19 spreading events. How much human potential are we wasting to the dumbest of reasons? Why can't everybody walk down the street and around a cruise night as worry-free as I've been able to?
Where is the empathy for our fellow humans?
Reference Desk
Does anyone have a copy, digital or otherwise, of a 1965 publication from Yellow Cab Company of Chicago called "Trips & Tips?" If so, please let me know at
admin@carsandracingstuff.com
so I can pass your info along to the person who is looking. It's for a professional, non-automotive history project. Thank you!
Financial
With all that's going on, again, financial progress isn't really the focus. The economic downturn of COVID-19 has been joined by rioting & vandalism to create needs far more urgent than my own.
The long-term goal, as always, is to see if I can collect enough ad revenue & tip contributions to make enough on dividends & interest to retire from the "day job" and build The Crittenden Automotive Library full time. I prefer money is donated to the many organizations helping people in our time of multiple crises or spent at struggling small businesses, but if you've done your part there and have a few spare dollars you'd like to contribute to our project check out the links below!
Put a little money in the "Tip Jar" via PayPal
Get a Robinhood account
, we both get a free stock!
We're not a 501 charitable organization, so contributions are not tax deductible, and that's why we're calling them "tips," like you'd leave at a restaurant for good service.
History Beyond the Bumpers
The Crittenden Automotive Library includes information from all aspects of automotive transportation and competition. This section highlights some new material added to the Library about a topic other than vehicles themselves.
Progess is being made closing up the gaps left in previous projects, and much of this month has been spent on FBI/Department of Justice press releases. I've talked about this topic before, but it's always fascinating to see all the new ways people come up with to commit crimes with or somehow related to cars.
Here's a roundup of some of the highlights/lowlights of the new content...
American Living in Switzerland Charged With Wire Fraud and Causing Rare Antique Automobile to be Transported in Foreign Commerce
Former Salesman of Porsche Dealership Charged in $2.2 Million Fraud Scheme Involving Non-Existent Rare Porsche Models
Man Who Fled Newark Bank Robbery in a Taxi Pleads Guilty
California Man Convicted of Concealing Thunderbird in Montana Bankruptcy Case
River Ridge Man and His Company Charged in Superseding Indictment with Conspiring to Manufacture and Sell Counterfeit Mercedes-Benz Diagnostic Equipment Worth More Than $15,000,000
City Dispatcher Sentenced to 14 Months for Leading a Bribery Scheme
Vehicle Dealer And Accountant Sentenced To Prison For $75.9 Million Financing Fraud Scheme That Caused 18 Lenders To Lose $58.8 Million
Fmr. Dallas Mayor Pro Tem Dwaine Caraway Sentenced to 56 Months in Bribery Scheme
The rest are on the
U.S. Government: Department of Justice
page.
629.2
The Dewey Decimal System's designation for automobiles, trucks, motorcycles, and driving fall within the 629.2 range. This section is about Library Owner Bill Crittenden's personal collection of books, magazines, and miscellaneous papers, much of which is available for reference if it's not directly available on CarsAndRacingStuff.com.

Check out our current Offline Collection stats!
While sheltering-in-place and having the bookstores closed in my state it's been fairly quiet with adding content to the physical collection. After a couple of months cleaning up the office and settling in to the work-from-home thing May was spent focusing on getting content online, so little was done with cataloging and scanning what's already there. But great progress was made on the online part of the Library!
---
Site Visitor & Social Media Reach Statistics
If you'd like to advertise with The Crittenden Automotive Library and reach some of our visitors or social media followers, email
admin@CarsAndRacingStuff.com
.
| Month | Total Page Views | Page Views/Day Average | Total Users | Users/Day Average |
| --- | --- | --- | --- | --- |
| May 2020 | 13,196 | 425.6 | 8,942 | 288.4 |
| April 2020 | 14,682 | 489.4 | 9,354 | 311.8 |
| March 2020 | 9,226 | 297.6 | 5,179 | 167.0 |
| February 2020 | 11,039 | 380.6 | 7,603 | 262.1 |
| January 2020 | 8,877 | 286.3 | 4,469 | 144.1 |
| December 2019 | 11,032 | 355.8 | 7,556 | 243.7 |
Page views and user information provided by Google Analytics.
Alexa Traffic Ranks
(+/- since May 1)
1,064,091 worldwide (-3,017)
230,389 in the United States (unranked last month)
Current Social Media Statistics
(+/- since May 1)
Facebook
: 549 Likes (+2)
Instagram
: 611 Followers (-1)
Pinterest
: 324 Followers (+10)
Tumblr
: 712 Followers (+21)
Twitter
: 1,963 Followers (-4)
YouTube
: 1.14K Subscribers (no change)
About The Crittenden Automotive Library
The Crittenden Automotive Library @ CarsAndRacingStuff.com, based in Woodstock, Illinois, is an online collection of information relating to not only cars, trucks, and motorcycles, but also the roads they drive on, the races they compete in, cultural works based on them, government regulation of them, and the people who design, build, and drive them. We are dedicated to the preservation and free distribution of information relating to all types of cars and road-going vehicles for those seeking the greater understanding of these very important elements of modern society, how automobiles have affected how people live around the world, or for the general study of automotive history and anthropology. In addition to the historical knowledge, we preserve current events for future generations.
The Library currently consists of over 783,000 pages of books, periodicals, and documents, over 44,900 individual articles, more than 18 days of video & 24 days of audio, more than 35,200 photographs & other images, and offline reference materials including 597 book volumes, over 1,500 magazines & catalogs, and thousands of advertising brochures & documents.
Connect with The Crittenden Automotive Library