Tail Lights: Countdown to 40
Opinions expressed by Bill Crittenden are not official policies or positions of The Crittenden Automotive Library. You can read more about the Library's goals, mission, policies, and operations on the About Us page.
Tail Lights: Countdown to 40
Automotive History from a Different Perspective
Volume 8, Issue 5
Bill Crittenden
1 August 2020
Go to Tail Lights index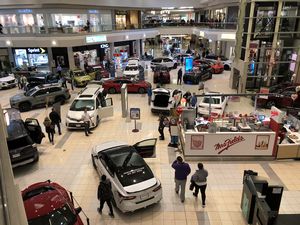 The 2020 Rockford Auto Show, at the very beginning of the pandemic, was the last in-person event I attended.

Check out our current Online Collection & backlog stats!
Last month
I wrote about NASCAR management's turn towards addressing social justice issues. Sadly, their actions since then have shown no follow through. The confederate flag is, based on actions not taken at the race tracks, not actually banned. Barstool Sports' racism is considered acceptable because it's a profitable partnership for the company.
To make up for the good press of June numerous NASCAR drivers and personalities have stepped in with COVID conspiracies and rape jokes to try to make sure that NASCAR's image isn't improved in the eyes of the outside world. Good people are still fighting for the future of the sport they love, but NASCAR management has reverted to cricket noises. This doesn't bode well for future success, because the assholes who originally gave the sport a bad name sport are still angry about June and the folks on the progressive side of the fan base are feeling abandoned. NASCAR has managed, yet again, to antagonize everybody and leave nobody happy. It's a remarkable talent they have sometimes.
Anyway, disappointment is what I get for believing in positive change. I really have to stop making that mistake.
Moving on...
This month's numbers show that July's project was to try and eliminate a backlog of indexing dating back to 2015. An entire file was cleaned out, and almost half of the main file was emptied.
When the lines of indexing code were just too tedious to look at, progress was made on organizing clippings into binders, and a new laser printer will help in neatly labeling those binders.
Beginning August and staring down Lockdown 2.0, hopes of going to any more in-person events in 2020 are gone. Yes, I know there are some un-canceled events. No, I don't think it's a good idea.
At least all the time spent at home not commuting or going to car shows has been productive: indexing should be completely caught up (for the first time since 2015!) in maybe one more week. After that it looks like the next major project up is a cleanup of the People Index. Separating last names under headings and reordering the names to Firstname Lastname makes it a little easier to browse and just better looking in general. While doing that, I'll be updating those pages and sitemapping them. If you want to see how it'll all look when it's done, the
Z
s have been finished.
Once that's done, I'll have to do the sitemapping on the rest of the files and clean up a few folders of unsorted files that have piled up over the years. Hopefully I can get most of the sitemapping done before my birthday in late November so I can enter my 40s with a "clean slate" and focus on spending the next ten years just cranking out new (old) content while keeping things cleaned up as I go.
And hopefully we'll figure this COVID thing out and I'll be able to go back to car shows again.
Financial
The long-term goal, as always, is to see if I can collect enough ad revenue & tip contributions to make enough on dividends & interest to retire from the "day job" and build The Crittenden Automotive Library full time. If you have a business, show your brand's support for the archiving & sharing of automotive history by advertising on CarsAndRacingStuff.com!
I'm a huge fan of collecting stats & charting progress, but this goal is far too dependent upon far too many variables to even begin to try and pin down where the finish line would be. The good news is that after some years of timely advertising payments keeping our family's head barely above water, the shift to "retirement" savings is a huge deal for us. We even picked up our dream cruiser for exploring the backroads and stopping at every used bookstore I can sneak into our itinerary. It's a used dark blue Kia Sedona SXL with two sunroofs, ventilated seats, and Apple CarPlay. Which just goes to show that my dreams aren't about getting rich, driving exotic cars, and Instagramming exotic locations. Contributions will be well invested in the preservation of automobile history.
If you're an automotive history enthusiast and appreciate the service, you can support the Library in the following ways...
Put a little money in the "Tip Jar" via PayPal
, CashApp coming soon!
Get a Robinhood account
, we both get a free stock!
We're not a 501 charitable organization, so contributions are not tax deductible, and that's why we're calling them "tips," like you'd leave at a restaurant for good service. Contribute more than $5 and get your name (linked to your site or social media account if you have one) on the Supporters & Contributors list currently on the
Abous Us
page.
History Beyond the Bumpers
The Crittenden Automotive Library includes information from all aspects of automotive transportation and competition. This section highlights some new material added to the Library about a topic other than vehicles themselves.
Not much was actually added to the Library this month, but part of the indexing project is going through a ton of press releases from small organizations and companies. A lot of these have acronyms or initialisms, and those all end up in
Automobiles Decoded
.
The old Acronyms & Initialisms page was expanded a while back to include all types of codes and abbreviations. Those include standard initialisms, proprietary initialisms, company names, organization names, government agencies, option codes, chassis codes, the standard three-letter Formula 1 driver & grand prix abbreviations, and I haven't gotten around to adding stock ticker symbols yet. I've even included a few racing drivers who are commonly known by their initials.
This includes, of course,
KFB
.
629.2
The Dewey Decimal System's designation for automobiles falls within the 629.2 range. This section is about Library Owner Bill Crittenden's personal collection of books, magazines, and miscellaneous papers, much of which is available for reference if it's not directly available on CarsAndRacingStuff.com.

Check out our current Offline Collection stats!
For the time being, in between the "first wave" of COVID-19 and when America realizes that we're in a much worse second wave, business are open and there's a little semblance of normalcy. The key to getting out of the house and still staying safe are avoiding large concentrations of people likely to be anti-mask. Still avoiding race tracks and what few car shows there are, I've satisfied my desire to get out of the house and do something with cars by going for rides and occasionally those rides end up at used book stores. This month's trip was very local but also really lucky for finding some unusual items.
New Additions
Automobile Year 22: 1974/75 by Chilton Book Company, 1974
50 Shades of Rust by Tom Cotter, 2014
Corvette by Richard Nichols, 1989
He Crashed Me So I Crashed Him Back by Mark Bechtel, 2010
---
Site Visitor & Social Media Reach Statistics
If you'd like to advertise with The Crittenden Automotive Library and reach some of our visitors or social media followers, email
admin@CarsAndRacingStuff.com
.
| Month | Total Page Views | Page Views/Day Average | Total Users | Users/Day Average |
| --- | --- | --- | --- | --- |
| July 2020 | 14,605 | 471.1 | 9,094 | 293.3 |
| June 2020 | 8,512 | 283.7 | 4,792 | 159.7 |
| May 2020 | 13,196 | 425.6 | 8,942 | 288.4 |
| April 2020 | 14,682 | 489.4 | 9,354 | 311.8 |
| March 2020 | 9,226 | 297.6 | 5,179 | 167.0 |
| February 2020 | 11,039 | 380.6 | 7,603 | 262.1 |
| January 2020 | 8,877 | 286.3 | 4,469 | 144.1 |
| December 2019 | 11,032 | 355.8 | 7,556 | 243.7 |
Page views and user information provided by Google Analytics.
Alexa Traffic Ranks
(up/down since July 1)
1,064,091 worldwide (up 563,731)
123,315 in the United States (down 40,045)
Current Social Media Statistics
(+/- since July 1)
Facebook
: 549 Likes (+0)
Instagram
: 608 Followers (-1)
Pinterest
: 330 Followers (+3)
Tumblr
: 734 Followers (+7)
Twitter
: 1,932 Followers (-15)
YouTube
: 1.16K Subscribers (+0.01K)
About The Crittenden Automotive Library
The Crittenden Automotive Library @ CarsAndRacingStuff.com, based in Woodstock, Illinois, is an online collection of information relating to not only cars, trucks, and motorcycles, but also the roads they drive on, the races they compete in, cultural works based on them, government regulation of them, and the people who design, build, and drive them. We are dedicated to the preservation and free distribution of information relating to all types of cars and road-going vehicles for those seeking the greater understanding of these very important elements of modern society, how automobiles have affected how people live around the world, or for the general study of automotive history and anthropology. In addition to the historical knowledge, we preserve current events for future generations.
The Library currently consists of over 784,000 pages of books, periodicals, and documents, over 45,200 individual articles, more than 18 days of video & 24 days of audio, more than 35,200 photographs & other images, and offline reference materials including 612 book volumes, over 1,500 magazines & catalogs, and thousands of advertising brochures & documents.
Connect with The Crittenden Automotive Library