Tail Lights: Reconnected
Opinions expressed by Bill Crittenden are not official policies or positions of The Crittenden Automotive Library. You can read more about the Library's goals, mission, policies, and operations on the About Us page.
Tail Lights: Reconnected
Automotive History from a Different Perspective
Volume 8, Issue 6
Bill Crittenden
5 September 2020
Go to Tail Lights index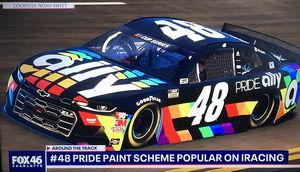 News coverage of Noah Sweet's iRacing Pride Ally paint scheme.

Check out our current Online Collection & backlog stats!
This month's issue is a little late because I haven't had my computer plugged in all week. I took a staycation from the day job and rearranged the office, yet again. This "final" configuration is how I always wanted the office but didn't have the time or money to put it together. I say "final" because this is the best I can get it together in the current basement space, but hopefully someday I'll have a bigger place to move it into because I'm definitely not done collecting!
So of course much got added to CarsAndRacingStuff.com this month. The first three weeks were spent finishing off that huge indexing backlog that had been building since 2015, and the past week has been spent shuffling books and boxes and furniture around. It's not done, but the desk is usable again.
They key to the next few months before my 40th birthday is balancing finishing organizing & inventorying the physical collection with adding new content to CarsAndRacingStuff.com.
I really enjoy watching my collection of information grow, and an inventory is a great way to show incremental month-by-month progress. Even if you don't share my OCD or other odd personality quirks, if you're reading this you likely have a collection of automobilia of your own that should also be inventoried. Not only may it save you from purchasing unintended duplicates, but it's also a necessity for homeowner's or renter's insurance. For most policies, you don't just get a lump sum for the maximum amount you had insured. You need to show what was lost, and you need to be specific. If you list "toaster" you won't get $40 to replace the four-slice digital model you may have lost in the fire. You'll get the cheapest toaster your insurance adjuster can find at Walmart.com. If you list your collection of 500 vintage Treasure Hunts as "Hot Wheels," you'll be lucky to get a buck apiece for them.
I highly recommend keeping a specific inventory offsite. If it's just an Excel spreadsheet you can email it to yourself so that you have a duplicate in the event your computer that is damaged or stolen, but you can access the list on your smartphone while at a bookstore or swap meet to check and see if you might already have the book you're looking at. All those Chilton/Haynes manuals are hard to keep track of!
Financial
Thanks to some long time supporters of The Crittenden Automotive Library we've been able to start building a little "retirement fund!" The goal isn't the kind of retirement that involves Mai Tais on a beach...it's the kind that means I don't have to commute or clock into a day job and can spend 60+ hours a week adding content to The Crittenden Automotive Library.
If you're an automotive history enthusiast and appreciate the service, you can help build the fund in the following ways which include CashApp now!
Put a little money in the "Tip Jar" via CashApp
Put a little money in the "Tip Jar" via PayPal
Get a Robinhood account
, we both get a free stock!
We're not a 501 charitable organization, so contributions are not tax deductible, and that's why we're calling them "tips," like you'd leave at a restaurant for good service. Contribute more than $5 and get your name (linked to your site or social media account if you have one) on the Supporters & Contributors list currently on the
Abous Us
page.
History Beyond the Bumpers
The Crittenden Automotive Library includes information from all aspects of automotive transportation and competition. This section highlights some new material added to the Library about a topic other than vehicles themselves.
This month the NASCAR community nearly lost Noah Sweet, a designer of online racing paint schemes under the name Lefty Designs. Not being really involved in the community all I know is that he received a lot of bullying over an LGBT pride scheme for Jimmie Johnson's #48 Ally car. That car inspired other designers to create some really great pride rainbow or trans flag paint schemes, but some assholes couldn't just leave him alone for it.
Not many people get the really cool job of designing a real NASCAR paint scheme. It's probably second only to being in the driver's seat for most fun job in motorsports. Thanks to the advancement of graphic design software, you can now create your own paint schemes and see them in action in three dimensions on the race track. You can run your own designs in iRacing, design professionally for sponsored iRacing drivers, and some of the best have even been invited to create paint schemes for real NASCAR race cars.
If you follow NASCAR Twitter, you'll eventually come across someone retweeting one of these schemes and often they'll be better than what goes on the real cars. Unrestrained by corporate style guides or NASCAR rules, iRacing designers are limited only by their imaginations. The creativity really comes out around big events, like Darlington throwback weekend or when NASCAR decided to move the numbers around a bit for the All Star Race. Driver contract rumors or new sponsor speculation brings out new ideas and NASCAR fans can see what it might look like if Gatorade followed Ally's basic design on the 48 car or Beats by Dre sponsored Bubba Wallace's car in addition to the spokesman contract.
It isn't restricted to current cars, either. One of my personal favorites was a silver and black 1988 GM Goodwrench Dale Earnhardt car that took the 1987 Wrangler car and just applied the silver where the yellow was and the black where the blue was. It was loosely based on a Sam Bass interpretation of the 1988 car but kept more true to the 1987 lines.
I haven't approached any designers about putting paint schemes in The Crittenden Automotive Library yet, but it's on my "to-do" list. In light of the news about Noah, I didn't want to wait until then to highlight the designer community. Hopefully good news is coming soon, and Lefty Designs comes back to Twitter someday.
629.2
The Dewey Decimal System's designation for automobiles falls within the 629.2 range. This section is about Library Owner Bill Crittenden's personal collection of books, magazines, and miscellaneous papers, much of which is available for reference if it's not directly available on CarsAndRacingStuff.com.
I see that most of the United States has just "moved on" from COVID-19, but it's still killing thousands of people per week here. I've made a few trips to quiet little used book shops but swap meets strike me as mini-Sturgis events and just aren't worth the risk at the moment. As such just a couple of not especially noteworthy books were added to the collection this week, bringing the total to 614.
We did pick up another Billy bookshelf from IKEA and impressive-looking photos of the collection in the new office configuration should be part of next month's section, though!

Check out our current Offline Collection stats!
---
Site Visitor & Social Media Reach Statistics
If you'd like to advertise with The Crittenden Automotive Library and reach some of our visitors or social media followers, email
admin@CarsAndRacingStuff.com
.
| Month | Total Page Views | Page Views/Day Average | Total Users | Users/Day Average |
| --- | --- | --- | --- | --- |
| August 2020 | 13,983 | 451.0 | 9,241 | 298.0 |
| July 2020 | 14,605 | 471.1 | 9,094 | 293.3 |
| June 2020 | 8,512 | 283.7 | 4,792 | 159.7 |
| May 2020 | 13,196 | 425.6 | 8,942 | 288.4 |
| April 2020 | 14,682 | 489.4 | 9,354 | 311.8 |
| March 2020 | 9,226 | 297.6 | 5,179 | 167.0 |
| February 2020 | 11,039 | 380.6 | 7,603 | 262.1 |
| January 2020 | 8,877 | 286.3 | 4,469 | 144.1 |
Page views and user information provided by Google Analytics.
Alexa Traffic Ranks
(up/down since August 1)
502,375 worldwide (up 561,716)
152,401 in the United States (down 29,086)
Current Social Media Statistics
(+/- since August 1)
Facebook
: 549 Likes (+0)
Instagram
: 605 Followers (-3)
Pinterest
: 336 Followers (+6)
Tumblr
: 741 Followers (+7)
Twitter
: 1,927 Followers (-5)
YouTube
: 1.17K Subscribers (+0.01K)
About The Crittenden Automotive Library
The Crittenden Automotive Library @ CarsAndRacingStuff.com, based in Woodstock, Illinois, is an online collection of information relating to not only cars, trucks, and motorcycles, but also the roads they drive on, the races they compete in, cultural works based on them, government regulation of them, and the people who design, build, and drive them. We are dedicated to the preservation and free distribution of information relating to all types of cars and road-going vehicles for those seeking the greater understanding of these very important elements of modern society, how automobiles have affected how people live around the world, or for the general study of automotive history and anthropology. In addition to the historical knowledge, we preserve current events for future generations.
The Library currently consists of over 784,000 pages of books, periodicals, and documents, over 45,200 individual articles, more than 18 days of video & 24 days of audio, more than 35,200 photographs & other images, and offline reference materials including 614 book volumes, over 1,500 magazines & catalogs, and thousands of advertising brochures & documents.
Connect with The Crittenden Automotive Library