ISCARS SEASON OPENER DELAYED BY INCLEMENT WEATHER
ISCARS SEASON OPENER DELAYED BY INCLEMENT WEATHER
Bradley Carpenter/ISCARS PR
May 15, 2011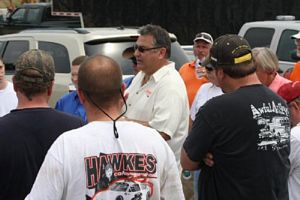 ISCARS President/CEO speaks with Drivers (Photo courtesy of Dale Roberts)
DILLON, SC - (Check us out on FACEBOOK - ISCARS DASH Touring Stock Car Tuner Series. See photos from Dillon and hit "Like" while you are there).
The green flag for ISCARS' Season Opener fell just short of waving last Saturday at Dillon Motor Speedway. Rain showers skirted the speedway most of the day, although the washout didn't come until qualifying was about to begin.
International Sport Compact Auto Racing Series (ISCARS) DASH Touring, Sanctioned by the American Speed Association (ASA) may have lost to Mother Nature, but the teams did get in some valued shakedown time. Although there was no race today, there were plenty of story lines for America's premier stock car tuner racing series.
Defending Series' Champion, Danny Bagwell #10 Torbert Trucking/5 Brother's Produce Ford Focus, had the fastest lap with a time of 17.395 on the 4/10th mile track. Bagwell's son lost his home in the Tuscaloosa, AL tornado. So getting back to the track was good for the team and it appears Bagwell is ready to pick up where he left off.
Team owner and driver Todd Hawkes, planning a three car team effort in 2011 decided to use the shakedown sessions to give each of his drivers seat time in the two cars on hand for Dillon. Tommy Floyd and Scott Willingham will join the battle for Rookie of the Year, a title earned by Hawkes in 2010.
Another new driver for 2011 is Chris Townsend from Hickory, NC. Townsend has spent two years preparing for his first ISCARS start. He has taken an older DASH car and completely refurbished it from top to bottom. His Ronnie Trout owned #17 RoushYates Performance/Midway Outdoor/Raw Performance Ford Focus was looking great.
Hometown favorite (Aberdeen, NC) Robert Tighe (RT3) debuted his #83 Voodoo Ride Turbo-powered Honda Accord.
ISCARS DASH Touring will now turn its attention to Ace Speedway in Altamahaw, NC and will be more than ready to get the 2011 season under way. A make-up date for Dillon will be announced in the coming days. For the most up to date information make sure to check out ISCARS DASH on Facebook at: http://www.facebook.com/ISCARS and on line at www.iscarsonline.com.
ISCARS DASH Touring is sanctioned by the American Speed Association . To learn more of the Daytona Beach, Florida-based Racing Speed Associates or the American Speed Association® including the ASA Member Track program, call (386) 258-2221 or send an e-mail to info@asa-racing.com. For news and information from racetracks and regional tours involved in the American Speed Association®, visit www.asaracing.com.
Connect with The Crittenden Automotive Library