Danny Bagwell Continues ISCARS Dominance
Danny Bagwell Continues ISCARS Dominance
Bradley Carpenter/ISCARS PR
July 19, 2011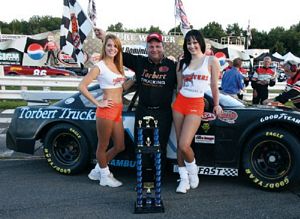 Danny Bagwell in Victory Lane again.
MANASSAS, VA - It had been 26 years since the last time the International Sport Compact Auto Racing Series (ISCARS) DASH Touring Series, Sanctioned by the American Speed Association (ASA) (then known as the NASCAR Baby Grands) was at Old Dominion Speedway. This past Saturday night ISCARS put on one great comeback show for the crowd.
Saturday night's race once again had Danny Bagwell winning both 75 lap races. However, this time around, the road to victory was much tougher for the cagey veteran.
After race one Bagwell noted that, "Eric (Gerchak) has stepped up his game a lot. He really put on a really good race." Gerchak started his Carolina Alarms sponsored car from the pole in race one with a qualifying time of 16.630.
Todd Hawkes had an eventful day. During practice, earlier in the day he lost steering coming off the front stretch headed into turn one. His Suptech Ford Focus hit the inside wall in the middle of turns one and two. The team repaired the car in time for him to rush onto the track for qualifying.
On lap 22 of race one Tommy Floyd lost his engine. Chris Townsend and Joey Jones fought several laps for overlapping real-estate. On Lap 36 Townsend caught Jones in his right rear and sent the #53 sliding up in turn one. Rookie Contender, Brian Wallis had a Days of Thunder moment as he drove cleanly through the tire smoke. Lap 40 would bring a lead change with Bagwell passing Gerchak, Bagwell got up on the wheel and tried to gain some distance on the others determined not to let him get away.
Behind Bagwell, Townsend kept knocking on the door of Gerchak. Lap after lap Townsend would get close, get loose, regroup and then take another shot.
Bagwell would win race one followed by Eric Gerchak, Chris Townsend (Rookie of the Race), Joey Jones, and Brian Wallis. rounding out the top five.
To set the line-up for race two Bagwell drew a number six causing the top six from Race one to invert. This placed sixth place finisher, Scott Wiillingham, on the pole. He chose to drop back due to some mechanical concerns. That made the top five as follows: Wallis, Jones, Townsend, Gerchak and Bagwell.
On the initial start, Brian Wallis spun off turn two bringing out the caution. On lap 14 Tommy Floyd would head to the pits with clutch issues. Just five laps later Townsend scraped the backstretch wall. Townsend came to the aid of his pit crew, but found that the track bar was damaged, forcing him to retire for the night.
Brian Wallis returned to the track on lap 35. Axle and traction issues caused his car to struggle getting up to speed. He found himself in the middle groove in treacherous turn two as the leaders closed in. Hawkes went low with Bagwell following suit. Bagwell did clip Wallis' car but none missed a beat. Gerchak and Jones also flew by in hot pursuit of the leaders.
Another lead change would occur on Lap 47 with Bagwell taking the top spot and Hawkes falling back to second. While Hawkes could close the gap on Bagwell, he never could overtake him. Rounding out the top 5 were: Hawkes, Gerchak, Jones, and Wallis, with Wallis claiming his second Rookie of the Race honors.
Joey Jones, from nearby Fredericksburg (VA), found himself in the lead early in the second race, but spent the majority of the both races feeling like a pin ball racing door to door and nose to tail lap after lap. "The full moon sure seemed to produce some rough battles on the track," said Jones.
The next race for the ISCARS DASH series will be on Saturday, July 30th at the ASA Sanctioned Dillon Motor Speedway. This is the rescheduled event that rained out back in May.
In case you could not join us at Old Dominion, Verizon Fios was there covering the event. Be sure to check your Verizon On Demand Guide for Old Dominion short track racing, as both ISCARS DASH Touring races are included in the broadcast. Randy Claypoole, President/CEO of ISCARS was in the booth as a guest commentator for both races.
For the most up to date information, results, and standings make sure to check out ISCARS DASH on Facebook at: http://www.facebook.com/ISCARS and on line at www.iscarsonline.com. Make sure to also follow us on Twitter @ISCARSLive.
ISCARS DASH Touring is sanctioned by the American Speed Association. To learn more of the Daytona Beach, Florida-based Racing Speed Associates or the American Speed Association® including the ASA Member Track program, call (386) 258-2221 or send an e-mail to info@asa-racing.com. For news and information from racetracks and regional tours involved in the American Speed Association®, visit www.asaracing.com.
Connect with The Crittenden Automotive Library