Bagwell Makes History Gerchak Ends Bagwells Streak (Latest)
Bagwell Makes History Gerchak Ends Bagwells Streak (Latest)
Bradley Carpenter/ISCARS PR
August 3, 2011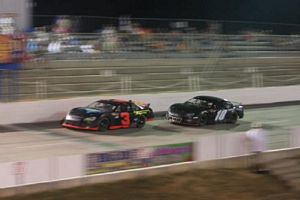 Gerchak leads Bagwell across the stripe (Photo credits Dale Roberts)
DILLON, SC - It was definitely a night of heat, both on and off the track, as the ISCARS DASH Touring Series put races five and six in the record books. Dillon Motor Speedway hosted ISCARS for its rain make-up, and it was worth the wait!
Danny Bagwell made history by winning race five of the season and becoming the sole owner of second place on the all-time win list in DASH Series history. Bagwell did not get this win easy as there was fierce competition from Eric Gerchak. Bagwell led the first half, but Gerchak moved from third starting position to second place in a matter of seven laps. Gerchak would continue closing in on Bagwell throughout the first sixty laps during race one.
With the race coming to a fast close Gerchak and Bagwell battled the last 15 laps, but a late race caution on came out on lap 71. Bagwell gets funky with Gerchak and spun off of turn four. This would put race one into overtime and it would be just a duel between the two top drivers of the night. Bagwell would get the win, and Gerchak came home second in race one. Gerchak said "the clutch was just stuck and I could not get it into third, so I shoved in fourth and tried to run him down".
With race one in the books, the crews cooled off and a member of Bagwell's team drew a four while Bagwell was taking a breather. The race two line-up would invert the top four finishers in race one meaning the line-up was: Todd Hawkes, Brian Wallis, Gerchak, Bagwell, and Robert Tighe III. Race two was shortened to 40 laps to show the Dillon crowd what these ISCARS drivers could do in less than 50 laps.
As soon as the green flag dropped on race two Bagwell and Gerchak were at it again battling for position, this time it was for second and third. Hawkes just took off and left the field in his dust as he led them around the track. Tighe made his way in his Ferrea Valves/Voodoo Ride to the garage area on lap one. Tighe noted after race one that his car was not running well due to the air temperature and that he was going to see how far they could make it in race two.
With the dueling battle of Bagwell and Gerchak, the Carolina Alarms Toyota Scion of Gerchak spun coming out of turn three on lap six. Caution comes out but the race get under green flag conditions quickly. On lap 12 Todd Hawkes felt the heat, with Gerchak and Bagwell gaining quickly, and he went high but still remained in control.
On lap 17 though, Gerchak would pass Hawkes for the lead. The next lap the top three were three wide headed into turn three. Bagwell took over the lead on 19, but Gerchak would get it back on lap 20. With three laps to go Bagwell gets a good run off of turn four, but it was not enough. Gerchak took the checkered flag and stopped the winning streak that Bagwell was on this season. Eric Gerchak said in pre-race interviews "I am not going to win it on lap one" and he proved that by winning in race two after a close finish in race one.
Danny Bagwell leads the points over Gerchak by only 36 points, while Brian Wallis is now your leader in the Rookie of the Year standings. ISCARS was also happy to have stuntmen James A Smith and Sam Young do two-wheeled stunts and a barrel roll to end the night.
The ISCARS DASH series will now turn their attention to Watermelon Capital Speedway located in Cordele, GA. Watermelon Capital Speedway will be a new venue for the ISCARS Series taking place on Saturday August 20th.
For the most up to date information, results, and standings make sure to check out the ISCARS website www.iscarsonline.com; Facebook http://www.facebook.com/ISCARS; and Twitter @ISCARSLive.
ISCARS DASH Touring is sanctioned by the American Speed Association. To learn more about the Daytona Beach, Florida-based Racing Speed Associates or the American Speed Association® including the ASA Member Track program, call (386) 258-2221 or send an e-mail to info@asa-racing.com. For news and information from racetracks and regional tours involved in the American Speed Association®, visit www.asaracing.com.
Connect with The Crittenden Automotive Library