Danny Bagwell Sweeps at Newport Speedway
Danny Bagwell Sweeps at Newport Speedway
Bradley Carpenter/ISCARS
September 18, 2011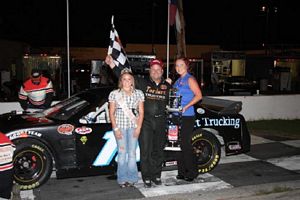 Danny Bagwell Sweeps at Newport (Photo Courtesy of Dale Roberts)
Newport, TN - If you were not at Newport Speedway on Saturday night you need to go ahead and plan on going to the "bullring" next year. Danny Bagwell continued his ISCARS winning streak by winning the Xtreme Trophies Twin 75's at Newport Speedway in Newport, TN.
This was ISCARS (International Sport Compact Auto Racing Series) first visit to the 4/10th track located in the Smokey Mountains.
The weekend started on Friday with a two hour practice session for the teams. Danny Bagwell said that Newport reminded him of a track near his home called Dixie Speedway. This allowed teams to make adjustments to the cars and if any mechanical failures occurred there was enough time to get them fixed before qualifying on Saturday. Brian Wallis, leader in the Rookie of the Year standings, had a rotor issue on Friday but his team was able to get it fixed for racing conditions.
Qualifying on Saturday saw the return of the 2009 ISCARS Champion, Jason Shultz, in a Brian Wallis Racing prepared Ford Focus. ISCARS also welcomed driver Bryan Pruett to the series in a Gary Moore prepared car. Pruett has been racing at Newport Speedway for the past several years, using a former DASH car in one of the local divisions. The pole went to Eric Gerchak who turned a 13.553second lap around the bullring.
The starting lineup for race one was Gerchak, Bagwell, Todd Hawkes, Joey Jones, Pruett, Scott Willingham, Nick Martin, Wallis, Shultz. Gerchak led the first ten laps before being passed by Bagwell on lap 10. Hawkes and Jones battled for positions for about three laps before a caution came out on lap 17. Pruett, stopped in the middle of turns three and four due to his window net falling down and getting caught in the wheel.
The race restarted on lap 23 with Bagwell leading Gerchak, Hawkes, Jones and Shultz. Lap 25 saw some great three wide action with Pruett, Shultz, and Willingham. The yellow flag would fall again on lap 61 after Wallis spun in turn two, making no contact. Wallis mentioned after the race that his car just kept getting tight which made it a challenge for the rookie throughout the night.
Race one would restart with less than ten laps to go. Bagwell was leading over Jones, Willingham, Wallis, Pruett and Martin. The first Xtreme Trophies Twin75s race ended after 76 laps with Danny Bagwell , Jones and Willingham on the podium. In Victory lane, Bagwell's draw inverted the first six setting up the starting grid for race two.
Hawkes had an oil leak that made him retire early from race one, Shultz had a broken rocker arm that they got fixed for race two, Gerchak had overheating issues, and Martin noted that he had a right rear tire that went flat.
Rookie Nick Martin would lead the field to the green flag for race two at Newport Speedway; followed by Wallis, Pruett, Willingham, Jones, Bagwell, Shultz, Gerchak, and Hawkes. The action started quickly as a caution fell on lap two after teammates Willingham and Hawkes banged a fender in turn three, as Pruett took over the lead.
On lap eight the race restarted with Pruett in the lead. Jones and Gerchak would battle on the backstretch for the third position. Jones grabbed the lead on lap 11 and it changed again when Gerchak passed Jones on the very next lap. Flagman Timmy Huston would drop the yellow flag on lap 21 after Wallis spun in turn one, making slight contact with the inside wall.
Race goes back to green on lap 38 with Gerchak leading over Bagwell, Shultz, Pruett, and Willingham. Bagwell would take the lead over on lap 39 and never look back as he made his march to victory lane. Another caution would come out though on lap 57 after Hawkes and Shultz got together coming off of turn 2.
The green flag got the race restarted back on lap 72, but that only lasted half a lap. Hawkes and Pruett were racing hard for second place. Pruett was high exiting the turn with Hawkes diving underneath. The two cars touched at the exit. Pruett's car climbed the wall and did a slow roll onto its roof as the two car came to rest in turn three. Both cars sustained serious damage, but both drivers were okay. The red flag was displayed for over thirty minutes as track and series officials worked to clean up the wreck. While both driver's offered their opinion following the incident, both agreed on Monday that it was hard racing with both determined to get to the same spot on the track first.
The race restarted on lap 78 and finished under green, white, checkered conditions. On lap 80 Danny Bagwell crossed the stripe and got the win followed by Jones and Shultz. Local track stand out, Pruett said that he "had a great time running with us, but the results were not what (he) wanted."
The top five for race two were Bagwell, Jones, Shultz, Martin and Willingham.
ISCARS also had stuntmen James Smith and Sam Young do stunts during the pace laps again and the crowd was pleased!
ISCARS would like to thank all of the fans that showed up for an amazing night of ASA racing at Newport Speedway. Also a special thanks to all the track officials that welcomed ISCARS with open arms. Plans are already in the works for ISCARS to return to the bullring in 2012.
The 2011 ISCARS DASH High Speed Chase will now make its way to Hickory Motor Speedway the site of the season finale. At Hickory the 2011 Champion will be crowned as well as the Rookie of the Year. Hickory has been on the ISCARS series schedule for the past several seasons and looks forward to another great event on October 1st.
For the most up to date information, results, and standings make sure to check out the ISCARS website www.iscarsonline.com; Facebook http://www.facebook.com/ISCARS; and Twitter @ISCARSLive.
ISCARS DASH Touring is sanctioned by the American Speed Association. To learn more about the Daytona Beach, Florida-based Racing Speed Associates or the American Speed Association® including the ASA Member Track program, call (386) 258-2221 or send an e-mail to info@asa-racing.com. For news and information from racetracks and regional tours involved in the American Speed Association®, visit www.asaracing.com.
Connect with The Crittenden Automotive Library