It All Comes Down to This...
It All Comes Down to This...
Bradley Carpenter/ISCARS
September 29, 2011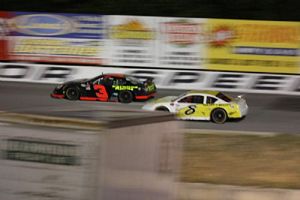 Eric Gerchak and Todd Hawkes are tied for second in points. (Photo Courtesy of Dale Roberts)
Hickory Motor Speedway Hosts ISCARS 2011 Championship Night
Daytona Beach, FL - The 2011 ISCARS DASH Touring, Sanctioned by ASA season comes down to this weekend as the series heads to Hickory Motor Speedway to crown its champions.
Danny Bagwell leads the standings with a comfortable lead over second place, but this is where the standings heat up. Eric Gerchak and Todd Hawkes are tied for second place at 424 points apiece, 90 behind Bagwell. Not too far behind these two is Brian Wallis, who also leads the Rookie of the Year standings. It is possible for Wallis to finish second in the overall Championship standings, only being 16 points out. Look for these top four drivers to risk it all on Saturday night. Todd Hawkes, Brian Wallis and Joey Jones have yet to make it to victory lane this season, it could be their night.
In addition, early reports forecast that Hickory will host the biggest field of the 2011 season for ISCARS this weekend. Two former drivers have entered their sons. Josh Crenshaw, out of Lakeland, Florida will be driving a Danny Bagwell prepared Ford. Josh is the son of George Crenshaw who holds numerous victories in DASH Series competition. Also debuting will be Bradley Weaver (Shelby, NC), son of Scott Weaver. Scott was a series regular for many years and also knows how to get to victory lane. Randy Humphrey (Cornelius, NC) and Matt Johnson (N. Wilkesboro, NC) will make their first starts of the year.
ISCARS plans two feature races along with hosting the Super Cup Stock Car Series who will also be crowning their 2011 Champion.
Make sure to check out our new music video featuring Orange Avenue's Night Walk by clicking here: http://www.youtube.com/watch?v=cWPEYPoW8IY&feature=channel_video_title. The video highlights the races at Dillon Motor Speedway and Watermelon Capital Speedway.
For all of the most up to the date information make sure to visit www.iscarsonline.com as well as the Official ISCARS Facebook page: www.facebook.com/ISCARS and Twitter: www.twitter.com/ISCARSLive.
ISCARS DASH Touring is sanctioned by the American Speed Association. To learn more about the Daytona Beach, Florida-based Racing Speed Associates or the American Speed Association® including the ASA Member Track program, call (386) 258-2221 or send an e-mail to info@asa-racing.com. For news and information from racetracks and regional tours involved in the American Speed Association®, visit www.asaracing.com.
Fan info:
$10 for adults; $5 for children; 6 and under free
Gates Open at 5:00 p.m.
6:30 p.m. Qualifying
7:15 p.m. Pre-Race Ceremonies
7:30 p.m. ISCARS Race 1
Super Cup Stock Car Series – 100 Laps
Super Cup Stock Car Series – 25 Laps
ISCARS Race 2
Connect with The Crittenden Automotive Library