Danny Bagwell Domination Concludes 2011 Season
Danny Bagwell Domination Concludes 2011 Season
Bradley Carpenter/ISCARS
October 1, 2011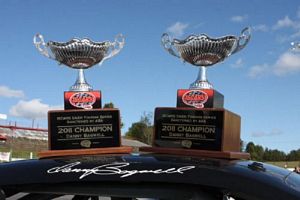 Danny Bagwell 2011 Champion (Photo Courtesy of Dale Roberts)
Bagwell Crowned 2011 Champ & Brian Wallis Rookie of the Year
Newton, NC - The 2011 season concluded tonight at the famed Hickory Motor Speedway where Danny Bagwell won both feature races and was crowned the 2011 ISCARS Series Champion. The first race was a 50 lap shoot-out and the second was a 100 lap feature race that saw some great racing action.
Brian Wallis was also crowned the 2011 ISCARS Rookie of the Year this evening. Brian started racing with ISCARS this year at Old Dominion and learned something new every time he came to the track. It is a great pleasure naming him our Rookie of the Year.
The ISCARS Feature races were brought to you by Voodooride.com and xtremetrophies.com
Top 5 Race Results-
Race 1- Danny Bagwell, Todd Hawkes, Jason Shultz, Andrew Durham, and Nick Martin
Race 2- Danny Bagwell, Todd Hawkes, Nick Martin, Eric Gerchak, and Randy Humphrey
Full report to come out on Monday.
For all of the most up to the date information make sure to visit www.iscarsonline.com as well as the Official ISCARS Facebook page: www.facebook.com/ISCARS and Twitter: www.twitter.com/ISCARSLive.
ISCARS DASH Touring is sanctioned by the American Speed Association. To learn more about the Daytona Beach, Florida-based Racing Speed Associates or the American Speed Association® including the ASA Member Track program, call (386) 258-2221 or send an e-mail to info@asa-racing.com. For news and information from racetracks and regional tours involved in the American Speed Association®, visit www.asaracing.com.
Connect with The Crittenden Automotive Library