Joey Jones: WIDE OPEN 24/7
Joey Jones: WIDE OPEN 24/7
Bradley Carpenter/ISCARS
December 8, 2011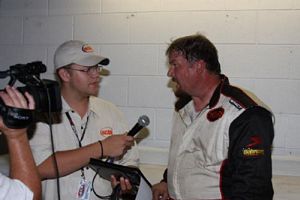 Jones being interviewed by Series PR, Bradley Carpenter, after this years race at Watermelon Capital Speedway. Photo courtesy of Dale Roberts.
CHARLOTTE, NC - There may be no cars racing on the track but that doesn't mean that the drivers are taking a break during the off season. While we wait to return to some great Int'l Sport Compact Auto Racing Series (ISCARS) action we will be releasing articles that give you an insight into the lives of drivers in ISCARS. Our first driver is Joey Jones, driver of the Jones Site Work Chevy Cruze, who finished fifth in the 2011 season standings with seven top five finishes in only ten starts.
The interview started off with Joey Jones reflecting on his 2011 season in the ISCARS DASH Touring Series. "My favorite race was Newport. It was a fast, exciting, a fun track to race at. I look forward to going back again next season". The Bull Ring of Newport Speedway reminded Jones of Nashville Fairgrounds, where the speeds reached at the Fairgrounds were in the same range of those at Newport. Another track that Jones enjoys and typically runs well at is Hickory Motor Speedway. However the 2011 season finale at HMS was a struggle. "The car was just not set-up right. We were looking for a good finish and just didn't get it." said Jones. He further noted, "It was colder this time around, so that might have had something to do with it."
Joey Jones did say he hopes that next year they hit the set-up on the head and get his Chevy Sport Compact into victory lane.
When it came to talking about racing against the other drivers in ISCARS, Jones said he enjoyed racing with Todd Hawkes and "when we have a fast car" Danny Bagwell, the 2011 ISCARS DSAH Touring Champion.
Jones' company, Jones Site Work, has definitely been keeping him busy in the off season with plenty of work. The company is based in Virginia and does excavating work from grading to storm drains in the DC metro area. When Jones does find personal time away from work he wakes up early, usually on the weekends, and heads into the forest. Here is where you would find the true hunter in Joey Jones as he searches for a trophy buck during the off season. When asked how his shooting skills were Jones explained, "The season started about a week ago and I haven't gotten anything yet." But by the tone in his voice don't expect that to be the answer you will get from him in the near future.
Jones mentioned that he is enjoying time home with his family which includes wife Lauren and his son Logan. Speaking of Logan, his father had some exciting news to share. Next season Logan will be starting to race in Bandoleros. In addition to getting Logan ready for 2012, Jones and his crew have been getting ready for next season as well. Led by Crew Chief Mike Jacobs, the Jones Site Work Chevy is having its engine freshened up as well as working on the body. Sounds like an exciting time in the Jones household as this family is gearing up for a 2012 season full of top gear speed.
For all of the most up to the date information on America's Premiere Stock Car Turner Series make sure to visit www.iscarsonline.com as well as the Official ISCARS Facebook page: www.facebook.com/ISCARS and Twitter: www.twitter.com/ISCARSLive.
ISCARS DASH Touring is sanctioned by the American Speed Association (ASA). To learn more about the Daytona Beach, Florida-based Racing Speed Associates or the American Speed Association® including the ASA Member Track program, call (386) 258-2221 or send an e-mail to info@asa-racing.com. For news and information from racetracks and regional tours involved in the American Speed Association®, visit www.asaracing.com.
Connect with The Crittenden Automotive Library